Lukashenka's Illness and the Uproar Over It
Publication: Eurasia Daily Monitor Volume: 20 Issue: 84
By: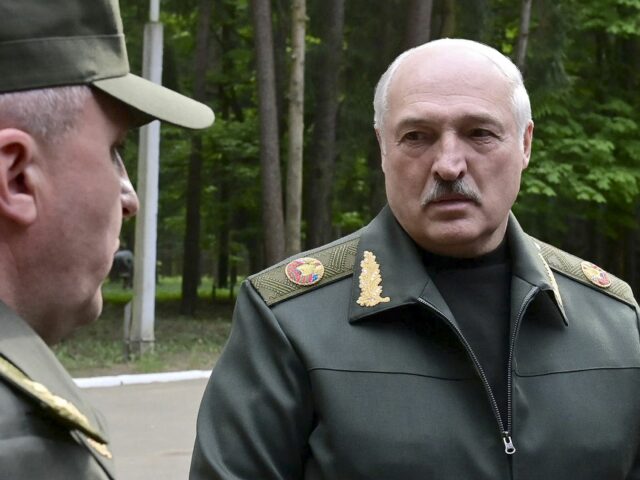 On May 18, a meeting of the Parliamentary Assembly of the Collective Security Treaty Organization took place in Minsk. Belarusian President Alyaksandr Lukashenka personally greeted the respective speakers of the member countries' parliaments and made several statements, one of which was a suggestion that any notion of Ukraine's pending counteroffensive constitutes disinformation. That is because the ratio of manpower and ammunition between Russia and Ukraine is five to one. Therefore Ukraine, according to Lukashenka, should stop torpedoing the idea of negotiations without preconditions (Belta, May 18).
This event marked the Belarusian president's first public speech since May 9. Lukashenka's hoarse voice suggested that he perhaps had not fully recovered from his illness. Besides precisely stating that, the author of Lukashenka's 2010 political biography, Valer Karbalevich of Radio Free Europe/Radio Liberty, offered a more far-reaching interpretation. According to Karbalevich, Lukashenka had to appear publicly as soon as possible because, in an authoritarian political system, all bureaucrats are in a stupor unless they receive guidelines and directives from their leader and because his prolonged absence has raised quite an uproar in the media (Svaboda, May 19).
Karbalevich's videorecorded interpretation was not without irony—not only because its speaker appeared to be even more ill than Lukashenka but also because the Belarusian service of Radio Free Europe/Radio Liberty, which Karbalevich represents, itself critically contributed to the uproar in question. Thus, major activists of the exiled opposition were surveyed on what they would do if Lukashenka disappears, and they exhibited quite a panoply of ideas with a small probability of actual implementation (Svaboda, May 17). Additionally, the former Belarusian minister of culture and ambassador, Pavel Latushka, "uncovered" that "the dictator came down with infectious-allergic myocarditis," which is an inflammatory lesion of the heart muscle fraught with complications in the form of rhythm disturbances, heart failure, cardiosclerosis and even sudden cardiac death (Svaboda, May 17). A sort of journalistic vigil was maintained virtually round the clock with bouts of discussions on the possibility of a revolution, possible successors and sundry other implications of Lukashenka's "prolonged" absence. On May 23, the Belarusian leader set the record straight. "I just recovered from adenovirus," he said. "If someone thinks that I was going to die, calm down. … You will still have to put up with me for quite some time" (RIA Novosti, May 23).
Usually, Lukashenka's side maintains an air of impenetrable seriousness on the president's personal issues. But this time, Alexander Shpakovsky, an ardent pro-Lukashenka activist and an inspirational speaker, allowed himself a modicum of sarcasm: "Lukashenka rose from the dead, recovered from a stroke, took an antidote for poisoning, underwent ten operations, including a heart and liver transplant, and then arrived in an ambulance, accompanied by the best Moscow doctors at the Command Post of the Air Force and Air Defense Forces of the Republic of Belarus [CPAFAD)" (Facebook.com/AlexanderShpakovsky, May 15). And that is despite acknowledging in an earlier post that "in the coming years, the era of Lukashenka, who became the creator of the Belarusian state, will end" (Facebook.com/AlexanderShpakovsky, May 14).
Be that as it may, the Belarusian leader indeed gave reason for the media hysteria. Over the past decade, only four times has his health been mentioned by official sources. That includes his two knee surgeries (disclosed by him in October 2013) and two instances of COVID-19 (July 2020 and January 2022). More often than not, Lukashenka's exemplary health is showcased. Against this backdrop, what began on May 9 and has transpired since raised many eyebrows. Lukashenka sat on the podium of the Victory Day parade in Moscow with a bandage on his arm, then he could not walk 300 meters to the location of the wreath-laying ceremony with other heads from the member countries of the Commonwealth of Independent States; after, he did not appear with them at breakfast. Upon returning to Minsk, he reached the Victory Monument with a wreath but did not deliver the promised speech; Minister of Defense Viktor Khrenin spoke instead (Zerkalo, May 10). Lukashenka then disappeared from the public eye for almost a week. On May 15, he was briefly seen at the CPAFAD. While there, he stated that four aircraft were shot down in the Bryansk region of Russia, after which the Belarusian Air Defense Forces were put on high alert (Gazeta.ru, May 15).
At some time during the uproar that followed, elements of sober judgment showed up. For example, while discussing possible changes in Belarus following Lukashenka's death or retirement, Pavel Matsukevich, the former Belarusian charge d'affaires in Switzerland, had this to say: "If you ask whether the ruling system will collapse, the answer is no, it will not. There is a certain inertia, the first steps and mechanisms are prescribed. … I assume that there will be a certain softening of the policy, the abandonment of repressive practices. It is quite likely, and it will benefit the new government. Even if it is a successor appointed by Lukashenka, after Lukashenka's death, the successor will try to get rid of the most problematic legacy." Anatoly Kotov, a former associate of Lukashenka's presidential administration, partially disagreed with Matsukevich, stating that, while the political thaw is inevitable, it will not follow Lukashenka's disappearance from the helm of power immediately. Both discussants agree that "democratic forces" (i.e., the exiled opposition) will not play a major role in a post-Lukashenka Belarus. The variant of the Polish 1989 roundtable debate is unlikely in Belarus, as the Belarusian opposition itself is woefully disunited. According to Matsukevich, the transition will be more orderly if Lukashenka indeed determines his successor while still in power (Svaboda, May 16).
Due to the fixation on Lukashenka's illness, a perhaps even more important phenomenon appeared to go virtually unnoticed. Specifically, on May 10, passport controls were introduced by the Belarusian side on major border crossings between Russia and Belarus. The official explanation that it has to do with the agreement on mutual recognition of visas issued to citizens of third countries was hardly believable as this agreement will only be enacted in 2024. The more probable explanation, according to Yury Drakakhrust of Radio Free EuropeRadio Liberty, is that, following the alleged drone attack on the Kremlin and several assassinations attempts of pro-Putin activists (e.g., Daria Dugina, Vlad Tatarsky and Zakhar Prilepin), Lukashenka no longer believes in the efficacy of Russian security personnel (Svaboda, May 10). This implies that the course of events in Belarus ought to be carefully monitored without the debilitating influence of preconceived notions.