Lukashenka's Interview With 'Unfriendly' Media Outlets
Publication: Eurasia Daily Monitor Volume: 12 Issue: 152
By: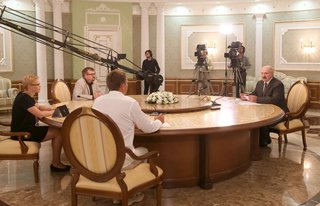 On August 4, President Alyaksandr Lukashenka gave a 4.5-hour-long interview to journalists representing three media outlets not run by the Belarusian state. Ranked in ascending order of their history of vociferous criticism of the Lukashenka regime, these outlets included Tut.by, Belarus's leading privately owned news portal; Euroradio, an entertainment and news media broadcaster, based in Warsaw and catering to a Belarusian audience under 35 years of age; and the Belarusian service of Radio Liberty. Below are some of the most important points Lukashenka made in that interview:
On Russia, Lukashenka suggested that Moscow is not scheming to deprive Belarus of statehood. That allegedly would be catastrophic for Russia itself, so the misgivings about the large eastern neighbor's potential actions—which Lukashenka acknowledged are widespread—miss the point. As for the so-called Russian world, this is an artificial and foolish idea (gloupost) that somebody bestowed on Russian ideologues; this idea, Lukashenka argued, has needlessly ruffled too many feathers and is now appropriately marginalized (Tut.by, August 4). According to the Belarusian president, there are no Russian warplanes in Belarus. Russia, however, declined selling modern combat aircraft to his country, and Belarus, therefore, had to modernize ten outdated planes on its own. But Belarus is now in the process of developing the full production cycle for domestically produced weapons systems: Polonez, the new multiple launch rocket system, has been one of the first results of that development, and it was demonstrated during the military parade in Minsk on May 9, 2015 (Tut.by, August 4).
On the Belarusian language, Lukashenka pledged to aid its spread and vitality. He acknowledged that he knows Belarusian well and spoke a few sentences in that language but declined to conduct the entire interview in it because "language is a delicate issue, and no one has the right to dictate which language one should use." However, Lukashenka's younger son reportedly observed that he knows Belarusian worse than Russian, so his father began to use Belarusian more frequently while communicating with him (Tut.by, August 4). Lukashenka also acknowledged he respects Tatsiana Karatkevich, the presidential hopeful promoted by the coalition Narodnyi Referendum (which includes the Belarusian Popular Front), for her commendable attitude toward the Belarusian language. Overall, however, Lukashenka opined that the current opposition does not really want to win the upcoming election but is only interested in receiving foreign grants. He also maintained that he does not want to participate in public debates with the opposition candidates because there is nothing he could possibly talk with them about. He assured journalists that nobody prevents opposition candidates from campaigning and collecting signatures (Tut.by, August 4).
In his interview, the Belarusian head of state also revealed that he is thinking about releasing Nikolay Statkevich. A 2010 presidential hopeful, Statkevich received a six-year prison sentence, on May 26, 2011, for his role in masterminding the assault on a major government building on December 19, 2010. Several human rights watchdog institutions have named Statkevich a political prisoner. According to Lukashenka, however, Statkevich would have long ago been released had he asked the president for clemency. But Statkevich chose to stay behind bars as a hero, which created a conundrum for Lukashenka. The actual decision regarding Statkevich will become known "in several days," Lukashenka stated (Tut.by, August 4).
The Russian annexation of Crimea and ongoing Moscow-fueled war in Ukraine continue to raise the issue of separatism throughout the region. Speaking with reporters, Lukashenka confessed that in the 1990s he put out the fire of separatism in Polesye, the southernmost part of Belarus. Moreover, the president proclaimed that he had eliminated 33 organized criminal groups in Minsk alone. Therefore, he declared, Belarusians can, today, appreciate life in an orderly and peaceful country, free of organized crime; and Belarusian citizens want to retain their country's statehood by all means (Tut.by, August 4).
In the interview, several noteworthy points were also made on Ukraine. First, Lukashenka reiterated his earlier voiced opinion that without the United States (more specifically, without direct Russian-US negotiations) the conflict in Ukraine cannot be stopped. One day earlier, on August 3, he delivered this message to three US Congressmen who paid him a visit in Minsk—Dana Rohrabacher of California, Gregory Meeks of New York, and Steve Cohen of Tennessee (Minsk.usembassy.gov, August 3). Second, Lukashenka pledged that Ukraine will never be attacked from the territory of Belarus. Third, he condemned the presence of foreign troops in Ukraine, including numerous mercenaries. Fourth, he observed that the Russian media's portrayal of the conflict in Ukraine is a "laughingstock"; but the same criticism, in his judgment, applies to the Ukrainian media. Fifth, Lukashenka opined that, with the passage of time, the region of Donbas will be reintegrated with Ukraine; although this would be "almost impossible" for Crimea. Still, he argued, one should attempt to resolve even this latter problem step by step (Tut.by, August 4). Regarding the Crimean peninsula, Lukashenka repeated his previous assertion that Ukraine provoked Russia's act of annexation and that Ukraine evinced utmost passivity in defending Crimea as if not quite convinced that this territory rightfully belonged to it. "Just imagine what would happen if somebody wanted to cut off our Polesye. What would be my reaction and that of our people? We would be fighting for each square meter of our land and would be dying for it because it is our land" (Tut.by, August 4).
While Lukashenka admitted that he is not going to actually campaign during the run-up to the presidential elections because "it is shameful and awkward to talk to people about myself" (Tut.by, August 4), the public effect of his meetings and interviews may well exceed the would-be effect of campaigning. Thus, in the Belarusian political-cultural context, the following may have been the closest the Belarusian presidential incumbent came to articulating campaign slogans: "You cannot reproach me," remarked Lukashenka. "I used to be and I remain a commoner and a peasant, and that will not change," he said, adding, "No one should forget about things like that" (Tut.by, August 4).