Lukashenka's Legacy and the Damage to Public Trust
Publication: Eurasia Daily Monitor Volume: 17 Issue: 161
By: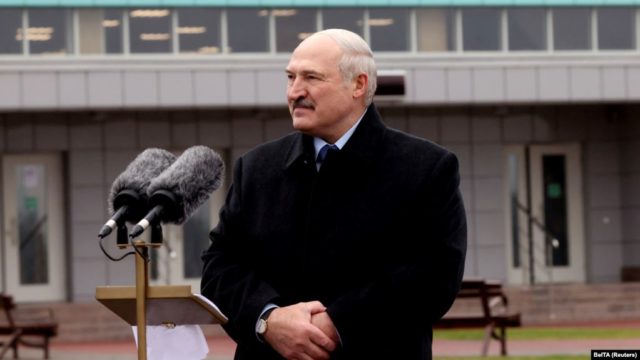 Despite widespread international condemnation of his handling of the 2020 election and subsequent crackdowns of mass protests, President Alyaksandr Lukashenka of Belarus had nonetheless made some undeniable contributions to his country since coming to power in 1994. Through a rigid top-down chain of command (power vertical), he sustained Belarusian statehood during its most vulnerable period. Those vulnerabilities pertained to Belarus's overwhelming economic dependency on Russia and, even more so, to the country's blurred national identity. Lukashenka's personalist regime nipped in the bud oligarchic capitalism, robber-baron style, which took root in Russia and Ukraine, and limited the spread of corruption. Additionally, Lukashenka was instrumental in developing an orderly welfare state; and he presided over a long (1996–2014) period of relatively stable economic growth that benefited most Belarusians until the past several years, when public debt and stagnation (not to mention the economic downturn linked to the COVID-19 pandemic) threatened to reverse those fortunes. Furthermore, Lukashenka carved out a peculiar, verging on neutrality, geopolitical niche for Belarus to keep at bay its hugely influential eastern neighbor.
The positive aspects of Lukashenka's leadership have continued to pay dividends even in the midst of the current deep political crisis. Thus, on November 7, the first power unit of the Belarusian Nuclear Power Plant was put into operation and reached a capacity of 400 megawatts (BelTA, November 7). That said, within a day, faulty electrical equipment forced the turbine to shut down, pending replacement (Tut.by, November 9). At the same time, a huge modern farmer's market opened immediately northeast of Minsk's city line (Tut.by, November 7)—in the same week as the third line of the Minsk subway was launched.
The late 19th–early 20th century German political philosopher Max Weber famously identified how leaders are legitimized by three types of authority: traditional, charismatic and legal-rational. It seems obvious that Lukashenka has relied on traditional and charismatic legitimacies of his leadership at the expense of rational-legal, as Belarus's democratic institutions—the legislature, elections and party system—have all remained imitational and decorative. However, a significant part of society has long been content with the extant legitimacies of the national leader since these matched their own political culture. Political scientist Valery Karbalevich highlighted this phenomenon convincingly in his 2010 book, Alyaksandr Lukashenka: Political Portrait.
As time went by, however, this sort of harmony and the respective social compact have waned. First, horizontal ties have advanced in society, not in the least due to its resistance to Lukashenka's style of governance. Second, the social group demanding rational-legal legitimacy of leadership has expanded.
In a recent 1.5-hour-long interview, the popular Belarusian political commentator Artyom Shraibman specified what he believes are the major blunders of Lukashenka's exceedingly tight decision-making circle, which includes his longest-serving associate, Victor Sheiman, and influential press secretary, Natalya Eismont. In this case, "blunders" are actions that have been harmful to Lukashenka's reputation. Shraibman counts at least seven of these: 1) unempathetic pronouncements about the pandemic; 2) scheduling elections for August in view of an unfounded expectation that the turnout would be low (Lukashenka could schedule the election until November 5); 3) registering Svetlana Tikhanovskaya, instead of overtly strong presidential hopefuls, under the myopic assumption that, as a woman, she would not succeed (a textbook case of sexism that strongly backfired, Shraibamn noted); 4) scheduling and then canceling pro-government rallies, which was perceived as a lack of confidence in the president's own electorate; 5) using tear gas against retirees; and 6) firing reputable people, including medical doctors. But the measure that backfired the most, according to Shraibman, was 7) the extreme brutality exercised by the personnel of detention centers following the first post-election rallies. (YouTube, November 5). To those self-destructive measures pointed out by Shraibman, one might add inflating the electoral result, when in fact Lukashenka could have just as easily won with (the more believable) 51 percent of the vote, and disallowing the head of the Belarusian Roman Catholic Church to return to the country, of which he is a citizen. Lukashenka recently repeated his earlier accusation that Archbishop Tadeusz Kondrusewicz went to Poland to "receive advice on how to ruin Belarus" (Naviny, November 2) and insisted that Belarus should redouble efforts to produce its own, as opposed to "imported," Catholic clergy (Naviny, November 2). In fact, Kondrusewicz was born in Belarus and graduated from Kaunas's seminary in then-Soviet Lithuania.
Shraibman, who on July 22 interviewed the three emergent leaders of the Belarusian protest movement—Veronica Tsepkalo, Maria Kolesnikova, and Svetlana Tikhanovskaya (YouTube, July 22)—revealed that, already at that time, Tikhanovskaya impressed him the most. Being the least polished of the three, she evinced flair, self-control, humility and populist appeal. Since then, she has progressed so much that Shraibman became uncertain about the fate of her marriage. To wit, the still-jailed presidential hopeful Sergei Tikhanovsky comes across as a patriarchal macho, much like Belarus's president himself, whereas his wife has already hobnobbed with the likes of German Chancellor Angela Merkel, French President Emmanuel Macron and Austrian Chancellor Sebastian Kurz.
Two recent attempts to undo the chasm between the authorities and, evidently, the most rebellious part of society, college students, seemed awkward. First, Natalya Kochanova, who chairs the upper chamber of the Belarusian parliament, held a meeting with a student audience at Belarusian State University. She denied that vote rigging on August 9 and torture at detention centers took place; but the students rebuked her comments. "I thought that we will come out of here and will […] be friends," said Kochanova. "But I am very saddened by the fact that today the framework of human norms and morality is being shattered… You see, when an adult woman like me is standing in front of you, and you shout in her face, this is rude and unacceptable" (Tut.by, November 3). A later meeting of Deputy Interior Minister Gennady Kazakevich with students of the Minsk Linguistic University played out similarly, with the youths laughing off some of his statements (like that a man cannot be raped, according to the formal definitions of rape) (Bdg.by, November 6).
Needless to say, the fact that the authorities took the initiative to engage with students is notable. What is questionable, however, is whether the damage already done to public trust is reparable or if the current actions are "too little, too late." And Lukashenka's genuinely positive contributions now risk being forever overshadowed by his regime's behavior over the past year.