Lukashenka's Marathon Press Conference in Minsk
Publication: Eurasia Daily Monitor Volume: 12 Issue: 23
By: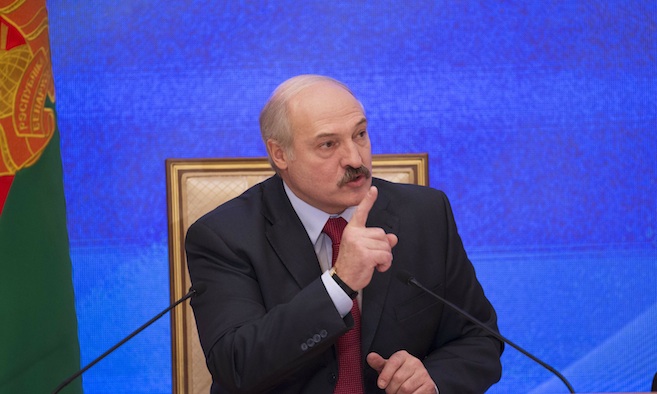 On January 29, Belarusian President Alyaksandr Lukashenka gave his regular press conference for domestic and international media (Tut.by, January 29). This time it lasted more than seven hours, during which Lukashenka consumed five cups of green tea. It was the first such event staged at the new Palace of Independence. Also, for the first time ever, journalists were not asked to surrender their cellphones, so images of the grand palace's interior were soon replete around Facebook.
The major topics broached by Lukashenka included Belarus's relations with Russia and the Eurasian Economic Union (EEU); the war in Ukraine; relations with the West; the Belarusian economy and socio-economic model; certain individuals behind bars, in Belarus, that the West considers to be political prisoners; the president's attitude to criticism and the independent media; as well as his attitude toward the Belarusian language.
In his remarks to journalists, Lukashenka underscored that, unlike the EEU, which is just an economic entity, the Union State (which Belarus forms with Russia) has additional political and military dimensions. Belarus purchases Russian resources and other products worth $23–24 billion per year, so the two economies are tightly integrated. And Russia will, hopefully, shoulder a burden of Belarus's international debt repayment, if there is an urgent need, Lukashenka asserted. The Belarusian head of state also acknowledged that, although Russia did not allow duty-free flows of oil into Belarus (despite the creation of the EEU), Minsk cannot push Moscow any harder on this point since Belarus already benefits from the lowest prices on Russia's natural gas and from duty-free oil for domestic consumption. Future trade wars with Russia will be precluded by the creation of joint controlling agencies that will replace the existing national bodies, he assured his audience.
Moreover, Lukashenka revealed that, on December 23, he had a man-to-man talk with his Russian counterpart, Vladimir Putin, about the inadmissibility of personal insults spewed at each of them. It appears that after Belarusian soccer fans insulted Putin on October 9 (see EDM January 28), 41 of them were apprehended by Belarusian authorities. Lukashenka wants an identical reaction from Russian law enforcement in any case where he is insulted in Russia. Still, Lukashenka assured that Belarus is an independent state and by no means a part of the Russian world, a concept adopted by the Kremlin. To avert aggression against Belarus, the Belarusian army is now developing mobile units "that could be redeployed within half a night from Brest to Vitebsk and deal a blow to the aggressor."
The Belarusian president reiterated that he was asked by both Moscow and Kyiv to make Minsk the venue for negotiations about the war in Ukraine. Lukashenka opined that 95 percent of the conflict-causing issues have already been negotiated to the mutual satisfaction of the warring parties, even though this fact has not been made public. He suggested that to settle the remaining 5 percent, the leaders should sacrifice their ambitions and stop the bloodshed. "Just come over to Minsk, sit down and talk, and I will be on call to bring you tea, pens and pencils," said Lukashenka.
Lukashenka acknowledged that the United States and the European Union improved their attitude to Belarus in conjunction with the Ukrainian crisis, but that he does not "revel" in that improvement. "First, I do not trust the Western partners all that much. Politics is a dirty thing. Today, Belarus's position benefits the West so they would say 'thank you.' I hear that but no more. I am a pragmatist and I know that no serious change in Europe's and America's attitude to Belarus will occur before the presidential elections, and I am OK with that." All he wants, Lukashenka told reporters, is for Europe, the United States and Russia to jointly do anything they can to stop the war in Ukraine.
According to his remarks, the Belarusian leader believes that over the course of his entire tenure as president, no crucial or far-reaching mistakes have been made. He repeated that Belarus avoided shock therapy and a liberal economic model that brought about suffering in Russia and Ukraine. Belarusians are still not ready for unbridled economic liberalism of the American type. He regrets that nuclear weapons were withdrawn from Belarus back in 1994, but that resulted from the previous leadership's decision. He himself would have never surrendered them because of "what is going on in the world whereby he who possesses brute force is right."
Lukashenka rejected the idea of releasing Nikolay Statkevich, one of the 2010 presidential hopefuls who are still sitting in prison. Referring to the news footage by international agencies showing that Statkevich led the people to storm the government compound in downtown Minsk, Lukashenka categorically denies the idea that Statkevich is a political prisoner. He assured full security for the 2015 presidential candidates if only they do not crush or break anything. He also said he understands that certain agencies have given money to create the semblance of a Ukrainian-style "Maidan" in Minsk.
Moreover, he posited that the events in Ukraine began from some stupid decisions in the area of language. Whereas, in Belarus, he has already previously defeated linguistic radicalism, Lukashenka argued. Still, he acknowledged that "The Belarusian language is what sets us apart from Russians as a nation." In response to Iosif Seredich's complaint that the opposition-minded newspaper he edits receives unfounded demands and accusations from the Ministry of Information, Lukashenka noted that he does not need any cleansing of the information field from dissident or critical opinions. "I do not mean to say Belarus is more of my land than yours," added Lukashenka. "When the trouble is at our threshold, we must unite."
In the opinion of Marina Zolotova, editor-in-chief of Tut.by (Belarus's major privately owned news and analysis portal), it is this spirit of unity in the face of existing threats that set this press-conference apart from similar events in the past. "We are different, very much so. We have different opinions and views on how Belarus should develop. But we live in this country. This is what unites us. And we have to keep that in mind, especially today. We should stay together despite differences. This feeling was in the air, I did not notice anything like this before" (Tut.by, January 30). Zolotova's deeply felt words reflect a willingness for national consolidation, something that Belarus has been lacking, but needs now more than ever.