Major Gas Discovery Announced In Azerbaijan
Publication: Eurasia Daily Monitor Volume: 8 Issue: 166
By: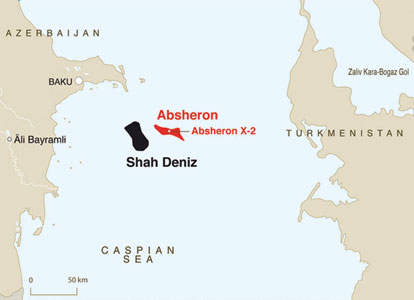 The French company, Total, and Azerbaijan's State Oil Company (SOCAR) have announced a major gas discovery at the offshore Absheron field. According to Total, the first results from the exploration well, Absheron X-2, confirm a potential of "several trillion" cubic feet of gas (35.3 cubic feet equal 1 cubic meter) and some associated condensates (www.total.com, press release September 9).
This result is broadly consistent with SOCAR's earlier estimates of the field's reserves. Azerbaijani geologists had anticipated those reserves at 350 billion cubic meters (bcm) of gas and 45 million tons of condensates (Trend, September 12).
According to Total's senior vice-president for exploration and production, Marc Blaizot, the reserves are situated on the northern flank of the Absheron deposit, at 6,500 meters below the seabed, in water depth of 500 meters. The project uses a drilling rig operated by the Danish Maersk company.
The Absheron project was initiated in 1997 by SOCAR, ChevronTexaco (as project operator) and Total, with stakes of 50 percent, 30 percent and 20 percent, respectively, under a contract of the PSA type (production sharing agreement) for exploration and development. Exploration drilling, however, did not seem to find commercially attractive reserves, and the contract was cancelled in 2005.
Total returned to the Absheron project in 2008 (heads of agreement) and signed an exploration, development, and production sharing contract with SOCAR in 2009 (ratified by Azerbaijan's Milli Mijlis in the same year). Total is the operator during the exploration and development, following which a joint operating company would take charge of the development phase. The current stakeholders are SOCAR and Total with 40 percent each, and Gaz de France with 20 percent. Exploration drilling started in January 2011 and is not yet complete.
French Total is also involved in Azerbaijan's Shah Deniz offsore gas project, the South Caucaus (Baku-Tbilisi-Erzurum) gas pipeline, and Baku-Tbilisi-Ceyhan oil pipeline. Total is a minority stakeholder in these multinational projects.
The Absheron discovery is stimulating discussion about possible time-frames for starting commercial production. According to SOCAR's Vice-President, Khoshbakht Yusifzade, the first commercial gas can flow at any point in time between 2015 and 2022, depending on geological complexities and whether another drilling rig would be necessary or not. Limited availability of drilling rigs is a factor that slows down projects on both Caspian shores (news.az, Trend, September 10, 12).
President Ilham Aliyev announded the "happy news" of the Absheron discovery in a special statement to the nation. He held out the prospect of new export markets for growing volumes of Azerbaijani gas, as well as additional volumes for domestic consumption (news.az, September 10). Absheron and other discoveries (recent and prospective) allow Azerbaijan growing flexibility to undertake export commitments and meet domestic requirements at the same time.
The Absheron discovery brings Azerbaijan's confirmed gas reserves to 2.5 trillion cubic meters (including 1.2 trillion at the offshore field Shah Deniz).
Additional projects include Shafag-Asiman, a parity joint venture of BP and SOCAR under a contract signed in October 2010, with offshore reserves estimated at 300 to 500 billion cubic meters, currently in the phase of 3D seismic research. A volume of similar magnitude has been ascertained in the Azeri-Chirag-Guneshli deep-water gas deposits, below the eponymous oil fields (see EDM, October 12, 2010). Thus, Azerbaijan's confirmed gas reserves and production are set to grow in the years ahead, from currently operating fields and from prospective ones.
Gas production in Azerbaijan is set to surpass 30 bcm per year from 2012 onward from currently operating fields, then to surge on the strength of the Shah Deniz project's Phase Two of development. That phase is now scheduled to start in 2017, with an ultimate production of 25 bcm per year at Shah Deniz alone (up from 9 bcm per year in the ongoing Phase One at that field). On current trends and projections, 50 to 60 bcm of gas production in Azerbaijan per year after 2020 seems fully realistic. Ultimately, it will be up to the national leadership to set the optimal pace of gas extraction.
The Absheron discovery in the wider context of Azerbaijani gas development strengthens confidence in the Nabucco project's viability. Implicitly it also underscores the nuisance value, from a European strategic perspective, of small-scale corporate projects that compete against Nabucco over finite gas volumes from Shah Deniz. Allowing non-strategic projects such as the Interconnector Greece-Italy or Trans-Adriatic Pipeline to pre-empt Shah Deniz production to Nabucco's detriment could nip the European project in the bud, even as its prospects in Azerbaijan and Turkmenistan are brightening up (see EDM, August 18, 19).