MANY QUESTIONS ABOUT ZHVANIA'S DEATH STILL UNANSWERED
Publication: Eurasia Daily Monitor Volume: 2 Issue: 67
By: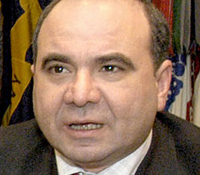 The mysterious death of Georgia's Prime Minister Zurab Zhvania continues to worry many Georgians because the investigation has yet to fully clarify the circumstances. Zhvania was found dead on February 3 at the home of Raul Usupov, who was about to become deputy governor of Shida Kartli region (see EDM, February 3).
Specialists from the U.S. Federal Bureau of Investigation (FBI), included in the inquiry at the request of the Georgian government, held a news conference April 1 to announce their findings. Bryan Paarmaan, representing the FBI, and Giorgi Janashia, deputy prosecutor-general of Georgia, told journalists that there was no evidence indicating that Zhvania was murdered. Instead, Zhvania and Usupov died of carbon monoxide poisoning due to an improperly installed gas heater. Toxicology reports indicated that blood levels of carboxihemoglobin were 72% for Zhvania and 74% for Usupov.
Independent Georgian forensic experts immediately questioned this conclusion. Maia Nikoleishvili said that Georgian investigators initially reported carboxihemoglobin blood levels at 60.9% for Zhvania and 73% for Usupov. She explained that the percentages should not be recorded as an odd number in this specific case, a blunder that the FBI specialists corrected. She also said that it is not difficult to fake poisoning by carbon monoxide. Nikoleishvili said she will not reveal her conclusions about the case because, "Life in this country becomes increasingly dangerous."
However, relatives and close confidants of both men refuse to stay quiet. State Minister for Euro-Atlantic Integration Issues Giorgi Baramidze, who is spearheading an independent investigation into Zhvania's death, said, "None of the versions should be ruled out." Baramidze added, "Zhvania's closest friends know much detailed information regarding Zurab."
On April 4, Zhvania's family broke their silence and expressed their distrust of the FBI's conclusion and the formal investigation in general. Goga Zhvania, Zurab's brother, said that Zhvania's relatives have many questions for the investigators. "We have refrained from any comments until now because information was still being collected. But now, after publicizing the FBI conclusion, we can afford to make some comments," he said.
Goga Zhvania doubts that the FBI's investigation accurately recreated the death scene. "It's still a question whether they [Zhvania and Usupov] died in that apartment." He referred to the findings of the national forensics bureau, which did not detect fresh fingerprints from either Zhvania or Usupov in the apartment. He said that his brother had a specific manner of smoking and that none of the cigarette stubs found in the room fit that pattern. According to Goga Zhvania, the cigarette stubs were collected from the trash, not an ashtray, which he finds troubling.
Goga Zhvania recalled that his brother was quite sensitive to the smell of natural gas and frequently ventilated rooms. Therefore, he said, it seemed unlikely that Zurab had not opened a single window in the ill-fated apartment. Goga did admit that his brother had several confidentially rented apartments where he usually held private meetings with various politicians. The apartments, according to him, changed about every two months. The apartment where Zhvania died had been rented by one his bodyguards.
Goga Zhvania said his brother had many enemies and there had been information about plots against him, although he did not take them seriously. He said that Zurab was terribly careless with his personal security. He suggested that rival clan interests might have been behind the prime minister's death.
He confirmed that the Zhvania family is conducting an independent investigation while waiting for the final report from the Prosecutors' Office. He further denied allegations that authorities had installed a guard at Zurab's grave to hinder the possible exhumation of the corpse for an independent forensic examination. "We don't want to hamper the investigation, but if it drags on we will tell much because we know pretty much," he stressed. Meanwhile, Goga Zhvania condemned "some officials" for disseminating, as he said, "dirty gossip" about Zurab. He also denied media allegations that Zhvania's family plans to leave Georgia.
"They have merely removed him," Elene Tevdoradze, another close ally of Zhvania from parliament, told Imedi-TV. Tevdoradze said that the recently published findings of FBI have not changed her initial view about the cause of Zhvania's death. Tevdoradze alleged that Minister of Interior Vano Merabishvili was strongly urged to immediately label Zhvania's death an accident, without any investigation. "When he [Merabishvili] made this statement he was in shock. I know this because I talked to him," Tevdoradze claimed. Analysts argue that only a top-level official could order Merabishvili to make such a statement.
Georgian top officials remain tight-lipped about Zhvania's death. Meanwhile, members of Zhvania's team are finding more difficulties. Against the backdrop of the rekindled passions surrounding Zhvania's death, no one has noticed that the Armstrong Holding Company has lost its contract for privatization of Georgian Ocean Steam Navigation. The company, which Zhvania reportedly actively advocated, turned out to be insolvent. Some analysts tend to link Zhvania's death both with ongoing controversial privatization process and political motives.
(TV-202, March 28; Inter-Press, Kavkasia Press, TV-Rustavi-2, Regnum, April 1; Khvalindeli Dge, Civil Georgia, Resonance, April 2; TV-Rustavi-2, TV-Imedi, Resonance, 24 Hours, April 4; Vesti.ru, April 5)