Maskirovka and Russian Military Procurement: Corruption, Deception and Crisis
Publication: Eurasia Daily Monitor Volume: 7 Issue: 160
By: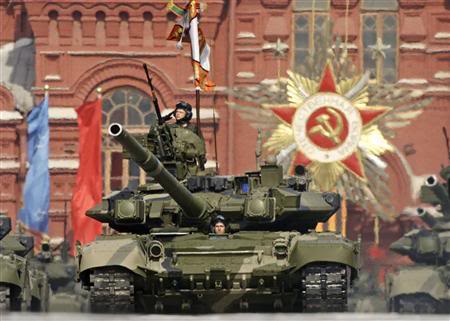 On August 31, Russian President, Dmitry Medvedev, reiterated his previous appeals for the military industrial complex (MIC) to transform itself to meet the challenges of modernizing the equipment and weapons inventory, to achieve an unrealistic target of a 70 percent share of new systems by 2020. Calling for innovation, technological advances, and "attracting young, talented professionals" Medvedev made no reference to how this might be realized, and ignored the currently low figure of only 12 percent new equipment and hardware, which was admitted by Colonel-General Aleksandr Postnikov, the Commander-in-Chief of the ground forces in the aftermath of Vostok 2010 (RIA Novosti, August 31).
Faced with the prospect of these target dates shifting, senior commanders and representatives of the MIC claim imminent progress; suggesting mass internal deception or an inability to determine precisely what should be procured and how it may be achieved. On August 28, in an otherwise unremarkable interview, Colonel Viktor Dvoynov, the Deputy Chief of the ground forces' tactical air defense promoted the creative potential of the MIC. Dvoynov stated that "jointly with industry we have inaugurated a number of pieces of scientific research and experimental design work to create complexes based on new physical principles, inclusive of the employment of laser weapons." In his view complexes have been created, to be tested during the next two years, which would counter any offensive weapons systems, including those in space. This will permit the modernization of existing air defense assets and result in a "new-generation" complex capable of operating against hypersonic air or space vehicles. Although this seemed precisely the type of innovation demanded by Medvedev, apparently Dvoynov was unable to offer any detail and questioned the expediency of an "immediate" switch to such "new-generation" systems "while the high level of technological expertise that allowed us to create the currently existing complexes in the 1990's is still available" (Ekho Moskvy, August 28).
Such lack of clarity is the hallmark of the current modernization program. Moreover, this virtual reality approach is equally denoted by vagueness and indecision on Russia's procurement needs. Keen as the MIC has become to offer any semblance of "advance" to satiate its political masters, albeit briefly, the Rusbal Science and Production Enterprise recently lauded its efforts to design pneumatic decoys, simulating tanks, aircraft and even the S-300 air defense system. The defense ministry will spend $2,000 per decoy tank, and invest an undisclosed sum in procuring inflatable decoys aimed at enemy deception. The design company noted that decoy tanks are indistinguishable from the genuine article at a distance of 100 meters and stated that these can be inflated within four minutes; presumably similar impressive statistics exist for inflatable S-300's. What is remarkable about such procurement is not that money is being spent on inflatable assets at a time when the rest of the inventory needs to be overhauled or replaced, but why such deception capabilities are required. Russia's experience of warfare in Chechnya and Georgia has not established any need to possess such equipment, even though its designers point to the existence of such assets in foreign militaries, or appeal to their use by Serb forces during the NATO bombing campaign in 1999. Equally, the designers of these decoys say that they will be ready for introduction into the armed forces in late 2011 or 2012, though no one knows the identity of the enemy these are intended to deceive (Interfax August 27; Rossiyskaya Gazeta, August 24).
Of course, real large-scale military modernization will prove costly, and the Russian government is well aware that funds allocated for such tasks have been squandered in the past. In late August, the collegium of the Federal Service for the Defense Order (Rosoboronzakaz) considered progress towards implementing the state defense order as well as developing and supplying unmanned aerial vehicles (UAV's). The key report on the defense order was absent from reporting in Krasnaya Zvezda. However, the meeting highlighted the continued inability of the MIC to bridge the technology gap between domestically manufactured UAV's and foreign systems, despite the UAV issue emerging among the "lessons learned" in the aftermath of the Russia-Georgia war in August 2008; two years later there is still no sign that this has been remedied and growing dissatisfaction with the long-term implications of procuring foreign models. Signs of attempting to enhance financial management were in evidence, with three significant individuals in attendance: Rosoboronzakaz Director, Aleksandr Sukhorukov (a former Federal Tax Service –FNS– deputy to Defense Minister Anatoliy Serdyukov), as well as the Serdyukov loyalists, newly appointed Deputy Defense Minister, Tatyana Shevtsova, and Nadezhda Sinikova, the Director of the Federal Agency for Supplies of Armaments, Military and Special Equipment, and Material Resources (Rosoboronpostavka). Shevtsova is in the early stages of improving financial oversight and auditing within the defense ministry; yet, she clearly faces a formidable institutional challenge (Krasnaya Zvezda, August 27).
Tatyana Yakovleva, the First Deputy Head of United Russia in the State Duma, confirmed that party intends to change the law this fall on state appropriations by passing legislation to replace tenders with electronic trading. Yakovleva believes that this initiative, marking the tenth amendment to the Federal Law on State Acquisitions No. 94, will help curb corruption. The MIC has already encountered problems with this system during its pilot testing this year, but there are early indications that defense companies are seeking to circumvent these efforts to eliminate insider collusion and corrupt practices. Prime Minister, Vladimir Putin, pushed for such electronic auctions to be introduced as a means to eliminate suspect contracts between suppliers and contractors, and he suggested this will rapidly reduce corruption and save considerable sums of budget funds (Nezavisimoye Voyennoye Obozreniye, August 31).
The flaw in an otherwise sensible initiative is that it presumes there will no longer be any physical contact between traders. In its testing phase, "surprise" was expressed by officials discovering that multiple bidders suddenly withdrew en masse after a contract price fell by 0.5 percent. Companies can still contact each other and agree a price and a kickback. Equally, the number of competing companies is limited and often therefore known to each other, using "front firms" to produce an appearance of "mass participation." Such money saving anti-corruption schemes may result in some cases of success, but it is unlikely to remedy endemic corruption or promote the necessary culture of creativity and innovation so desperately advocated by Medvedev.