Medvedev Advocates Increasing Grain Exports to Enhance "Global Food Security"
Publication: Eurasia Daily Monitor Volume: 6 Issue: 116
By: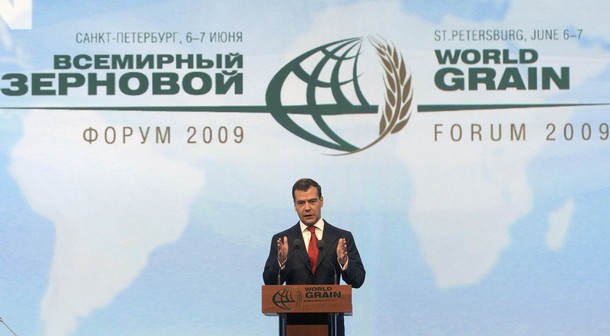 In his speech to the World Grain Forum in St. Petersburg on June 6, Russian President Dmitry Medvedev pledged that the country will double its grain production by bringing back into use some 20 million hectares of farmland that "has not been ploughed since the period, when radical enough changes started in the life of this country" (www.kremlin.ru, June 7).
Medvedev admitted that one negative effect of the Russian market economy reform over the last 18 years was the loss of a substantial chunk of the world's best arable land. However, he remains convinced that Russia is now "among the world's leading three grain producers," and can effectively ease world food shortages and contribute to global food security. Medvedev also reiterated the idea, long lobbied by Russia's former agriculture minister Alexei Gordeyev of "a regional grain pool in the Black Sea area that would coordinate…all issues" (www.kremlin.ru, June 7).
On June 9, the Russian Agriculture Minister Elena Skrynnik told the World Grain Forum that Russia plans to expand its grain exports from the current 20 million tons annually to 40 or 50 million tons within 10 to 15 years to account for 20 percent of the global grain market (RIA Novosti, June 9).
Russian pledges to contribute to global food security on such an ambitious scale might also raise concerns that it will prove similar to the country's impact on global fuel security: Russia, a key world supplier of hydrocarbons effectively turns on and off its natural gas taps using fuel supplies as state-of-the-art weaponry to pursue its political ends. It actively uses Gazprom, its natural gas monopoly to buy into European countries to influence their economies and politics.
However, Medvedev's promise to double Russian grain production, or a veiled hint of setting up a type of grain OPEC to strip the U.S. of its role as the world's largest grain supplier sound as hollow -or as ridiculous- as former Soviet President Mikhail Gorbachev's aspirations in the mid 1980's "to make Russia a lawgiver of the world's automotive fashion." Domestic automobiles remain the bane of Russian drivers, and have a negative international reputation.
"They are some years away from being considered a massive grain powerhouse," said Gavin Maguire, director at Chicago brokerage EHedger. "If they did invest significantly in the infrastructure there – building roads, rail and port facilities that are capable of moving meaningful amounts of grain – we could have something interesting emerge over the next decade or so" (Reuters, June 9).
Nonetheless, such ambitious agendas are hardly realistic in the context of the ongoing systemic economic crisis which grips Russia. If hydrocarbon prices fall again, Russian financial reserves will not keep the country afloat for long. On the other hand, if they continue to climb, Russia will forego any attempt at structural reform and modernization, which restricts it to perpetual stagnation and predicament. The increasingly authoritarian Putin regime is incapable of delegating such an economic breakthrough, as creating an entire grain export infrastructure to promote private business, which is the only engine capable of launching it.
While Medvedev and his leading officials were unveiling their bold program to double grain exports, Egypt's top prosecutor ordered an import company to return a large delivery of wheat purchased from Russia and reimburse the state. The wheat, weighing 52,500 metric tons, was bought from Russia for $9.6 million. The prosecutor general's office said the grain was found to be unfit for consumption. Inspectors from the Egyptian health ministry declared that the grain contained admixtures, insects and heavy metals above the permissible levels (RIA Novosti, June 7).
However, the dubious quality of its exports aside, Russia has indeed made considerable progress since the Soviet period, when the Kremlin had to buy grain from its archenemies including the U.S. and Canada. The growing numbers of Russian poor and unemployed evoke memories of Stalin exporting grain in the 1930's, just as the USSR suffered devastating famines that claimed millions of lives.
Russia's main grain exports flow through its Black Sea harbor of Novorossiysk. On June 9, the Novorossiysk city government launched their bread for stamps program for its insolvent citizens. Any citizen who proves their insolvency will receive 15 free loaves per month (RIA Novosti, June 9). As the number of insolvent citizens grows in Russia, Medvedev's vows to the St. Petersburg Economic Forum to step up grain exports appear increasingly preposterous.