Religious Figure and Ex-Republican Vice Premier Killed in Ingushetia
Publication: Eurasia Daily Monitor Volume: 6 Issue: 116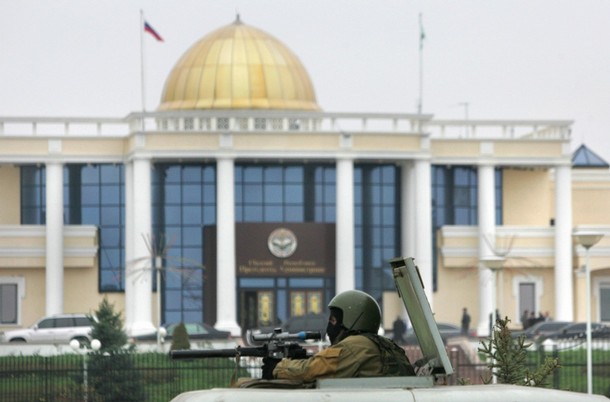 A well-known religious figure and former republican deputy prime minister have been killed in the latest wave of violence in Ingushetia, in which several soldiers and policemen have also been killed and wounded.
On June 16, Kavkazsky Uzel quoted sources in Ingushetia's Interior Ministry as saying that a serviceman was wounded in an attack in Ingushetia's Sunzha district on a column of vehicles from the 22nd brigade of the Interior Ministry's Internal Troops. The sources said the incident took place on a road between the villages of Chemulga and Chemulga-1 and that three to five gunmen attacked a convoy consisting of an armored personnel carrier, a Ural truck and an armored UAZ jeep. The wounded serviceman was riding in the UAZ, which was disabled in the attack. Some of the gunmen were reportedly killed by return fire, but there was no precise information concerning casualties among the attackers (Kavkazsky Uzel, June 16).
Also on June 16, unidentified attackers firing automatic weapons shot up a gas station in the city of Nazran, cutting its telephone line and causing a gas leak. No one was hurt in the attack (Interfax, June 16).
On June 15, a serviceman was killed and another wounded in a shootout that took place in Ingushetia's Nazran district. According to the press service of Ingushetia's Interior Ministry, six gunmen were involved in the attack, which targeted a group of servicemen and took place two kilometers from the village of Alkhasty on the road leading to the village of Surkhakhi. One of the attackers was reportedly killed when the servicemen returned fire. The independent Ingushetia.org website quoted a man who said he had been stopped by police near Surkhakhi and ordered to drive three servicemen seriously wounded in the shootout to Nazran's central hospital. The website reported that other cars were stopped and ordered to drive other servicemen wounded in the gun battle to the hospital (Kavkazsky Uzel, June 16; www.ingushetia.org, www.gazeta.ru, June 15).
Earlier on June 15, unidentified attackers fired on a car carrying police officers in Nazran's Nasyr-Kort municipal district, seriously wounding two of them. The victims were identified as Akhmed Khamkhoev, a traffic police inspector, and his nephew Rustam Khamkhoev, an officer with the republican Interior Ministry's patrol-sentry service. The attackers were reportedly driving in a Lada-Priora car and some of them were possibly wounded by return fire (Kavkazsky Uzel, June 15).
On the evening of June 14, unidentified gunmen in Nazran fired on a motorcade that included the city's mayor, Baial Ozdoev. One of the cars accompanying the vehicle in which the mayor was riding was hit in the attack, but no one was hurt in the incident. The attackers reportedly escaped in a white VAZ-2107 car (Interfax, www.yuga.ru, June 14). Earlier that evening, unidentified attackers hurled Molotov cocktails at the building housing the offices of Nazran's Galmyrzievo municipal district administration. Firemen who responded found an additional nine bottles filled with gasoline at the scene (Kavkazsky Uzel, June 14).
Also on June 14, the body of Abdurakhman Kartoev, a well-known religious figure who had disappeared ten days earlier, was found by workers from Ingushetia's Emergency Situations Ministry in an irrigation canal in the village of Nesterovskaya. The 85-year-old Kartoev had been shot in the head. A spokesman for the Investigations Committee for Ingushetia told Interfax that Kartoev was last seen in the village of Ordzhonikidzevskaya on June 4 and that there were indications he may have been kidnapped for ransom (Interfax, June 14).
On June 13, a former deputy prime minister of Ingushestia's government, Bashir Aushev, was killed when gunmen fired on his car in Nazran's Tsentr-Kamaz district. The attackers were traveling in a white VAZ-2107 automobile, in which they managed to escape. Ingushetia's president, Yunus-Bek Yevkurov said that Aushev's murder may have been an act of "revenge" by Islamic militants in the republic, noting that Aushev, before retiring, had served as vice premier of Ingushetia's government in charge of security issues. Aushev served as Ingushetia's Interior Minister in the 1990s under the republic's then president, Ruslan Aushev.
Meanwhile, Interfax on June 17 quoted sources in the Combined Group of Forces in the North Caucasus as saying that five armed militants had been captured in Nazran. The source said the rebels, who were found with weapons and explosives, were suspected of involvement in gun and arson attacks (www.newsru.com, June 17).