Medvedev and Putin Travel Separate Economic Roads To Nowhere
Publication: Eurasia Daily Monitor Volume: 7 Issue: 180
By: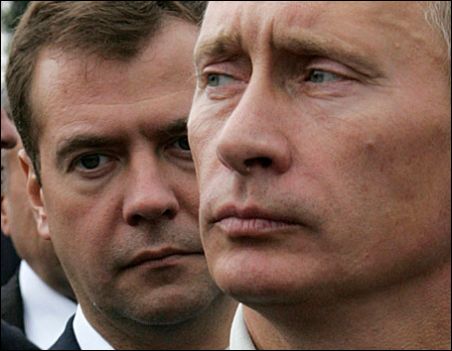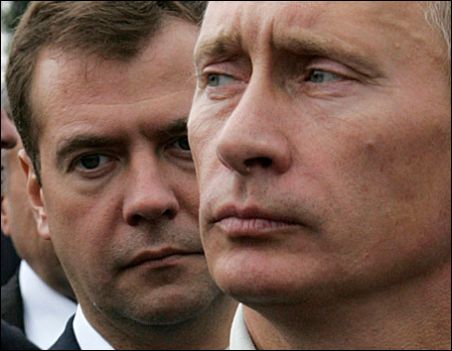 The political crisis in Moscow, continuing after the dismissal of Mayor Yuri Luzhkov, dominated the Russian debates last week. Even President Dmitry Medvedev's state visit to China was overshadowed by these events and may be remembered only due to the expression "message from China," which has become a Russian equivalent to "get the sack." Meanwhile, the third quarter has ended providing some fresh food for economic thought. Neither Medvedev nor Prime Minister, Vladimir Putin appears interested in this nourishment, but each had a moment to reflect on economic vicissitudes while signing an important directive: the law on the Skolkovo innovation center and the state budget for 2011-2013, respectively (Rossiyskaya Gazeta, September 30; Moskovsky Komsomolets, October 1). These long-debated documents could decide the political fate of the signees.
Skolkovo has become Medvedev's pet project since this spring. This law, granting territory of about 600 hectares a special legal and tax status was rushed through the State Duma and the Federation Council, despite some skeptical views about the ambiguities in this legislation (Vremya Novostei, September 23). Many questions concerning the enclosing and distribution of the valuable land just outside Moscow's ring-road and close to the famous Rublevka elite dacha village are indeed left open, though far more serious are the issues about the feasibility of the idea of an innovation-city (which currently exists as a website) (http://www.i-gorod.com/). In technical terms, Nikita Khrushchev's plan for building an academic city near Novosibirsk was perhaps more challenging. This alternative to Stalin's sharashka –special prisons for scientific projects– was successfully implemented. What makes Medvedev's project problematic is not the sky-rocketing costs of bold architectural designs, but the proposition for turning Russian conservative science institutions into business enterprises (Novaya Gazeta, September 30). This "free market" model is undermined by the very low demand for high-technology innovations in the Russian economy, which condemns Skolkovo into becoming an "off-shore" fenced enclave operating in the globalized research milieu.
Putin's macroeconomic plans are demonstratively down-to-earth, not actually make them more realistic. The main assumption underlying his budget was formulated by Deputy Prime Minister, Igor Shuvalov, who presented the document for rubber-stamping in the State Duma and predicted a "return to the growth trajectory we had seen until the fall of 2008" (Ekspert, September 24). This forceful, but wishful thinking is not supported by the plain facts of economic life which, interpreted by Andrei Illarionov, the most controversially perceptive Russian economist, is marked as the beginning of a new industrial downturn (Nezavisimaya Gazeta, September 30). Statistics are far from reliable, but this forecast is supported by undisputable assessments of low investment activity, instead of the expected inflow of foreign capital, Russia continues to export money (www.gazeta.ru, September 27). Further increases of pensions and other social programs, which Putin presents as his particular priority, in this stagnant economy are only feeding inflation nearing 1 percent per month (www.gazeta.ru, October 1). The aim of reducing the budget deficit is clearly incompatible with the populist ideology of generous social spending in the face of shrinking revenues.
Medvedev's narrow ambitions for building one "wonder-village" seem to complement rather than contradict Putin's "staying-the-course" set of guidelines, particularly since the $500 million earmarked for Skolkovo in 2011 (up from $125 million this year) pales in comparison with the Sochi Olympic construction budget of some $30 billion. There are, however, issue-specific tensions between the visions of "a new Google every year" (Skolkovo's unofficial motto) and "back-to-the-future," as envisaged by the government's budget priorities. One particular manifestation of these tensions is the discord in discussion on Russia's long-delayed entry into the World Trade Organization (WTO). Medvedev wants to make it his personal achievement and has ordered to resolve the remaining technicalities by the end of the year, confirming his concessions to US President, Barack Obama, in a telephone conversation last Friday –and instantly reporting this success on his Twitter-blog (Kommersant, October 2). Putin has specifically ordered that all new obligations would be implemented "only after we join the organization, as this process can last indefinitely, imposing indefinite restrictions on us." He also affirmed that the state support for the agricultural sector would increase despite the promises to the US to cut down subsidies (Vremya Novostei, October 1).
There is a discernible desire to snub Medvedev in this stance, but Putin holds the opinion that WTO membership is not that important for Russia since its main source of strength will always be the export of energy resources. What underpins this conviction is the preference for erecting and lifting trade barriers as political expediency dictates, which has been a feature of his "pragmatic" foreign policy since he took control over it in 2000. Medvedev understands the political value of protectionism, but has to prove his ability to implement policy. The WTO talks are yet another test of his leadership. Time is indeed running out fast for Medvedev, and the Skolkovo dream, which cannot take any meaningful shape in the next two years, and could turn out to be a political liability. Meanwhile, Medvedev finds himself inaugurating Putin's projects, such as the oil pipeline to China, which apparently strengthens Russia's profile as energy supplier (Nezavisimaya Gazeta, September 28).
Medvedev's central task is building a political coalition of "modernizers" strong enough to dissuade Putin from re-claiming the presidency without igniting a political conflict that would be an order of magnitude more destructive than the quarrel with Luzhkov. Nothing resembling such a coalition is developing, despite the massive spin on the message, which has been rather timid since Medvedev has been softening and diluting the point that Putin's regime has no future. This had been very nearly spelled out last year in the article "Go, Russia!" Putin emerged as supremely confident and slightly ironic in carefully edited TV reporting on a recent power-breakfast, while a tense Medvedev appeared visibly uncomfortable in the role of mayor-slayer. Economic and political modernizations are inseparable, but the latter would amount to a rebellion –and a rebel the Russian President is not.