Moscow Seeks Influence in the Kyrgyz Elections
Publication: Eurasia Daily Monitor Volume: 7 Issue: 179
By: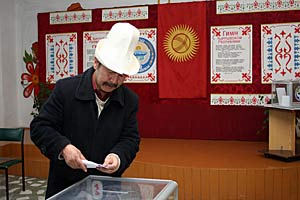 As the Kyrgyz parliamentary elections near, Moscow's attempts to influence the elections' outcome is becoming more obvious. By using both its hard and soft power, the Russian leadership has been supporting favorable candidates, while marginalizing others before the vote on October 10. At least two political leaders contesting the elections have traveled to Moscow to meet with Russian top officials. Simultaneously, Russian TV channel, NTV, featured a program smearing Ata-Meken Party leader, Omurbek Tekebayev.
Russian President, Dmitry Medvedev, was the first to argue that Kyrgyzstan's experiment with democracy might turn "catastrophic." "We are constantly told about parliamentary democracy. Our Kyrgyz friends took this route. But for Russia, I fear, and for Kyrgyzstan, parliamentary democracy –is a disaster," Medvedev said (www.itnerfax-russia.ru, September 10).
Last week, Felix Kulov, head of Ar-Namys party, met with Medvedev in Moscow (www.24.kg, September 23). Kulov is known for his strong pro-Russian views and his background in the KGB. Kulov served as Prime Minister during 2005-2006. After he was sacked by President Kurmanbek Bakiyev, Kulov largely maintained a low profile. In his rare public appearances since 2006, Kulov has promoted the idea of Kyrgyzstan joining Russia as a confederation.
In addition to Kulov, the leader of Social Democratic Party, Almazbek Atambayev met with Russian Prime Minister, Vladimir Putin, in Moscow earlier this month (www.rbc.ru, September 3). During the meeting Putin agreed to grant $10 million to Kyrgyzstan. Since former president Kurmanbek Bakiyev was ousted as a result of mass riots in April, Atambayev has been a frequent traveler to Moscow. Like Kulov, Atambayev has repeatedly stated that Russia is Kyrgyzstan's only "genuine" partner.
Whether Atambayev truly believes this remains unclear. His zealous pro-Moscow attitudes might well be a reflection of his political strategy to outperform his competitors. Shortly after coming to power in April, Jamestown asked what Kyrgyzstan may learn from Russia in political and economic terms. Atambayev gave the vaguest answer, saying that there is also nothing to learn from the United States, recalling how President Barak Obama's administration was slow to show support for the new government and admit that Bakiyev was no longer president.
Unlike Kulov and Atambayev, Tekebayev has not traveled to Moscow or met with Russian officials. Perhaps partly as a result of this, he fell victim to Russian media attacks: Tekebayev was accused of adultery and corruption by Russian TV channel, NBT. In response to such "black propaganda," Ata-Meken stated: "Almost daily Russian federal TV channels' newscasts feature stories containing elements of political PR [against or in favor] some political parties or their leaders participating in parliamentary elections" (www.atameken.kg, September 29). The statement insists that Russian government and media outlets refrain from intervening in Kyrgyzstan's domestic affairs.
All three individuals –Atambayev, Kulov, and Tekebayev– believe their party will receive considerable support in the elections and have been informally contesting for the post of prime minister. In addition to around four smaller political parties, these parties hope to receive enough support to be able to form formidable coalitions in parliament.
Meanwhile, reportedly Russia will deploy its borders guards in Kyrgyzstan ahead of the Organization for Security and Cooperation in Europe's (OSCE) 52-member Police Advisory Group arriving to help Kyrgyz government maintain stability in the country (www.kommersant.ru, September 29). According to the Russian media, the Kremlin is concerned about increased activity by organized criminal groups in southern Kyrgyzstan.
The decision was taken after Vladimir Pronchiev, head of Russian Border Service, recently visited Kyrgyzstan. After rejecting Kyrgyzstan's pleas to deploy troops at the peak of the June violence in its southern cities, the Kremlin's decision to assist Bishkek now once again shows its desperate attempts to influence political developments in the country.
Since the outcome of Kyrgyzstan's elections remains difficult to predict at least for the foreseeable future, political power in Bishkek will remain decentralized. Moscow is seeking to channel its own influence in the country through individual political leaders. By supporting its favored candidates and disempowering their competitors, Moscow is ensuring its continued political influence beyond the October elections.
This is not the first time Moscow has mobilized its hard and soft power to influence domestic politics in Kyrgyzstan. The most recent example included the fierce attack against Bakiyev's regime in early 2010 (EDM, April 1). Russian newspapers and TV programs sought to reveal the former president's corruption and nepotism. To most experts' surprise, Bakiyev was ousted weeks into this apparently organized media campaign against him.
This time, the influence of the Russian media might only have a limited impact on the outcome of the elections. Unlike the Bakiyev administration, the Kyrgyz media environment is now freer than that in Russia. Local experts and journalists are able to openly criticize and support the actions of any political force competing on October 10. Moscow's clumsy attacks are not exceptional.