Medvedev Clings to Advancing the Ruble as Reserve Currency
Publication: Eurasia Daily Monitor Volume: 6 Issue: 123
By: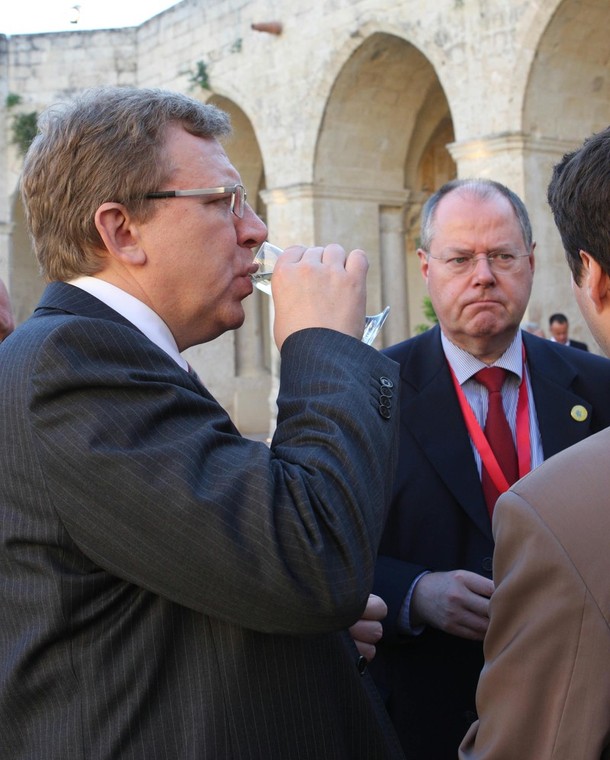 The internecine squabbling between Russian President Dmitry Medvedev and his Finance Minister Alexei Kudrin has left investors puzzled and the U.S. dollar affected. On June 13, Kudrin said at a meeting of the G-8 Finance Ministers in Italy that the global financial system as well as the U.S. dollar's role as the world's main reserve currency was unlikely to change in the near future. Kudrin said Russia would not alter the structure of its reserve funds, as the dollar was in "good shape," and that "it is too early to speak of an alternative" to the U.S. currency. Kudrin vowed to avoid discussing launching any new reserve currencies with his G-8 counterparts (Kommersant, June 15).
Kudrin's comments eased anxiety that Russia will move more of its foreign exchange reserves away from the dollar. Russia now holds about 30 percent of its $404 billion reserves in U.S. treasuries, making it the fifth-largest holder of U.S. government debt. In the wake of Kudrin's comments in Italy, the dollar strengthened against the Euro to 1.3865 from 1.41 (www.top.rbc.ru, June 16).
However, on June 16, Medvedev repudiated his finance minister, as he said during his briefing at the Shanghai Cooperation Organization (SCO) summit in Yekaterinburg that "the incumbent set of reserve currencies and the U.S. dollar as the main reserve currency has failed to accomplish their function…we will not be able to do without new reserve currencies." Medvedev emphasized his ambition for the ruble to acquire that status "in perspective." He also suggested that Russia and China should invest some of their reserves in each other's debt instead of buying only U.S. Treasuries (www.kremlin.ru, June 16).
Medvedev's comments immediately pushed the Euro up against the dollar from 1.3788 to $1.3895 (RIA-Novosti, June 16), and oil to above $72 a barrel (Associated Press, June 16).
The president and his finance minister differ on Russia's current economic condition. Kudrin realistically noted that "it is too early to speak in terms of Russia beginning to emerge from the recession" (Komsomolskaya Pravda, June 16). However, Medvedev told Chinese journalists one day earlier that "the task of preventing the crisis from affecting Russia's way of life is quite feasible, if handled on a daily basis, which is what I and the cabinet are doing" (www.kremlin.ru, June 15).
The president seems unhappy about how his finance minister conducts his duties. Talking to entrepreneurs on May 26 at his country residence, Medvedev lashed out at "…individuals in the cabinet who are saying that Russia will not get out of the crisis for another 50 years." That was an open jibe at Kudrin, who had earlier said that Russia might not have such favorable conditions as it had enjoyed in the period 2000-04 for the next 50 years. "That is unacceptable!" Medvedev fumed. "If someone believes this, he had better find another job and keep his tongue restrained" (www.polit.ru, May 27).
Why such discord? Indeed, "why has Kudrin not been fired yet?" one New York-based banker asked Jamestown in exasperation. "This sends very conflicting signals to the world when the president says one thing and his finance minister says the opposite," he explained. The answer is obvious: Kudrin is a professional, working with his foreign counterparts who are expected to make no-nonsense global financial decisions. Unlike his president, Kudrin cannot afford to publicly indulge in political demagoguery. He also knows it will be his hide, once the U.S. dollar reserves are exhausted in the absence of any "alternative reserve currency."
Another reason is that Kudrin knows only too well the identity of the real boss in Russia. Kudrin is Putin's rather than Medvedev's finance man. They go back a long way. Kudrin worked for Putin in St. Petersburg, and he then sheltered him in Moscow when Putin's fate was quite uncertain after their mutual boss Anatoliy Sobchak lost the mayoral election in 1996.
Putin for his part is using Kudrin as a front to say things he cannot himself, like Kudrin's recent comments on the Belarusian President Alyaksandr Lukashenka regime's insolvency. (www.regnum.ru, May 28). However, Kudrin goes too far for Putin's taste in his objective professional assessment of Russia's crisis. Putin is said to have once seriously considered dropping him (www.newsru.com, October 5, 2008). Should Putin indeed fire Kudrin, it will be a serious signal of the worsening of Russia's economic crisis. Meanwhile, the statistics shore up Kudrin against his president.
On June 22, Russia's ruble-denominated MICEX Index dropped 7.8 percent to 937.98, bringing its decline since June 1 to 22 percent. The dollar-denominated RTS Index declined by 4.98 percent to 961.04. On the same day the World Bank said it expected the Russian economy to contract by 7.5 percent this year (www.top.rbc.ru, June 22).
The economic crisis is clearly deepening, since the decline of Russian industrial output accelerated by 17.1 percent in May compared with 16.9 percent in April. Experts admit that even rising oil prices will hardly help the inefficient Russian economy (www.news.ru, June 22). This is not a conducive background against which to launch the ruble as a global reserve currency to eclipse the U.S. dollar.