MEDVEDEV PATIENTLY COURTING CENTRAL ASIAN LEADERS
Publication: Eurasia Daily Monitor Volume: 5 Issue: 134
By: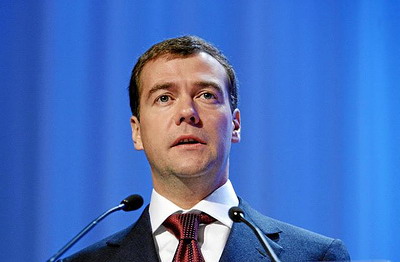 On July 6 Tajikistan's President Emomali Rakhmon met Russian President Dmitry Medvedev during their visit to Kazakhstan to celebrate the 10th anniversary of the renaming of Astana. Details on the talks are scarce, but with the prospect of another bilateral meeting at the Dushanbe Shanghai Cooperation Organization summit in August, both leaders were undoubtedly preparing the way for their next meeting. Speculation has grown since Medvedev took office that his diplomatic activity in Central Asia will presage a more concerted effort to reduce regional U.S. security influence. There was, however, almost no indication of this in Astana, suggesting that while anxiety exists in the West about Moscow's intentions, Medvedev is pursuing a cautious and more conservative agenda in the region. It is likely that Medvedev was focusing on energy issues, as he may be keen to promote the interests of Russian energy companies in Tajikistan. Gazprom has recently acquired a number of licenses to develop fields in Tajikistan and play a leading role in this sector, while Inter RAO UES (Unified Energy System of Russia) aspires to manage the construction of the Roghun hydroelectric power station (www.avesta.tj, July 7).
Dushanbe shows no sign of altering its security relations with Russia, which are likely to continue to be pleasing to policy makers in Moscow, despite the presence of a small contingent of French troops in Dushanbe that has never provoked any significant level of controversy. During a recent interview with Delovaya Nedelya in Kazakhstan, Tajik Foreign Minister Hamrokhon Zarifi stressed the importance of Dushanbe's cooperation with powers beyond Central Asia, which included Russia, China, the United States and Iran. Zarifi highlighted the long-standing nature of Tajikistan's relationship with Russia, which is unlikely to change as a result of any Kremlin policy shifts under Medvedev. "Each state that our country cooperates with has its own place in our country's foreign policy. We build our relations on this basis. We have common interests and mutually advantageous plans, and all these unite mutual efforts and actions. Tajikistan and Russia, for example, have been linked by long-standing relations. We were one country, the USSR, for over 70 years; and we have many things in common–traditions, language, environment and the like. Many inseparable ties have firmly linked our countries together, and any disruption of these ties would lead to irreparable consequences. We develop and strengthen our strategic partnership relations with Russia taking this factor into account," Zarifi said.
Such thinking dominates the defense and security policy. "As is known, the 201st military base of the Russian Federation is in Tajikistan. The presence of the Russian military base has its history and tradition, taking into account the fact that Russian servicemen from this base and the Tajik people were together during the most difficult time for Tajikistan. They ensured security on the Tajik borders and inside the country. Second, their presence is in line with our country's cooperation with Russia, as well as cooperation within the framework of the CSTO," Zarifi commented. It seems there is no appetite for changing policies toward foreign bases either by vociferously opposing the stationing of Western forces in the region or developing new arrangements in this area (Narodnaya Gazeta, June 18).
There has been speculation about recent trends in Tajikistan's foreign policy relating to its cooperation with Arab states. Rakhmon visited Egypt, Syria, Qatar and the UAE in 2007, followed by an official visit by the Emir of Qatar to Dushanbe; and the emergence of trilateral cooperation among Tajikistan, Afghanistan and Iran is thought by some to indicate part of a wider shift in foreign policy. Zarifi explained, however, that these activities formed part of Dushanbe's attempts to promote its own interests, which are not aimed at favoring any one or any group of foreign states.
Yet, this trilateral cooperation, based on economic interests, may in the longer term produce security changes in Tajikistan, at least insofar as how the security structures assess and counter threats to domestic security. "Trilateral cooperation among Tajikistan, Iran and Afghanistan in this format is still at its initial stage. Our intentions in this field mainly pursue economic interests. The point here is about the construction of roads linking Tajikistan with the northern provinces of Afghanistan and Iran, power transmission lines along the same routes, cultural projects, and setting up a joint television channel. We do not think that the implementation of these projects will be coming under the economic influence of another state," Zarifi said (Narodnaya Gazeta, June 18).
Nonetheless, there are initiatives in place that point to a later extension of the trilateral Tajikistan-Afghanistan-Iran cooperation into security areas. A memorandum on cooperation between the interior ministries of Tajikistan and Afghanistan was just signed in Dushanbe. On July 9 Tajik Interior Minister Mahmadnazar Solehov and Afghan Interior Minister Eng Zarar Ahmad Moqbel signed a memorandum on cooperation that will promote bilateral cooperation and an exchange of intelligence aimed at countering terrorism, drugs and weapons smuggling, transnational organized crime and the export of historical and cultural artifacts. It also envisages taking steps to combat the flow of narcotics and their precursors. Specialists for the Afghan Interior Ministry will be trained at the Tajik Interior Ministry's academy, and there will be greater cooperation between the police and other security agencies involved in tackling these issues (www.avesta.tj, July 9). As economic cooperation develops among these Persian-language countries, it may well facilitate security cooperation in very specific areas.
Thus, subtle changes in Tajikistan's foreign policy indicate a trend toward the emergence of possibly more independent defense and security policies that could go beyond its traditional security partners. Medvedev, however, being on a campaign to "pressure" his Central Asian partners into a more anti-Western stance, not only runs counter to Russia's own interests but misses the point entirely. The Central Asian states are less nervous about the change in the Kremlin than they are about facing the new man in the White House. Eight years of being on the receiving end of quite diverse U.S. security initiatives and being unclear about how best to exploit these offers or implement them and being guided by a monolithic unilateralism has taken its toll. Will this be followed by more of the same? Subtle repackaging? Or a re-activated multilateral approach?