Medvedev Pulls Germany into a Closer Partnership
Publication: Eurasia Daily Monitor Volume: 6 Issue: 158
By: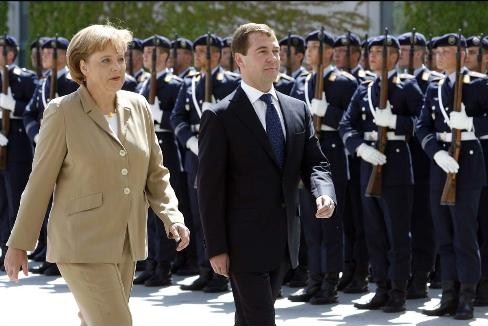 On August 14 President Dmitry Medvedev held a short meeting with Chancellor Angela Merkel in his Sochi residence, and its agenda was rather unusual in the long annals of Russo-German summits. There was not much personal bonding as Merkel had already taken a good measure of her counterpart and Medvedev probably had an uncomfortable feeling of being examined over how he was growing into his job (Nezavisimaya Gazeta, August 14). Energy-related matters were barely touched upon during the two hour long tête-à-tête, since Berlin is not particularly interested in the preposterous race between the Nabucco and South Stream pipelines (www.gazeta.ru, August 13).
Medvedev's grand ideas about reshaping the European security architecture were also put aside for a different occasion, which most of the concerned parties do not exactly see as coming anytime soon. The issue that dominated this working meeting was Russian investments in German industry, which might appear rather untimely given that Germany has shown the first signs of overcoming the crisis, while the Russian economy has registered a fall of 10.9 percent in the second quarter compared with the same period in 2008 (RBC Daily, Kommersant, August 15). Medvedev himself pronounced a surprisingly harsh verdict on the economic situation: "We cannot continue developing this way – this direction is a dead end" (Vremya Novostei, August 11). It was unclear to the chiefs of the State Duma summoned to that meeting in Sochi what "decision on restructuring our entire economy" Medvedev had in mind, but they were quite taken aback by his bottom-line: "otherwise, our economy has no future."
The first crisis management method that most Russian politicians reach for is more state control, and workers at many idle plants are also demanding nationalization (www.newsru.com, August 12). Medvedev apparently has something very different in mind as he keeps reciting the mantra of "innovation." He has few illusions that Western capital could be lured to invest in Russian industry, particularly as business conflicts tend to become more vicious at a time of deepening recession, as the Norwegian Telenor can testify (Kommersant, August 1). Shopping in the German industrial market where many promising assets are now on sale might indeed help in opening access to modern technologies for Russian companies.
The deal that attracted most attention involves the well-known automobile manufacturer Opel, which is currently owned by troubled U.S. giant General Motors and anticipates losses reaching $3 billion this year (Vedomosti, 14 August). The shipbuilding company Wadan Yards and the micro-electronics company Infineon are also on the list of possible acquisitions, and Medvedev promised that the Russian owners would take good care of them (www.lenta.ru, August 14). Merkel was also in favor of these deals expecting that an influx of Russian money and orders would preserve thousands of jobs in Germany, including in her own electoral district Nordvorpommern -where shipbuilding is in deep decline (www.newsru.com, August 14). Parliamentary elections in Germany are scheduled for September 27, and Merkel is aware that close relations with Russia are very popular in business circles, and therefore this theme cannot be left to the Social Democratic party to exploit to its advantage.
There is, however, another Russia-related issue that Merkel cannot ignore, and not only because of its high profile but also her personal commitment – human rights, and in particular the chain of murders of NGO activists in the North Caucasus. At the previous summit in Munich, it was Natalia Estemirova, and this time Merkel demanded answers about Zarema Sadullaeva and Alik Dzhabrailov. Medvedev insisted that the groups that were behind this "provocation against the leadership of the Chechen Republic" were funded from abroad and promised with no shadow of doubt that President Ramzan Kadyrov will do everything possible in order to find their killers. He is caught in a trap where partial reforms expose deeper failures and repression generates more discontent, and can only hope that his helplessness will not appear too obvious, giving new impetus to instability (Novaya Gazeta, August 12).
It is perfectly possible for Merkel to keep business affairs separate from human rights issues. In contrast it is actually more difficult for Medvedev since Putin's system of power is a remarkably coherent construction where all its elements are locked in place, so any loss of control over local trouble in the North Caucasus cannot be isolated. Whatever minor improvement Medvedev tries to introduce – less administrative corruption in the courts or more political freedom for the liberal opposition – the resistance in the system is insurmountable, since the president is seen as a weakling who cannot assert any authority. His plan for rehabilitating the depressed economy by introducing "innovations" may sound promising, but the wasteful state corporations, including the supposedly most advanced Russian Technologies, are stuck with their Soviet-style management and have no use for modern methods (Rossiyskaya Gazeta, August 12). It is the state-controlled Sberbank, for that matter, that is making the bid for Opel, but the next step will most likely involve transferring its ownership to the major car-maker in Russia Avtovaz -completely paralyzed by the recession despite massive state support orchestrated by the same Russian Technologies (Kommersant, August 14). It appears rather doubtful that the sum of Opel and Avtovaz problems will yield a miraculous economic solution.
August is an odd month in the Russian political calendar, littered with marker-dates that are a reminder about all sorts of past troubles, from the coup in 1991 to the financial meltdown in 1998, the Kursk tragedy in 2000 to the war with Georgia in 2008. Smiling for the photo-op in Sochi, Merkel was conscious of another date: it was on August 13, 1961 that the Berlin Wall was erected (Nezavisimaya Gazeta, August 14). This November, it will be 20 years since that ugly barrier was demolished by jubilant crowds, and Vladimir Putin remembers those days as a recurrent nightmare. Medvedev's feeble efforts at modernization look for his mentor and senior partner as experiments with reforms that could too easily get out of control, subsequently Russia is set to continue sinking into the crisis quagmire under his "manual steering."