Medvedev's Macro-European Ambitions Ring Hollow
Publication: Eurasia Daily Monitor Volume: 6 Issue: 80
By: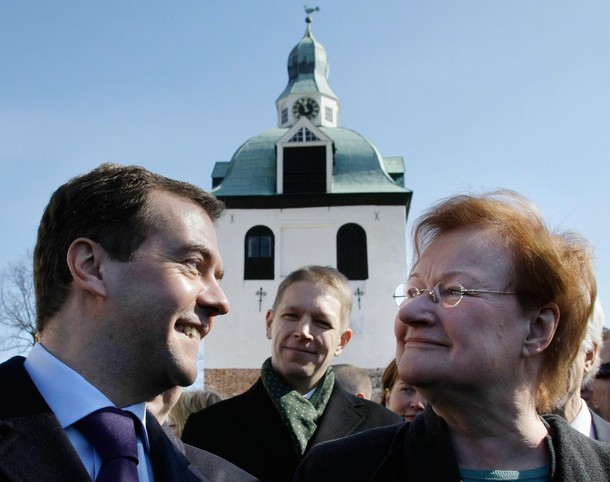 President Dmitry Medvedev paid a state visit to Finland last week anticipating a warm welcome on "safe ground," since it was with Russia's help that Finland started building its own statehood exactly 200 years ago (Rossiiskaya Gazeta, Vremya novostei, April 22). He paid due respect to the memory of Carl Mannerheim, who led then newly-independent Finland in the "Winter War" with the USSR in 1940, but showed little interest in minor matters of bilateral relations -disappointing his traditionally pragmatic hosts (www.gazeta.ru, April 22). Instead, Medvedev tried to refresh his initiative on launching an all-European political process leading to a new collective security treaty. He first announced this idea last June in Berlin and has referred to it many times since without elaborating on the content (Ezhednevny Zhurnal, April 23).
The Finns remained indifferent to Medvedev's vision despite the catchy name "Helsinki plus" and despite the undeniable fact that Russia's dissatisfaction with the existing security system makes it seriously unstable. The examples that Medvedev brought to illustrate this fact -from the conventional arms control breakdown to the August war in the Caucasus- proved primarily Russia's readiness to violate the post-Cold War norms of behavior, and there are few reasons to believe that new norms that would suit Moscow's ambitions could satisfy its neighbors. Medvedev explained that he expected long and complicated talks, but the start of this as yet hypothetical process will inevitably signify that the Organization for Security and Cooperation in Europe (OSCE) is compromised, while undermining NATO's role as the central security-providing institution. Russia's "principled" course against ceding any political territory to the Alliance was enriched with a new quarrel last week as the Foreign Ministry vigorously condemned NATO's "destabilizing" exercises in Georgia scheduled for May (RIA-Novosti, April 23).
Medvedev's counterparts will eventually abandon their "we-will-think-about-it" approach and tell him bluntly that a new Kellogg-Briand pact is a non-starter. Meanwhile, Medvedev tries to supplement his grand initiative with a no less ambitious proposal for replacing the Energy Charter with a new framework agreement. The inconclusive Russian-Ukrainian "gas war" has proven that the current arrangement does not work, but the draft unveiled by Medvedev in Helsinki and uploaded to the presidential website is first and foremost self-serving (Vedomosti, Kommersant, April 21). Its three main goals are to secure expanded demand for Russian gas while returning to "fair" prices, to abolish the EU plans for liberalizing the gas market, and to discipline the states responsible for providing transit -first of all Ukraine. Moscow hardly expects that such a "conceptual approach" will secure support within Europe but it might help in making the Energy Charter null and void -and that would be a perfect hit as far as Russia is concerned.
Putting more emphasis on spin in this grand energy bargain, Moscow maintains high levels of activity on all European gas fronts. Medvedev sought to get from the Finns the final approval for the delayed Nord Stream pipeline project across the Baltic Sea. Prime Minister Vladimir Putin sent a different signal by canceling his participation in an energy summit in Sofia, Bulgaria, sending instead Minister of Energy Sergei Shmatko, who insisted that the EU should grant priority to the Russian pipeline project South Stream across the Black Sea (Kommersant, April 22). Deputy Prime Minister Igor Sechin went to an international conference on energy transit in Ashgabat seeking to calm down President Gurbanguly Berdimuhamedov, who had blamed Gazprom for the explosion on a pipeline in Turkmenistan (Nezavisimaya Gazeta, April 21). In neither case, however, was significant progress registered, and Moscow now often finds itself in the uncomfortable position of suppliant instead of negotiating from a position of gas strength.
Berdimuhamedov apparently presumes that Gazprom is not what it used to be, while probably not reflecting much on the predicament of his own gas-centric mono-state. Gazprom is indeed so tightly integrated into Russia's structures of governance that it is affected by the general economic downturn -even if the world energy prices have stabilized. Forecasts for the Russian economy are revised almost weekly -and invariably for the worse. The GDP decline in the first quarter has been corrected from 7.2 percent to 9.5 percent, so the Ministry for Economic Development now predicts a 6 percent contraction for the year (Kommersant, April 24). These macro-figures imply a 30 to 40 percent reduction in the state budget income, and if in the current year the government aims at minimal cuts in spending, covering the deficit from the accumulated reserves, by 2010 this policy will be unsustainable. Evgeni Gontmaher, an economist from the Institute of Contemporary Development that enjoys Medvedev's patronage, argues that that the presidential address in May with the key guidelines for the 2010 budget -which must be presented by the government to the parliament by August 25- could be crucially important for Russia's recovery from the devastating recession (Vedomosti, April 22).
Large-scale sequestration and cuts for every program will mean that the government has failed to identify its priorities and set Russia on a course of stagnation at the "bottom" of the crisis (www.gazeta.ru, April 22). That might suit the interests of some parts of the ruling bureaucracy, but will leave the populist demands unaddressed and the main pressure groups, from the siloviki to Gazprom, entirely dissatisfied. The ruling "tandem" is quite possibly incapable of making hard choices, as Medvedev's vague ideas about modernization contradict Putin's commitment to preserve key elements of his power system. This system of corrupt patronage and triumphant consumerism was perhaps organic to Russia in the period of petro-prosperity (Rossiiskaya gazeta, April 21). It is, however, simply not viable in the years of scarcity and survival-of-the-fittest -so the Russians are remembering Boris Yeltsin, who died two years ago, with a new respect for a leader that steered the country across a sea of troubles.