Merkel-Poroshenko Meeting Shows Deep Freeze of 'Normandy' Negotiations
Publication: Eurasia Daily Monitor Volume: 14 Issue: 12
By: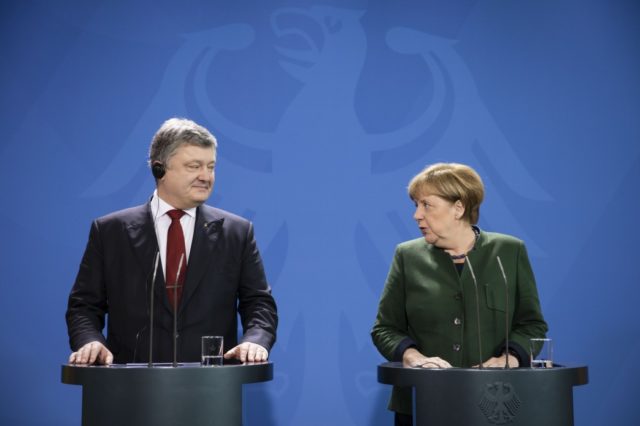 German Chancellor Angela Merkel received Ukrainian President Petro Poroshenko on January 30, in Berlin, for an "exchange of views" on the "conflict in Ukraine," "the peace process and the implementation of the Minsk armistice" (Bundeslanzlerin.de, January 27, 30). Those code words are widely used in Western Europe to avoid designating that conflict as a state-on-state aggression and Russia as the aggressor. Yet, the assault of Russia's proxy forces on the Ukrainian-held town of Avdiivka (under way since January 29) brought some clarity in Berlin. It also caused Poroshenko to cut short his visit.
Nevertheless, the Berlin meeting indicated a reassessment of the situation on Merkel's part (and even by several Social-Democrat leaders—see below), which had become apparent well before the Avdiivka battle. Berlin seems to understand more clearly that Russia is fueling hostilities in Ukraine's east while pressing for a negotiated outcome that Western leaders could neither politically accept nor politically sell.
Negotiations in the "Normandy" format (Russia, Germany, France, Ukraine) have not been held since the October 2016 Berlin summit. That meeting supposedly authorized the drafting of a "road map" for political settlement in the Minsk Contact Group. But that process is also destined to fail as long as it seeks to empower the Donetsk and Luhansk "people's republics" against Kyiv. This is how the Minsk process has been structured from the outset, under the Normandy format's supervision. Both Minsk and Normandy, however, failed to overcome Kyiv's skillful defense of its interests. No further meetings are currently planned in the Normandy format at any level. The Normandy format can now be regarded as frozen (unlike the simmering conflict on the ground).
The meeting in Berlin contrasted with the traditional spirit of Normandy meetings in three significant ways (Bundeskanzlerin.de, January 30):
First, this meeting's bilateral format precluded a Moscow-Berlin-Paris common position against Kyiv (as was often the case in the Normandy group's meetings). Given the absence of the Russian side and Berlin's own apparent reassessment of the situation, Chancellor Merkel was clearly more receptive to Ukrainian concerns at this meeting.
Second, Merkel no longer asked Ukraine to accept the holding of "elections" in the Russian-controlled Donbas, preparatory to negotiating a "special status" for that territory. These are the declared political goals of the Minsk armistice and of the "Normandy" negotiations, which (if implemented) would legitimize Russia's control of the territory and the local authorities.
And third, Merkel declared, "We have just realized, yet again, that the ceasefire does not exist." This was not simply a reaction to Russia's proxy assault on Avdiivka (see above), but—as Merkel's wording made clear—a recognition that Russia's military commitments under the Minsk documents remain unfulfilled and unenforceable. This, in turn, vindicates Ukraine's political line of defense: namely, that Russia's breaches of the military and security clauses make it impossible for Ukraine to deliver on the political clauses of the Minsk armistice ("elections" and "special status" for Russia's proxies).
While functionally moribund, the Normandy format is not dead and will never be declared as such, regardless of what it may or may not deliver. Chancellor Merkel briefly remarked in the press conference that "Negotiations and resolution [of the conflict] are only possible in the Normandy format." This remark could well be seen as diplomatic ritual, but it takes on a new significance with the inauguration of Donald Trump's presidency in the United States (January 20). European governments may want to keep the Normandy format afloat—even if barely—to hedge against a bilateral US-Russia understanding that would sideline the Europeans.
Meanwhile, the Germans and French themselves do not seem keen to invoke the Normandy format publicly. President François Hollande and Chancellor Merkel did not mention it when meeting in Berlin, three days before Poroshenko's visit (Bundeskanzlerin.de, January 27). The German and French ministers of foreign affairs, Sigmar Gabriel and Jean-Marc Ayrault, respectively, did not mention the Normandy format either when meeting in Paris, two days before Poroshenko's Berlin visit (Auswaertiges-amt.de, January 28). Thus, no coordination seems to have taken place between the Normandy group's German and French members, ahead of Poroshenko's visit to Berlin. A German-Ukrainian bilateral relationship is more important and certainly more beneficial to Ukraine than the counterproductive Normandy group.
The reassessment of Russia's conduct (see above) has further solidified Merkel's support for continuing with the European Union's economic sanctions until Russia changes its policy. While she remains the coagulating factor in Germany and in the EU on this issue, some other key policy makers are firming up their support for sanctions on their own accord. Even French President Hollande, the sanctions dove in the Normandy forum, has told US Donald Trump in their introductory phone call that "Sanctions can only be lifted when the Minsk agreements are fully implemented"—even while "continuing and intensifying dialogue with Russia" (Elysee.fr, January 28).
Support for sanctions seems to grow in Germany's Social-Democrat Party, which is undergoing a leadership reshuffle. The SDP's most popular figure, Frank-Walter Steinmeier, has resigned as foreign affairs minister (January 27) and is resigning his party membership, having been designated to become president of Germany, a symbolic post without policymaking attributes. His debilitating influence on German policy overall is receding. Steinmeier (and others in the SPD) had hinted all along at easing the sanctions through understandings with Russia at Ukraine's expense. The new foreign affairs minister, Sigmar Gabriel (also SPD), had shared that position until recently. But, in his maiden visit abroad as Germany's top diplomat, Gabriel declared in Paris that "implementing the Minsk peace process is the only way that sanctions can be lifted" (Agence France Presse, January 28). The former ambiguity seems to be no longer there. According to Poroshenko's readout of his meeting with Gabriel in Berlin, the new minister supports prolonging the existing EU sanctions on Russia, both Crimea-related and those related to Moscow's intervention in the Donbas (Ukrinform. January 30).
Gabriel has ceded his post as SPD chairman to Martin Schulz, hitherto the president of the European Parliament, now the SPD's candidate for chancellor in Germany's upcoming parliamentary elections (September 2017). Schulz has maintained a firm position on sanctions (and on other Russia-related issues) all along. In his maiden interview as chancellor-candidate Schultz declared, "We cannot lift the sanctions as long as the Minsk agreements are not fully implemented" (Deutsche Welle, February 1). Prior to SPD's leadership reshuffle, the twin issues of sanctions on Russia and the "conflict in Ukraine" were expected to play a divisive role in Germany's parliamentary election campaign. The SPD was ready to call for easing the sanctions, positioning itself as a Russia-friendly party against Merkel's Christian-Democrats. Following its leadership reshuffle, however, the SPD seems headed for broad consensus with Merkel's party regarding policy toward Russia and Ukraine. Some influential Social-Democrats are finally becoming aware of Russia's disinformation campaign targeting German society, including parts of SPD's own electorate.
German-Ukrainian bilateral relations were reviewed by Merkel and Poroshenko in an unusually positive vein on the German side. Merkel praised Ukraine's recent advances on internal reforms, resumption of economic growth, and the rise of German exports to Ukraine by 17 percent in the first three quarters of 2016. Merkel assessed that Ukraine is qualified to receive the next loan tranches from the International Monetary Fund (Bundeskanzlerin.de, January 30). For his part, Poroshenko called for jointly resisting "the Kremlin's hybrid propaganda that targets Ukraine, Germany, the European Union as a whole, and the United States" (Ukrinform, January 30).
Merkel cannot be said to have undergone anything like a full epiphany on Russia. One issue deeply damaging to Ukraine is the Nord Stream Two gas pipeline project, which Merkel supports not only against Ukraine's interests but also against the EU's energy market legislation and supply diversification policy. Even so, Ukraine will remain a net beneficiary of its relationship with Germany, as long as the latter does not return to negotiations with Russia over Ukraine. The now-moribund Normandy format had provided a multilateral cover for what was basically a German-Russian process. Berlin now apparently understands the failure of that attempt.