Militant Attacks Reported in Dagestan, Kabardino-Balkaria and Ingushetia
Publication: Eurasia Daily Monitor Volume: 7 Issue: 108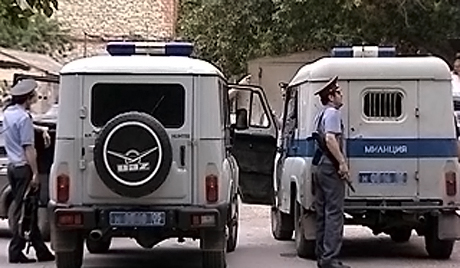 The head of administration of Dagestan's Magaramkentsky district, Azadi Shikhbabaev, was killed today (June 4) when unidentified gunmen opened fire on the car in which he was driving in the village of Magaramkent. His driver was wounded in the attack and hospitalized. The attackers escaped in a car that was later found abandoned on the outskirts of the village. The previous head of the Magaramkentsky district administration, Abrek Gadzhiev, was murdered in Makhachkala last November (www.newsru.com, June 4).
In another incident in Dagestan today (June 4), unidentified attackers fired automatic rifles and grenade launchers at a frontier control post near the village Gakko. The attackers fired from two separate positions in a wooded area and managed to set fire to the roof of one of the control post's buildings. The guards manning the post returned fire but no one was apparently hurt in the incident (www.kavkaz-uzel.ru, June 4).
Unidentified attackers fired a grenade launcher at a beer bar in the Dagestani city of Khasavyurt on the morning of June 3. No one was hurt in the attack but the bar was seriously damaged. Kavkazsky Uzel quoted a Khasavyurt resident as saying that attackers had fired automatic rifles at the bar a week earlier. Another Khasavyurt resident told the website that there had been four such attacks on establishments that sell alcohol over the last month. Those included an attack on a grocery store on May 6 in which a saleswoman was seriously wounded and later died, and a Molotov cocktail attack in late May that nearly completely burned down another store (www.kavkaz-uzel.ru, June 3).
On May 17, leaflets were distributed in Dagestan stating that the "mujahideen of the Sharia Jamaat" had declared war on sellers of alcohol, narcotics, fortune tellers, and the owners of gaming halls and saunas, along with their "Satanic" businesses. The leaflets warned that those involved in these businesses had three days to cease their activities or face arson, bomb and small arms attacks (www.kavkaz-uzel.ru, May 18).
Three suspected militants blockaded in a house in Dagestan's capital Makhachkala were killed in a shootout with security forces on June 3. Three other people –the mother, brother and sister of one suspected rebel– were arrested in the operation. Authorities said that the three slain suspected militants were members of the rebel unit headed by Magomedali Vagabov, which operates in Dagestan's Karabudakhkentsky district and in and around Makhachkala and is suspected of involvement in the twin suicide bombings on the Moscow metro in March. In a separate incident on June 3, someone threw a hand grenade in front of the entrance of a private home in Khasavyurt. No one was hurt in that incident (www.kavkaz-uzel.ru, June 3).
Dagestan's Investigations Department (SKP) reported on June 2 that an agent of the republic's branch of the Federal Security Service (FSB) and a local resident were killed in a shootout with militants in the Karabudakhkentsky district. According to the SKP, the incident took place on May 31, when an FSB special task force unit engaged a group of gunmen near the village of Kakamakhi. In addition to the FSB agent and local resident who were killed in the fighting, two law enforcement officers and a local resident were wounded (ITAR-TASS).
Later on June 2, FSB Director, Aleksandr Bortnikov, announced that a number of FSB officers had been killed and wounded in Dagestan during an operation targeting the terrorist group responsible for the Moscow metro twin suicide bombings. Bortnikov said the group was related to those bombings but gave no further details, saying the information would be made public later. A source in a North Caucasus law enforcement agency told Interfax that the FSB was probably targeting the 40-member gang of Magomedali Vagabov, who had close ties to Mariam Sharipova, identified as one of the two Moscow suicide bombers (The Moscow Times, June 3).
The son of a forester was shot and killed near his home in the Dagestani village of Gubden on June 2. His father had been killed by militants last year (www.kavkaz-uzel.ru, June 2). A local resident was killed and another seriously wounded on May 30 when unidentified attackers fired on a café located on the Khasavyurt-Babayurt highway near the village of Botayurt in Dagestan's Khasavyurt district. On May 29, three suspected militants were killed in a shootout in Khasavyurt district after police tried to stop the car in which they were driving. Also on May 29, a bomb targeted a car in which three policemen were driving near the city of Kaspiisk, killing one of the officers and injuring the other two. On May 28, the body of policeman who had been shot repeatedly was found on the Khasavyurt-Makhachkala highway (www.kavkaz-uzel.ru, May 31; www.newsru.com, May 29).
A high-pressure gas pipeline was damaged in an apparent explosion early today (June 4) on the outskirts of Nalchik, Kabardino-Balkaria. A leak from the damaged pipeline was plugged and gas supply to the city was not halted. It was not clear whether the explosion was caused by a bomb (ITAR-TASS, www.newsru.com, June 4). On June 2, two improvised explosive devices (IED's) were discovered and defused on the Baksan-Azau highway near the town of Tyrnyauz in Kabardino-Balkaria. Earlier that day, a roadside bomb detonated in the same area, slightly wounding a policeman. On June 1, an IED was found near the Nalchik police headquarters and defused. On May 30, a police car was fired on in the republic's Chereksk district. No one was hurt in the incident (www.kavkaz-uzel.ru, June 3).
A bomb was discovered and defused at a traffic police post on the Kavkaz federal highway near the village of Yandare in Ingushetia's Nazran district on June 1. On May 31, an IED was found near an intersection through which police patrols frequently drive in the Ingush town of Malgobek. The device was defused (www.kavkaz-uzel.ru, June 1). That same day, a bomb went off at a gas station near Malgobek, severely wounding a policeman who died on the way to the hospital. Also on May 31, a bomb exploded at a market in the Ingush town of Ordzhonikidzevskaya, seriously wounding two police officers in a café (Reuters, May 31).