EU Disappointed by Medvedev's "Modernization"
Publication: Eurasia Daily Monitor Volume: 7 Issue: 108
By: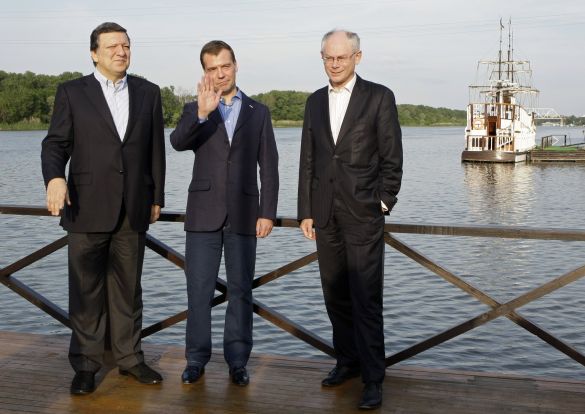 The 25th Russia-EU summit this week in Rostov-on-Don had a new format as the President of the European Commission, Jose Manuel Barroso, was for the first time accompanied by the President of the European Council, Herman Van Rompuy. There were all the usual handshakes, friendly meals and assertions of progress in implementing the "road maps" for cooperation in "common spaces," but hardly any step forward in talks on the new Partnership and Cooperation Agreement launched in mid-2008. The two key issues for this summit –the adoption of a visa-free travel regime and the approval of the "Partnership for Modernization" program– have remained disappointingly undecided (Kommersant, June 1). A key, though rarely declared reason for the EU's reluctance to drop the demand for Schengen visa formalities is Russia's policy of issuing passports to citizens in neighboring states; modernization, however, remains a "sounds-good" but low-content proposition.
The idea for a special program focusing on the task of modernization was embraced at the previous EU-Russia summit in Stockholm last November, when European leaders expressed admiration for President, Dmitry Medvedev's, ambitious article "Go, Russia!" (Vremya Novostei, June 1). The wheels of the EU bureaucracy turned unusually fast and the proposal for a new program was delivered to Moscow in January with the aim of hammering out the details by the June summit. Had this draft contained practical recommendations for joint projects, for instance in promoting energy efficiency, it would have been hailed in the Kremlin as a major breakthrough. European experts, however, found it necessary to start with strengthening the legal system and reducing corruption somewhat below the Zimbabwean level –and that condemned their draft to a non-starter (Nezavisimaya Gazeta, May 31).
In formal terms, the European proposal was quite appropriate as Medvedev on numerous occasions declared his commitment to strengthening the rule of law and to sustaining the struggle against corruption. In reality, he is perfectly aware that corruption is the operational program of the bureaucratic system he is presiding over, so any "fight" against it could only be a figure of speech. Meeting recently with human rights activists working in the North Caucasus (itself, a commendable step) he objected to the argument that the legal system was discredited and insisted that "our courts" remained the key means for restoring stability in this troubled region (Nezavisimaya Gazeta, June 1).
Perhaps the best illustration for the incompetence and political servility of "our courts" is the proceedings of the crudely falsified case against Mikhail Khodorkovsky and Platon Lebedev, which has proceeded in Moscow for more than 200 days (Novaya Gazeta, June 2). A new example of the complete disregard for legal norms by the authorities emerged last week after Prime Minister, Vladimir Putin, met artists hosting a charity show in St. Petersburg. Yuri Shevchuk, a famous rock musician, dared to deviate from the script and spoke about freedom, mentioning specifically police violence against protest rallies. Putin was clearly irritated by such bad-mannered dissent but affirmed that "If I see that people go into the streets not just to talk or promote themselves, but to say something important and relevant and draw the government's attention to some problem, there is nothing wrong with that. I will thank them.' The next day, the rally in the Triumphalnaya square in Moscow in support of the constitutional right to free assembly was dispersed by OMON with particular brutality (www.gazeta.ru, May 31).
Open discontent remains a marginal feature in Russia's tightly controlled political life and does not necessarily have any bearing on the investment climate, which is a topic that both Putin and Medvedev pay great attention to. The lack of legal protection and accountability of the authorities are, however, as acutely experienced by entrepreneurs as they are proved again and again to bold protesters in Moscow. Seeking to circumvent this defenselessness of business against bureaucratic predation Medvedev promotes, with great enthusiasm, the project for building an "innovation-town" in Skolkovo, outside Moscow, that would enjoy a special legal regime and enjoy his personal guarantees for potential foreign investors (Vedomosti, June 1). Some adventurous capital might indeed come to this "tax haven" even if the real value of Medvedev's guarantee is questionable due to his uncertain political future, which is not of his own making – but is essentially Putin's call.
It is difficult to expect that this "wonder-village" –providing it comes into existence– would become a source of numerous innovations, as the demand for those is low and is not responding to political persuasion. The core structures in the Russian economy are geared towards the production and export of raw materials, and consequently modernization not only remains a foreign idea for the most powerful business empires, including the mighty Gazprom, but also constitutes an expropriation risk for parts of their profits in financing Skolkovo and other fantasies (Ezhednevny Zhurnal, May 24). In strictly economic terms, modernization involves a steady decrease of production costs due to more efficient technologies and organization, while in Russia most companies are interested in pushing up these costs, which brings greater rewards for top management (Vedomosti, June 1).
This incompatibility of a rent-extracting economy with high-tech innovations translates into the irreducible alienation of the predatory political system from the modernization discourse. Medvedev is trying to mitigate this conflict by talking into existence a coalition of pro-modernization entrepreneurs and political elites, but his ability to lead falls far short from what is necessary to crack the solid "petro-business-as-usual" consensus cemented by Putin's dual control over the government and the dominant political party. This domestic dead-end prompts Medvedev to experiment with a pro-modernization foreign policy, cultivating the "reset" with the US and striking compromise deals on such protracted disputes as the maritime border delimitation with Norway. The EU is eager to encourage this cooperative behavior, but it cannot have any confidence in its rather shallow reservoir of political will. Russia is stuck on the de-modernization track and deceiving itself by tales of virtual modernization remains a tricky and unreliable partner.