Militants Reportedly Killed in Nalchik Shootout
Publication: North Caucasus Weekly Volume: 10 Issue: 21
By: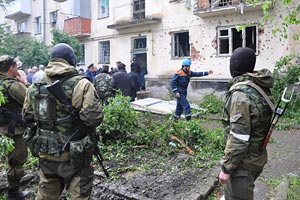 Several militants were reportedly killed during a special operation in Nalchik, the capital of Kabardino-Balkaria, on May 28. According to some Russian media, two rebels were killed after a 12-hour battle with security forces that had surrounded the apartment building in which they were holed up. Other Russian media quoted law enforcement sources as saying three militants—not two—were killed in the apartment.
The Moscow Times, citing Russia's Channel One state television, reported on May 29 that the apartment was located just 300 meters from the republic's counter-terrorism headquarters and that after "several hours of frantic shooting and the evacuation of the building's residents, police used grenade launchers against the gunmen hiding in the ground-floor apartment." Two bodies were retrieved from the subsequent rubble, the English-language newspaper reported. Channel One reported that two police commandos were wounded by booby traps set by the insurgents in the abandoned apartment.
RIA Novosti quoted a republican law enforcement source as identifying one of the slain militants as Murat Ristov, a 25-year-old native of Karachaevo-Cherkessia who is also a sambo martial arts world champion. Newsru.com reported on May 28 that Ristov received a gold medal in the 68 kilogram category in the world sambo championships in St. Petersburg last November, but that he was representing Adygea, not Karachaevo-Cherkessia, and was congratulated by Adygea's president, Aslan Tkhakushinov.
According to Newsru.com, Ristov was detained in the city of Tyrnyauz, Kabardino-Balkaria, in March along with two residents of Karachaevo-Cherkessia, on suspicion of participation in "illegal armed formations," but he managed to escape by jumping out a two-story window. RIA Novosti reported that Ristov was listed as a member of Russia's team at the European sambo championship held in Milan, Italy, on May 15-17, but that he did not participate in the competition. The website reported that Ristov was living in Maikop, Adygea, and that he was put on the federal wanted list in March.
The Vzglyad newspaper website (Vz.ru) on May 28, however, cited various Islamic websites as reporting that Ristov had been detained while receiving medical treatment in Tyrnyauz in March and threatened with torture if he refused to confess to extremist activity. According to these sources, he managed to escape and filed a complaint with the prosecutors, which Vzglyad detailed and quoted.
Various Russian media reported that the second militant killed during the special operation in Nalchik on May 28 was none other than Anzor Astemirov, the leader of Islamic militants in Kabardino-Balkaria and one of the organizers of the October 13, 2005 rebel attacks in Nalchik, who more recently became head of the Sharia courts for the Caucasus Emirate, the radical wing of the North Caucasian insurgency. (An interview with Astemirov was published in North Caucasus Weekly on March 20.)
Kommersant on May 29 quoted special services sources as saying that Astemirov may have been inside the blockaded apartment, and quoted one source in the "power structures" saying that Astemirov had been killed in the operation. Yet, the newspaper reported that "this information was soon denied by another source, who said that he [Astemirov] was not among the militants in the apartment."
Both RIA Novosti (on May 28) and the newspaper Novoye Izvestia (on May 29) quoted an unnamed republican law enforcement official as saying that one of the bodies of the dead militants may have been that of Astemirov but that an autopsy would be needed for a positive identification because the body had been severely disfigured by an explosion.
Fifty-eight men are now on trial for allegedly participating in the October 2005 rebel attacks in Nalchik, during which 35 law enforcement officers, 12 civilians and 92 rebels were killed.
On May 14, Lieutenant-Colonel Vitaly Bogatyrev, the deputy head of the remand prison where the 58 accused participants in the Nalchik violence are being held, was killed in a drive-by shooting in Nalchik.
On May 11, Kabardino-Balkaria's Interior Ministry reported that two organizers of the October 2005 raids in Nalchik, Artur (Musa) Mukozhev and Marat Guliev, had been killed the previous day while resisting capture in the settlement of Dugulubgei in Kabardino-Balkaria's Bakansky district.