Kadyrov's Income-and-Property Declaration Strains Credulity
Publication: North Caucasus Weekly Volume: 10 Issue: 21
By: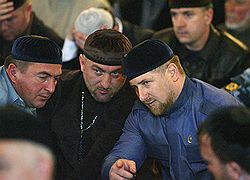 Sergei Stepashin, who heads the Russian Audit Chamber, the federal budgetary watchdog agency, was asked by REN-TV on May 27 why Chechen President Ramzan Kadyrov stated in his recently released official property and income declaration that his only car is a Russian Zhiguli when, as the television channel puts it, everyone knows he has an entire "stable" of expensive cars, including a Lamborghini. (President Dmitry Medvedev signed several decrees earlier this year ordering various senior officials to publish information about their incomes and property.) According to Newsru.com, Stepashin responded: "Well, that's a good question … Ramzan Kadyrov has ownership of a whole republic. So you don't have to worry about him."
Itar-Tass reported on May 20 that Kadyrov had made public his income and property declaration for 2008, in which he stated that his salary was 3,422,000 rubles a year—around $110,000 at current exchange rates—and that he owned a three-room, 36 square meter apartment in Grozny and a VAZ-21053 car.
Gazeta.ru noted on May 20 that in the past, Kadyrov has given athletes, military men and journalists expensive presents, including gold watches and cars, and that he admitted this past spring (following the murder of Sulim Yamadaev in Dubai) that he employs an Iranian stableman in the United Arab Emirates to take care of his race horses (North Caucasus Weekly, April 10 and 17). The website also noted that Kadyrov has bragged about his collection of rare weapons, including a prize gold-plated Stechkin pistol, and has given similar weapons as gifts to his associates. One such pistol was reportedly found at the scene of the Yamadaev murder, which UAE authorities have accused Adam Delimkhanov, the State Duma deputy and Kadyrov's cousin, of masterminding (North Caucasus Weekly, April 10 and 17, May 1).
Gazeta.ru, citing Izvestia, reported that Kadyrov's horses in the UAE are worth $300,000 to $2.5 million each (there was no indication of how many racehorses he owns). The website also noted that Ilya Yashin, an activist with the pro-democracy Solidarity movement, had put on his website a video of Kadyrov's motorcade on which one could see 10 BMWs, nine Porsche Cayennes, two Mercedes-Benz S-class and several Mercedes G-class cars, and eight Lexus LX 470s. According to Yashin's estimate, the vehicles visible in the video were worth two million euros (around $2.77 million at current exchange rates).
In 2005, a journalist with GQ magazine who interviewed Kadyrov in his native village of Tsentoroi noted that a black Hummer, a Lexus jeep and several sports cars were parked outside his home. Newsru.com reported that a Lamborghini was visible in one of the GQ photographs of the sports cars parked outside Kadyrov's home.
According to Newsru.com, Kommersant reported in 2007 that during a property battle over the "Progress" clothing factory in Kislovodsk (Stavropol Krai), Chechen OMON police officers who confronted local Cossacks guarding the site "threatened them with weapons and said the factory belongs to President Ramzan Kadyrov."
Meanwhile, there was more violence in Chechnya and Ingushetia this past week as the authorities continued to conduct joint security operations. Itar-Tass on May 27 quoted an unnamed Ingush Interior Ministry official as saying that 12 militants had been killed, seven of them in Ingushetia, since joint security operations started on May 16. Interfax reported on May 27 that two alleged militants were killed in battles with police in Grozny. In one incident in the Chechen capital, a driver blew himself up with an improvised explosive device after exchanging fire with police who tried to stop him. In the second incident, another driver was killed in a shootout with police.
Interfax reported on May 26 that a warrant officer was killed and two other servicemen wounded when an explosive device was detonated as a truck carrying soldiers from the Russian army's 42nd infantry battalion was driving along the Grozny-Argun highway. Meanwhile, three Chechen police officers were killed by a bomb on May 26 as they were conducting a reconnaissance operation in a wooded area near the village of Dattykh in Ingushetia's Sunzha district. On May 25, a police officer was injured by a grenade near Roshni-Chu in Chechnya's Urus-Martan district, near the Chechen-Ingush administrative border. A source in the headquarters of the Combined Group of Forces in the North Caucasus told Interfax on May 23 that army helicopters were being used to pursue a group of militants in Chechnya's Achkhoi-Martan district (see Mairbek Vatchagaev's article in this issue).