Dagestan Plagued by Shootings and Power Cuts
Publication: North Caucasus Weekly Volume: 10 Issue: 21
By: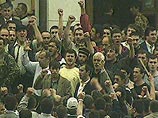 The deputy mufti of the Spiritual Board of Muslims of Dagestan, Akhmed Tagaev, was shot dead in the republic's capital, Makhachkala, on May 25. As Interfax noted, Tagaev was in charge of public and media relations for the board and regarded as "one of the main ideologists of opposition to religious extremism among Muslims." Interfax on May 26 quoted Anas Pshikhachev, first deputy chairman of the Coordination Center of North Caucasus Muslims, as linking Tagaev's murder to his professional activities and, in particular, to his opposition to radical Islam. Pshikhachev said Tagaev was a "strong opponent of Wahhabism."
Also on May 26, a policeman was killed and another wounded when unidentified gunmen fired on a police post on the Khasavyurt-Makhachkala highway on the outskirts of Khasavyurt, Interfax reported.
On May 24, an improvised explosive device consisting of a plastic bucket filled with ammonium nitrate, aluminum powder and an electronic detonator was found on a section of a gas pipeline in Dagestan's Kayakentsky district. The device was destroyed by bomb disposal experts but the blast nonetheless damaged part of the pipeline.
On May 22, a roadside bomb went off near a convoy of police vehicles on the outskirts of Khasavyurt. No one was hurt in the attack, Interfax reported.
Meanwhile, several dozen residents of a district in Makhachkala, unhappy over periodic power cuts, took over an electricity sub-station on May 27 and turned on feeders that had been shut off, Interfax reported. According to the St. Petersburg Times, it was the second seizure of a power station in Dagestan in the past two days: on May 26, a group of 60 to 70 people, most of them women, stormed a power substation in Sulak, switched the distribution feeders back on and secured the station with their own locks, RIA-Novosti reported, citing a statement from the Interregional Distribution Grid Company.
The St. Petersburg Times reported that electricity to Makhachkala and its suburbs was cut by 20 percent on May 21 because of the city's 998 million ruble ($32 million) debt.