Militants Threaten to Return to Central Asia after NATO's Withdrawal from Afghanistan
Publication: Eurasia Daily Monitor Volume: 10 Issue: 6
By: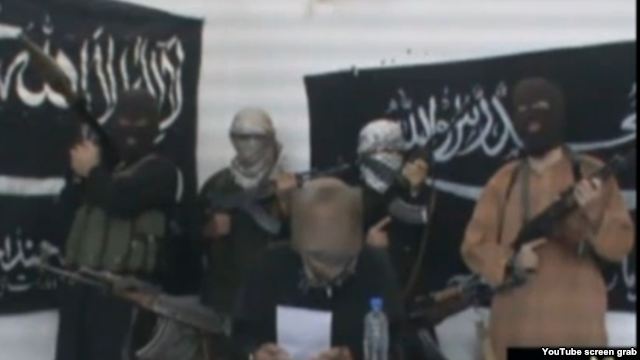 On December 4, 2012, the deputy chairman of Kazakhstan's National Security Committee, Kabdulkarim Abdikazymov, said to the press that Jund al-Khilafa was a "real threat" to Kazakhstan's national security (Tengrinews, December 4, 2012). Similarly, on November 26, 2012, the Chairman of the Parliamentary Committee on Defense and Security of Kyrgyzstan, Tokon Mamytov, warned that "there might be danger of an incursion from Afghanistan into Kyrgyzstan in 2013 or 2014" (Kyrtag.kg, November 26, 2012). Abdikazymov and Mamytov's statements reflect concerns in Central Asia about "foreign fighters" currently in Afghanistan returning to their home countries after the planned US and NATO withdrawal from Afghanistan in 2013.
The last time a world power withdrew from Afghanistan—the Soviet Union in 1988—many foreign fighters from Southeast Asia returned to their home countries and used the financial and logistical networks and skills acquired in the war-torn country to form terrorist groups, such as Kumpulan Mujahidin in Malaysia, Jemaah Islamiyah in Indonesia and Abu Sayyaf in the Philippines. The question now is whether the several thousand Central Asians in Afghanistan present a "real threat" to their home countries, as Abdikazymov suggests, or whether the threat is only perceived. A review of three Central Asian militant groups based in Afghanistan—Jund al-Khilafah, which targets Kazakhstan, the Turkistan Islamic Party (TIP), which targets Xinjiang, China, and the Islamic Movement of Uzbekistan (IMU)—shows that Central Asian fighters do not yet appear to be returning to their homelands. But history, as well as these groups' intent, suggests that the threat of their eventual return to their home countries—whenever it may be—is real.
Jund al-Khilafah is based in the North Caucasus and the Afghanistan-Pakistan border region, and it carried out three separate attacks in Atyrau, Taraz and Almaty in late 2011 (Tengrinews, September 28, 2012). As evidenced by slain Tunisian-born Jund al-Khilafah amir Moez Garsallaoui's connections to Mohammed Merah, who killed three Jews and four French paratroopers in southwest France in March 2012, Jund al-Khilafah also has international operational capabilities. There are an estimated 200 to 300 Kazakhstani militants in Afghanistan and Pakistan, many of whom have financial relationships with Jund al-Khilafah supporters in Kazakhstan (September 9, 2011). This became apparent with the sentencing of Aidos Kusanov on October 8, 2012, who transferred 380,000 tenge (approximately $2,500) to Jund al-Khilafah in Pakistan through the Aqtobe-based militant group Ansar al-Din. Ansar al-Din has not claimed any attacks in Kazakhstan, but has issued numerous video statements condemning the Kazakhstani government on jihadist websites, such as hunafa.com and Kavkaz Center, and seeks to "establish links of material support" to "assist the families of the mujahideen," according to its own propaganda (https://hunafa.com/?p=3839).
Despite Jund al-Khilafa and Ansar al-Din's operational links to Kazakhstan, the flow of militants and funds still appears to be from Kazakhstan to Afghanistan and Pakistan or elsewhere—not the other way around. This could soon change, however. In a November 2011 Islamic Jihad Union video statement, a Kazakhstani fighter said that that after victory in Afghanistan, their "goal" is Central Asia, while another fighter, who claimed to be the "amir," said their "sphere of interest" is Central Asia, in particular Kazakhstan (Kavkazcenter.com, December 2011). Other experts in the region argue that the IMU and other militants are already in Kazakhstan, using the country effectively as a "terminal" linking Europe, Central Asia and Afghanistan, and therefore the militants do not want to destabilize Kazakhstan, yet (Tengrinews, September 6, 2011).
The Turkistan Islamic Party (TIP), which is led by Uighurs from China's Xinjiang Province and is based in the Afghanistan-Pakistan border region, also has Turkish and Russian-speaking members. According to unsubstantiated Chinese reports, the TIP has connections to militants from Xinjiang who are fighting in Syria, while in 2010 TIP members were convicted in Dubai for attempting to blow up a statue of a Chinese dragon outside of a popular mall in a symbolic attack (The National, July 9, 2010). The TIP has approximately 300–500 fighters, but there is only concrete evidence of one TIP fighter who has ever trained in Afghanistan or Pakistan and returned to Xinjiang to carry out an attack. He was Memtieli Tiliwaldi, the alleged leader of the July 30–31 attacks in Kashgar that killed more than ten Han Chinese pedestrians. He was depicted in a TIP video training in a mountainous area resembling the Afghanistan-Pakistan border region and then was confirmed killed by Chinese security forces in Kashgar after the attacks (Times of India, September 8, 2011). China's Vice Minister of Public Security Meng Honwei said one month before the attacks in Kashgar that that there were "signs [that] the 'East Turkistan' terrorists are flowing back" and "they are very likely to penetrate into China from Central Asia" (China Daily, May 9, 2010).
Like Jund al-Khilafah and the TIP, the Islamic Movement of Uzbekistan has entrenched itself in northern Afghanistan, but has not carried out any major attacks in Uzbekistan or elsewhere in Central Asia since at least 2004. Reportedly, the IMU is connected to Jamaat Ansarullah, which is an Islamist militant group operating in Tajikistan; and according to accounts, armed groups in Afghanistan's Badakshan Province, which borders Tajikistan's Gorno-Badakshan Autonomous Oblast, are "becoming stronger" (BBC, December 5, 2012). However, the IMU appears to be more effective in helping the Taliban seize control of northern Afghanistan than attacking targets in Central Asia, even if it does have a presence in Kazakhstan and other neighboring countries.
The Southeast Asian militants who returned to their home countries after the Soviet withdrawal from Afghanistan carried out or trained others to carry out terrorist attacks, which killed hundreds of people, but, they proved much less effective at generating change than the mass social movements in the Arab World in 2011. As long as the populations of Central Asian countries remain vigilant to the threat posed by these militant groups, the fighters returning from Afghanistan will likely be able to only carry out sporadic attacks but gain no traction in society. However, crises like the ethnic riots in Urumqi in 2009, the ethnic clashes in Osh in 2010, the deadly Zhanaozen protests in 2011, and the instability in Tajikistan's Gorno-Badakshan in 2012, all have the potential to erode government legitimacy, while increasing support for alternatives to the present leadership. Most alternatives come in the form of opposition parties, but some of those who have been aggrieved may turn toward groups like the TIP, Jund al-Khilafah and the IMU instead.