Military Reform In Russia Bypasses Military Intelligence
Publication: Eurasia Daily Monitor Volume: 8 Issue: 203
By: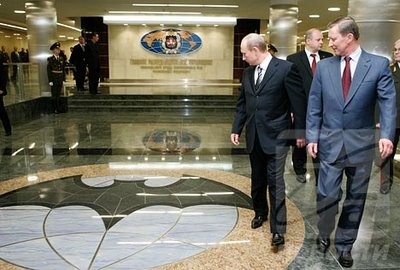 This week Russia's military intelligence service (Glavnoye Razvedyvatelnoye Upravleniye –GRU) celebrated its official annual holiday – Military Spy Day (Dyen Voyennogo Razvedchyka). This professional holiday was established in October 2000 by President Vladimir Putin, himself a KGB spy during the Cold War in East Germany. Military Spy Day is on November 5, but the official ceremonies were held on November 2. The chief of the Kremlin staff Sergey Naryshkin read out an address by President Dmitry Medvedev to a gathering of active military spies and veterans in a military theater hall in Moscow. Naryshkin congratulated the assembly over their great achievements in intelligence gathering "in times of war and peace," while expressing confidence that "the present expanded potential of the GRU allows it to monitor the situation in the world to make decisions that will guarantee the security of our nation" (RIA Novosti, October 2).
Within Russia and internationally the role, capabilities and organizational strength of the GRU were traditionally overshadowed by the KGB – its intelligence competitor and rival. The annual KGB Day on December 20 (Dyen Chekista) was established earlier (in 1995) and is celebrated with more fanfare. The KGB successor organizations (SVR, FSB and FSO) are independent powerful government agencies, while the GRU is today, as during the Cold War, organizationally a directorate of the General Staff of the Armed Forces that in turn is a division of the Defense Ministry. A recent wave of spy scandals and arrests of undercover ("illegal") Russian spies in the US in 2010 and last month in Germany have caused concern in Moscow. Intelligence community connected commentators talk about a serious crisis in the Russian spy services – a trade traditionally considered as the highest state priority (Kommersant, October 25).
The ten spies arrested in the US last year and two in Germany last month seem to all be from the KGB successor foreign intelligence agency – the SVR (Sluzba Vneshney Razvedky). But the GRU has had its own image problems. This week in a trial in New York Viktor Bout, 44, a former Soviet Air Force officer, accused by US officials of running an international arms trafficking network, was found guilty of conspiring to sell antiaircraft missiles and other weapons to men he believed were members of the Revolutionary Armed Forces of Colombia (FARC). Bout's background – training as a military translator specializing in Portuguese – indicates a possible connection to the GRU, since the Institute of Military translators was always a school from which the GRU recruited. In the 1970s and 1980s, the Soviet Union was running massive military operations in Portuguese-speaking African nations. Much of Bout's alleged arms-trafficking activities have in the past been connected to civil wars in Africa. Bout may have been a semi-independent operator in illicit arms trading, but the so called "arms black market" cannot function without a steady supply of material and falsified end user certificates to help transgress border controls – coming from legal arms trade operators and official authorities. In the 1990s and early 2000s the arms trade in Russia was controlled by active service GRU officers, generals and admirals – and Bout prospered. Under Putin the KGB took over arms trade and Bout's luck began to run out.
Bout's conviction, if not a direct blow to the GRU, is certainly an embarrassment. The GRU, like the SVR, has been recently implicated in the ongoing tide of media leaks: it was reported that the present chief of the GRU Colonel-General Aleksandr Shlyakhaturov, 64, will soon retire, while the SVR and the GRU may be merged into a superspy organization (Moskovsky Komsomolets, October 29). Disgruntled officers have told journalists that Shlyakhaturov has "destroyed the GRU" by retiring some 1,000 intelligence officers, cutting the number of special forces (Spetsnaz) brigades from eight to five and by putting those brigades under the command of military district commanders instead of the GRU directly. The previous chief of the GRU Army-General (retired) Valentin Korabelnikov (appointed in 1997) was fired by Defense Minister Anatoliy Serdyukov in 2009 for allegedly refusing to reform the GRU, while Shlyakhaturov turned out to be more submissive (Izvestiya, September 27).
Next February Shlyakhaturov will turn 65 and under the present regulations he must face compulsory retirement from active service (top generals retire at 60, but may serve till 65 under special exemption by presidential decree). There have been reports that Shlyakhaturov will be offered an honorary position on the board of directors of a state-owned space or missile-making corporation (Kommersant, October 28). At present Shlyakhaturov continues to be the chief of the GRU and this week he used the opportunity of the Military Spy Day celebration to dispel some of the innuendo surrounding military intelligence: the GRU will not be merged with the SVR and it has not been "destroyed or made incapable." According to Shlyakhaturov the reform of the GRU has been minimal – it continues to gather intelligence using agents and "technical means;" has an "analytical structure" and support units. There have been some cuts in personnel and the Spetsnaz brigades "have indeed become organizationally part of military districts, fleets and the Airborne Troops (VDV)," but the GRU continues to supervise their battle use rules, training and armament. Shlyakhaturov specifically pointed out immediate threats the GRU is concentrating on today: terrorists and extremists that "attack Russia in peacetime" and "possible Georgian military provocations" (RIA Novosti, November 1). Russia fought a brief war with Georgia in August 2008, occupied breakaway Abkhazia and South Ossetia and still considers Georgia to be an archenemy.
A Cold War "illegal" GRU spy in the West, including the US, Colonel (retired) Vitaliy Shlykov, who is an adviser on military reform to the defense ministry, confirmed to Jamestown, quoting Serdyukov, that the GRU has not been "touched greatly at all, unlike much of the other military structures." According to Shlykov, the modus operandi of the GRU has not changed and he does not know of any immediate plans to introduce any sweeping reforms to military intelligence. Meanwhile, Shlyakhaturov has appointed a new first deputy – General Vladimir Alexeyev, who may soon become the GRU's chief (Moskovsky Komsomolets, October 2).