Mind the Trap: What Basing Rights in Djibouti and Sri Lanka Reveal About the Limitations of Debt as a Tool of Chinese Military Expansion
Publication: China Brief Volume: 20 Issue: 7
By: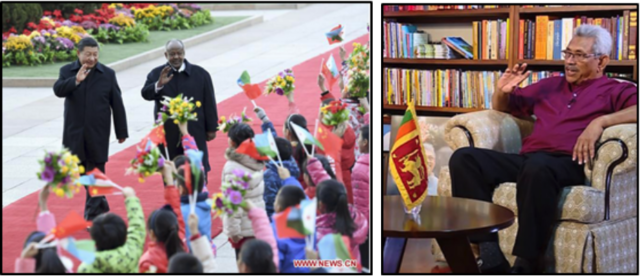 Introduction
On November 24, 2019, Sri Lankan President Gotabaya Rajapaksa told reporters during his first interview as president that he hoped to renegotiate the terms of the deal that gave a Chinese firm a 99-year lease over the Hambantota Port (Strategic News International, November 24, 2019). The port had been handed over as Sri Lanka struggled to make loan payments on the loss-making Chinese-built facility—thereby leading to debates as to whether the People's Republic of China (PRC) had set a "debt trap" by intentionally lending Sri Lanka more than it could afford to repay, in hopes of eventually foreclosing on the port (China Brief, January 5, 2019). The subtext was that with a leasehold in hand, the PRC could use the port as a naval installation geared toward patrolling Indian Ocean shipping lanes.
As can be observed by the Sri Lankan government's desire to renegotiate, this has not happened. To the contrary, Sri Lankan security policy has trended against China since the debt-equity swap occurred. A comparison with Djibouti, where the PRC has established its only overseas military base to date, illuminates how this came to pass. In both Djibouti and Sri Lanka, Beijing has used infrastructure loans as a means to entice political leaders to allow naval access. However, three factors led to very different outcomes: 1) the recipient countries' inherent willingness to host a base; 2) the degree of political competition faced by recipient leaders; and 3) the degree to which recipient leaders can diversify toward different sources of funding to reduce overreliance on China.
Djibouti
Most countries are not interested in hosting foreign troops, but Djibouti is an exception. With little in the way of natural resources, arable land, or population, it has few economic advantages other than its location at an important maritime chokepoint. It has capitalized on its location in part via basing revenues from foreign militaries, six of which had forces stationed there before China's arrival (SIPRI, April 2019). All six countries negotiated access with one of Djibouti's two post-independence leaders: the current President Ismail Omar Guelleh, who has been in power since 1999, or his predecessor (and uncle) Hassan Gouled Aptidon. Such concentration of power has made it easier for the Djiboutian government to handle the inevitable domestic objections to foreign bases, but did not always sit well with many international investors.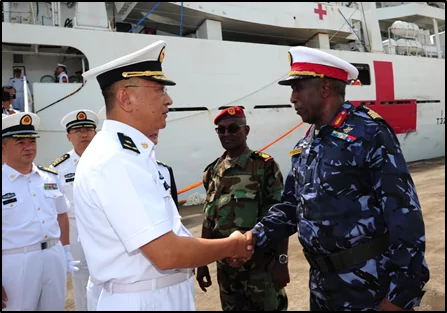 This changed with the arrival of China. Inspired by its own experience building clusters of economic activity at home, the PRC bet big on Djibouti as a logistics hub, beginning with agreements to build a railway to neighboring landlocked Ethiopia (2011), a parallel water pipeline (2011), and a new seaport (2013) (CNA, July 1, 2017). Construction of the port was not yet complete when, in January 2016, the PRC Foreign Ministry announced that a naval facility would be built adjacent to the new port (PRC Ministry of Foreign Affairs, January 21, 2016). The infrastructure cluster was predominantly backed by debt from the Export-Import Bank of China (China Exim), and Djibouti has indeed run into trouble repaying it since the port's May 2017 opening (IMF, April 6, 2017; PRC Ministry of Commerce, May 25, 2017). However, Djibouti's debt distress came only after agreeing to a Chinese base. This was not a "trap"—it was a voluntary exchange of bank credit for naval access.
Sri Lanka
Sri Lanka shares Djibouti's potential as a resupply site for Indian Ocean naval patrols, but its fractious political system leaves less room for enduring arrangements with foreign powers. During Sri Lanka's bloody, decades-long civil war, China was one of the few countries to back the Sri Lankan government (National Interest, November 28, 2018). This fact was not forgotten by President Mahinda Rajapaksa, who took power in 2005 and hoped to find outside funding to rebuild from both the 2004 Indian Ocean tsunami and the war, which ended in 2009. Like Guelleh, Rajapaksa relied heavily on Chinese funding. This included projects in and around the capital of Colombo but also a now-notorious grouping in his hometown of Hambantota. Home to only 40,000 people, Hambantota managed to draw over $1 billion in loans from China Exim for a new deepwater seaport, airport, and cricket stadium. The idea of a port at Hambantota had been circulating for years, but a feasibility study had ruled it uncompetitive with the country's existing major port at Colombo, and few other financiers were interested (CSIS, April 2, 2018).
Indeed, while the major PRC state-owned conglomerate China Harbour was building a debt-fueled white elephant as a favor to the president, rival China Merchants had been taking an actual equity stake in expanding the port at Colombo. China Merchants was backed partially by a $300 million loan from the Japanese-led multilateral Asian Development Bank (Asian Development Bank, May 16, 2013). Colombo quickly outpaced Hambantota, which could not bring in enough shipping traffic to cover its debt payments. In 2014, Chinese President Xi Jinping visited Sri Lanka and promised $391 million in equity investment for further improvements at Hambantota by both China Harbour and China Merchants (China Brief, January 5, 2019). In other words, Sri Lanka would not be taking on more debt, and China Merchants was moving in on China Harbour's territory. Lest anyone forget what the Chinese government hoped to gain, a People's Liberation Army Navy (PLAN) submarine visited Colombo at the time of Xi's visit and was followed by another six weeks later (PRC Ministry of Defense, November 27, 2014).
By 2015, it was Sri Lanka's turn to question the arrangement at Hambantota. Running on an anti-corruption platform, opposition leader Maithripala Sirisena scored an upset victory in that year's presidential election, despite money from a Chinese-backed Hambantota construction fund allegedly finding its way into Rajapaksa's campaign chest (The Hindu, July 1, 2018). Under financial pressure from its predecessor's debts, the new government in June 2016 came to a $1.5 billion loan agreement with the International Monetary Fund (IMF), which wanted budget cuts (IMF, June 4, 2016). Most of Sri Lanka's debt was owed to private bondholders with zero tolerance for missed payments—as of December 2016, the IMF estimated all Chinese loans combined at only 10 percent of Sri Lanka's outstanding external debt—and most of these funds went to more productive projects (IMF, April 6, 2017). This left Hambantota, a symbol of the last administration's cronyism, on the chopping block. In July 2016, the Sri Lankan government proposed a resolution to the problem: cancelation of all debts at the port and airport in exchange for Chinese equity stakes.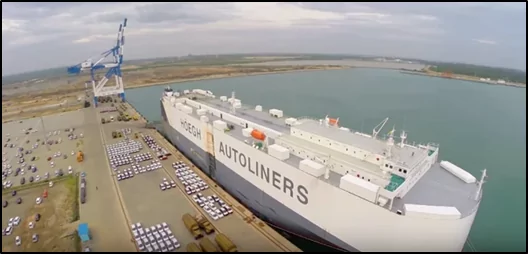 Beijing refused the offer. PRC Ambassador Yi Xianliang said that such a deal "was not possible according to China's laws" (Sunday Times (SL), July 31, 2016). He did not elaborate, but any objections were almost certainly related to the losses faced by the Exim Bank. By October 2016, the parties had found a workaround: the Hambantota port facility was to be placed under the custody of a joint venture, in which a Chinese investor would take a majority stake. In exchange, the Chinese investor would assume the port's remaining debts, meaning that Exim would have claims on the port's future profits (were they to materialize). Sri Lanka was given a choice between China Merchants and China Harbour as the investor and ultimately sided with China Merchants, which had earned itself a good name with the Colombo port expansion (Forbes, October 28, 2016).
This deal allowed the Sri Lankan government to remove a financial albatross from its shoulders; it also allowed China Merchants to edge its rival out of Sri Lanka, and for China Exim to reduce its losses. Notably absent in this deal was the Chinese security establishment. China Merchants owns a majority stake in the company tasked with providing security at the port, indicating that the port could probably be used for intelligence-gathering or sanctions-busting purposes (Thorne & Spevack, April 17, 2018). However, the terms of the handover agreement explicitly bar naval access without express Sri Lankan permission, and such permission has yet to be given. Requests for further Chinese submarine visits have been denied since a May 2017 visit by Indian Prime Minister Narendra Modi.
Since the handover, ships from the Japanese and Australian navies have visited Sri Lankan ports (Japanese Ministry of Defense, October 30, 2018; Australian Department of Defence, March 30, 2019). Sri Lanka has signaled sovereignty over Hambantota itself by relocating its navy's Southern Command there, and holding joint exercises in the area with the U.S. Navy (Reuters, July 2, 2018; U.S. Navy, April 22, 2019). This does not imply that Sri Lanka will take sides—it has accepted one donated Chinese warship and turned down a status of forces agreement with the United States—but rather that it intends to stay neutral (PRC Ministry of Defense, August 24, 2019; SCMP, July 8, 2019). This trend toward diversification has been mirrored in economics, as Sri Lanka has taken on projects from the Asian Development Bank, India, Japan, the Chinese-led multilateral Asian Infrastructure Investment Bank (AIIB), and even a refinery project at Hambantota to be built by a company owned by an Indian parliamentarian (ADB, December 31, 2019; Nikkei Asian Review, May 20, 2019; JICA, March 11, 2019; AIIB, April 4, 2019; Economic Times, March 30, 2019).
China briefly attempted to regain some influence as one of the few countries to remain open to Rajapaksa's attempted comeback during a 2018 constitutional crisis, but his bid to return to office did not succeed (Rajapaksa Twitter, October 27, 2018). In November 2019, Rajapaksa's younger brother, Gotabaya, took office as President, but so far has not turned full tilt back towards Beijing. Why did China back the elder Rajapaksa's reelection campaign in 2015, initially resist the Sri Lankan-proposed debt-equity swap, and accommodate Rajapaksa's attempted comeback even after the port had changed hands? The obvious answer is that the port's handover was a significant setback for Chinese interests: the PRC took on $1.1 billion in distressed debt and an empty port, and in exchange lost the prospect of naval access. This was not a successful "trap": it was a failed iteration of the same loans-for-military access strategy that succeeded in Djibouti.
Conclusion
It is difficult to convert economic influence into military access without either some degree of willingness on the part of the recipient—as was the case in Djibouti—or an outright invasion of the type which served the British Empire in Hong Kong, but has since happily faded into history. Competition from both domestic political rivals and international sources of funding, where they exist, make militarization even less likely. This dynamic can even work with rivals from within China, as happened when China Merchants used funding from a multilateral development bank to best its rival state-owned enterprise China Harbour. Chinese basing ambitions can succeed in countries with few economic alternatives and low elite turnover—Cambodia fits this bill, and perhaps Pakistan—but are unlikely to succeed elsewhere, regardless of debt. 
Scott Wingo is a doctoral candidate in political science at the University of Pennsylvania focusing on China's economic engagement in the developing world and why its modes of doing business are different from those used by Western governments, international organizations, and multinational corporations. He has previously worked with the Woodrow Wilson Center, the World Bank, and the private sector. He holds both a Bachelor's of Science in Foreign Service and a Master's of Arts in Asian Studies from Georgetown University. You can follow him on Twitter @ScottCWingo.