Mindful of the Islamic State, Boko Haram Broadens Reach into Lake Chad Region
Publication: Terrorism Monitor Volume: 13 Issue: 3
By: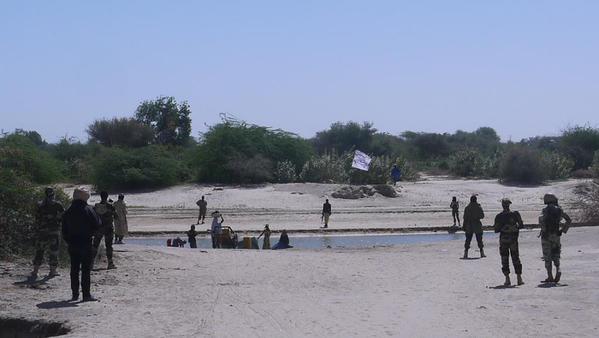 In early January 2015, many foreign and domestic observers of Nigeria focused on whether Boko Haram would ramp up its attacks to disrupt the February 14, 2015 Nigerian presidential elections, between incumbent Goodluck Jonathan (often characterized as the "southern Christian" candidate) and Muhammad Buhari (the "northern Muslim" candidate). This was not unwarranted. It was during the run-up to elections in 2011 – in which Jonathan defeated Buhari in a landslide – that Boko Haram launched its first attacks on political and religious figures, leading to an insurgency that has now claimed more than 15,000 lives.
However, rather than focusing the presidential elections, Boko Haram and a new faction that calls itself the "Islamic State in West Africa" are consolidating control of their self-declared caliphate in northeastern Nigeria and neighboring parts of Cameroon, Niger and Chad. This article reviews Boko Haram's recent operations in the Lake Chad regions of Cameroon, Niger and Chad in the context of increasing Islamic State influence on Boko Haram in Borno State, Nigeria.
Evolution in the Lake Chad Region
Cameroon
Boko Haram effectively began operations in Cameroon in 2012, when its "missionary preachers" recruited young men from northern Cameroonian towns (ipsnews.net [Yaounde], February 7, 2012). In 2013, Boko Haram began militant operations in Cameroon. First, in coordination with reintegrated remnants of Ansaru, Boko Haram began to kidnap foreigners in northern Cameroon, including 10 Chinese engineers, seven French tourists, and four Western Christian missionaries, and released them in exchange for several millions of dollars and dozens of militants and arms dealers from Cameroonian prison (Iroko Magazine, July 28, 2014; Camer.be, June 2, 2014; Le Journal International, February 7, 2014). [1] Secondly, Boko Haram retreated to mountainous towns along the Cameroonian border with Nigeria to evade the Nigerian Army's offensive that was launched against Boko Haram in May 2013.
It was not until May 2014, however, that Cameroonian President Paul Biya (and his Chadian counterpart President Idriss Déby) declared war on Boko Haram during a summit in Paris (France24.com, May 24, 2014). By this time, however, Boko Haram bases and supply lines were already deeply entrenched in northern Cameroon. In late 2014, for example, Cameroon evacuated citizens from neighborhoods in the border town of Fotokol after repeated Boko Haram incursions, in which militants forced local citizens to burn their national ID cards (Cameroonweb.com, November 4, 2014).
However, Boko Haram's full-scale "invasion" of Cameroon did not begin until late December 2014, when the militants launched three major attacks:
· On December 29, 1,000 militants raided five Cameroonian border towns in what was possibly Boko Haram's largest-ever attack (Reuters, December 29, 2014);
· On January 12, several hundred militants attacked a Cameroonian border garrison in Kolofata (Cameroon Tribune, January 13);
· On January 19, Boko Haram kidnapped 80 hostages near Mokolo, who were subsequently used as human shields; several dozen escaped soon after or were rescued (Cameroononline.org, January 19).
In addition, on January 5, Boko Haram leader Abubakr Shekau delivered his most explicit threat to Cameroon in a video called "Message to President Biya of Cameroon." Shekau warned that Cameroon will "taste what has befallen Nigeria." This represented Boko Haram's view of Cameroon not just as a strategic target but as an ideological enemy (Vanguard [Lagos], January 7).
Chad
As a result of Boko Haram's attacks in Cameroon, as well as Boko Haram's January 4 capture of the Multi-National Joint Task Force (MNTJF) base in Baga, Nigeria at the intersection of the border with Cameroon, Chad and Niger, President Déby ordered troops to Cameroon's Far North Region on January 16. These troops, who had experienced fighting Boko Haram-allied jihadists in northern Mali in 2013, offered tactical mobility and reinforcements to the worn out and numerically thin Cameroonian Army and gendermarie, while Cameroon waited for further military support from international partners (Voice of America, January 23). The Chadian troops were also welcome in Cameroon due to the two countries' Francophone backgrounds and mutual economic interests.
Nonetheless, despite initial successes in wresting several border towns from Boko Haram not only in Cameroon but also Nigeria in early February, Chadian intervention in Cameroon risks inviting a response from Boko Haram, which operates in several Chadian Arabic-speaking towns in Cameroon's Logone-et-Chari, bordering Chad's Lac State (Icameroon.com, March 28, 2014). This sparse borderland is also a route for mafias, which often operate with tacit consent from corrupt local officials, smuggling weapons from Libyan stockpiles to Boko Haram into Cameroon for use by the insurgency there (Africa Presse, August 20, 2014). In addition, although Boko Haram is yet to attack Chad, there are also reports of Chadians joining the ranks of Boko Haram, who could facilitate such a Boko Haram invasion of the country (although some Nigerians suspect behind-the-scenes "truces" between Boko Haram and the Chadian authorities will inhibit this).
Examples of Chad nationals being involved in Boko Haram include:
· Chadians run Shari'a courts in towns under Boko Haram's control in the Caliphate that Shekau declared in Nigeria in July 2014 (Leadership [Abuja], December 15, 2014). These Chadians may also have played a role in Boko Haram's decision to rename the two Boko Haram-occupied towns of Gwoza and Mubi as Dar al-Hikma and Madinat al-Islam ("Abode of Wisdom" and "City of Islam" in Arabic) after negotiations between the Nigerian government and Boko Haram for the release of the 250 kidnapped Chibok schoolgirls, which were mediated by Chad, collapsed in November 2014 (This Day Live, November 7);
· A Chadian faction of Boko Haram issued a video on October 30, 2014, in the Boudouma, Hausa and Kanuri languages, in which 10 militants decapitated three anti-Boko Haram Civilian Joint Task Force (JTF) vigilantes and threatened Chad, Cameroon and Niger as well as Presidents Jonathan, Hollande and Obama. They said they had captured the men in Malam Fatori town on the Niger border of the "Islamic State" (DefenceWeb.Co.Za, November 4, 2014). Notably, Malam Fatori was the first town Chad took back from Boko Haram when it intervened in Nigerian territory on January 30, 2015 (BBC, January 31);
· The Federal Government reported 15 Chadians were among 42 Boko Haram insurgents killed in Biu according to documents found on their bodies, when government forces repelled a Boko Haram attack there on January 14 (Punch [Lagos], January 16);
· Reports have surfaced about the emergence of "light-skinned foreigners," which may mean Chadians (or Tuaregs), in Boko Haram camps in northern Nigeria, including the trainers of some of the 19 teenage female suicide bombers (The Sun, December 25, 2014);
· Some Boko Haram militants have worn Chadian Army uniforms (possibly stolen or reused), while other militants – particularly those formerly affiliated with Ansaru – may have retreated to Sudan or Libya after the French intervention in northern Mali in 2013. They might have returned to Nigeria as militants in Boko Haram-related factions, such as Harakat al-Muhajiroon, which specializes in kidnappings in Cameroon and raiding military barracks in Nigeria (al-Rakoba.Net [Khartoum], January 25);
· Internally displaced persons (IDPs) fleeing Boko Haram raids in Nigeria have reported hearing attacking militants speaking languages such as Hausa, Kanuri, French, Fulani and Arabic, which suggests growing regionalization among the insurgent ranks (al-Jazeera, January 25).
Boko Haram's logistics networks in Chad, mistrust of the Chadian government (as evidenced in the failed Chibok negotiations) and use of the country as a pool for recruitment means that Chad will remain a potential theater for Boko Haram attacks. Shekau's threats to President Déby for promising to support Cameroon after the attack in on the MNTJF base in Baga, which provoked Déby to intervene in Nigeria to combat Boko Haram, could further accelerate any Boko Haram decision to attack Chad.
Niger
Boko Haram has never carried out any major attacks in Nigerl; Ansaru, however, claimed attacks on French energy plants in Arlit and Agadez in May 2013 in conjunction with the Movement for Unity and Jihad in West Africa (MUJWA) and Mokhtar Belmokhtar (France24.Com, May 24, 2013). However, after taking over Abadam in October 2014, Damasak in November 2014 and Baga in January 2015 in northern Borno, Boko Haram began manning parts of the Nigerian border with Niger only several meters from Nigérien troops in Diffa (Leadership [Abuja], November 25, 2014). Boko Haram also reportedly sent militants in disguise as IDPs to recruit from among their ethnic Kanuri kin in refugee camps in Diffa (RFI, January 23).
Boko Haram has also recently used ideological issues to boost its influence in Niger. For instance, Shekau threatened Nigérien President Issoufou in a video on January 21 for expressing sympathy to France after the Charlie Hebdo attack in Paris, five days after a YouTube user called "Islamic State in Nigeria" posted a video of Shekau praising the "spilling of French blood" in the attack (Vanguard [Lagos], January 22). Ansaru, notably, also issued a video praising the Charlie Hebdo attack on January 29, though it also characteristically criticized Boko Haram's killing of Muslim civilians in Nigeria (al-Hidayat Media, January 29). The anti-Charlie Hebdo protests in Zinder on January 19, in which more than 40 churches were burned and Boko Haram's flag was reportedly flown, further suggests that Boko Haram (and Ansaru) may be able to recruit Nigériens beyond Diffa (Tele Sahel Television [Niamey], January 19).
Re-Branding and the Islamic State
The re-orientation of Shekau's faction of Boko Haram from Nigerian targets, including elections, such as when Shekau first announced the "jihad" in 2010, to a more regional focus has coincided with his pledge of support to Islamic State leader Abu Bakr al-Baghdadi, Shekau's declaration of a caliphate in northeastern Nigeria and Boko Haram's use of Islamic State symbolism, such its nasheed-s (chants), flag and choreographed, videoed mass killings (Terrorism Monitor, December 19, 2014). However, Shekau's faction will unlikely conclude a bayat (pledge) agreement with the Islamic State because of the Islamic State's ambivalence over Shekau's erratic persona and al-Baghdadi's tendency to not accept bayat from militant groups that are not united. In addition, Shekau's preference for Boko Haram's autonomy from foreign jihadist groups, including al-Qaeda previously, and his desire for unrivaled leadership power, will inhibit such a bayat.
At the same time, however, another faction of Boko Haram is also reaching out to Islamic State through postings on the new Boko Haram Twitter account, al-Urhwa al-Wutqha (possibly named after a late 1800s Arabic-language Islamist newspaper in Paris, since the twitter-feed's introduction also coincided with the Charlie Hebdo attack). [2] The videos from this account include an interview with spokesman "Abu Musa'b al-Barnawi" (likely a pseudonym intended to honor Abu Bakr al-Baghdadi's predecessor Abu Musab al-Zarqawi). Al-Barnawi, like Ansaru in 2012-2013, distanced himself from the killing of Muslim civilians. [3] None of the Boko Haram videos posted by al-Urhwa al-Wutqha mention Shekau at all, but their professionalization and use of English and Arabic subtitles and the office setting and wearing of veils in the al-Barnawi interview resemble the first video of Ansaru's shura in May 2012 (Desert Herald [Kaduna], May 5, 2012).
One conclusion that could be drawn from this Twitter feed is that it represents the Ansaru militants who re-integrated with Boko Haram in the Nigeria-Cameroon border region, where most al-Urhwa al-Wutqha-claimed attacks take place; Ansaru rejoined Boko Haram under Shekau out of despair after Nigerian security forces raided Ansaru cells in northwest Nigeria and the French-led military intervention cut Ansaru off from its al-Qaeda in the Islamic Maghreb (AQIM) sponsors. However, the promotion of this Twitter account by key Islamic State supporters, such as Shaybah al-Hamad, and its references to Boko Haram's caliphate as the "Islamic State in West Africa" and its issuing of a video called "Message from a Mujahid," copied from an Islamic State video series of the same name, suggests that this faction no longer sees itself as part of the al-Qaeda fold. Rather, it seems to have switched its allegiance to Islamic State, although al-Hamad has established that there is no bayat "yet" between this faction and Islamic State. [4]
Also relevant to this jihadist equation in Nigeria is the Ansaru video that praised the Charlie Hebdo attack. In the video, Ansaru, which was previously almost completely dormant since 2013, also claimed an attack on the Jos-Bauchi highway, where former Ansaru militant Hussaini was arrested in 2014 (Premium Times [Abuja], June 21, 2014; Punch [Lagos], January 19). This suggests that Ansaru has maintained a theater of operations outside of Boko Haram's main bases in Borno State, even while some of its militants have re-integrated to form the faction of Boko Haram that is still critical of Shekau, but now is more allied with the Islamic State than with al-Qaeda or AQIM.
Conclusion
Boko Haram operations are predominantly focused on Borno State and, increasingly, neighboring parts of Cameroon, Chad and Niger. The geographic and cultural distance of this region from Abuja as well as the growing influence of the Islamic State on Boko Haram could lead to what had originally been a "Nigerian-based" insurgency developing less nationally-focused aims. If the operational space in the Lake Chad region proves more fertile for recruitment and expansion, then Boko Haram factions may increasingly seek to carry out attacks there and to hold territory deeper in the southern Sahel. While this development could decrease the threat to Abuja itself, it is still worth noting that both Ansaru and the "al-Urhwa al-Wutqha" faction of Boko Haram retain their militant networks and operational capabilities near Abuja in the Middle Belt region. This includes Gombe, where two female suicide attackers detonated explosives after President Jonathan's rally there on February 2 (Elombah.com, February 3).
Therefore, it is possible that Boko Haram will target the Nigerian elections throughout the country, but Boko Haram's priorities, in terms of its rhetoric and operations, are in Borno, where there are already major hurdles to holding elections due to the militants' control over large tracts of land and the ongoing battles between Boko Haram and Nigerian, Chadian, Cameroonian and Nigérien troops.
Jacob Zenn is an analyst of African and Eurasian Affairs for The Jamestown Foundation.
Notes
1. See Jacob Zenn, "Ansaru: A Profile of Nigeria's Newest Jihadist Movement," Terrorism Monitor, Volume: 11 Issue: 1, January 10, 2013, https://www.jamestown.org/single/article_id=40287&no_cache=1.
2. @Alurwa_Alwuthqa posted on January 19, 2015. The account has since been suspended.
3. @Alurwa_Alwuthqa posted on January 27, 2015. The account has since been suspended.
4. Please see Shaybah al-Hamad's twitter feed, January 28, 2015.