Minister of Defense of Georgia Continues to 'Knock at NATO's Door'
Publication: Eurasia Daily Monitor Volume: 13 Issue: 49
By: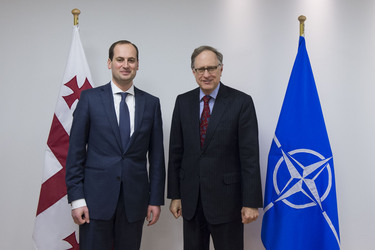 Georgia's newly appointed Foreign Minister Mikheil Janelidze recently visited the headquarters of the North Atlantic Treaty Organization (NATO), where he held talks with NATO Deputy Secretary General Alexander Vershbow. The Georgian minister also took part in a meeting of the NATO-Georgia Commission, with the participation of the permanent representatives of NATO member states in Brussels (Civil Georgia, March 2).
Both Vershbow and the member representatives of the NATO-Georgia Commission reassured Janelidze that they supported Georgia's military reforms. NATO leaders confirmed their readiness to continue working with their Georgian partners on implementing the substantial package of cooperation that the North Atlantic Alliance offered to Georgia at the Wales summit in 2014 (Civil Georgia, March 2). Once again, Alliance members emphasized the prominent role Georgia plays in NATO operations in Afghanistan, where about 700 Georgian servicemen are still stationed today. In 2015, Georgia had 1,750 men deployed to Afghanistan—the most of any non-NATO country (Apsny.ge, May 19, 2015).
It has been over 16 years since modern Georgia's second president, the former minister of foreign affairs of the Soviet Union Eduard Shevardnadze, stated that his country would soon "knock at NATO's door" (Lenta.ru, October 25, 1999). Georgia has closely cooperated with the Alliance since 1994, when the South Caucasus country joined the Partnership for Peace (PfP) program. In April 2008, at its summit in Bucharest, NATO confirmed that Georgia and Ukraine would become members of the alliance if they complied with membership requirements (Sputnik-georgia.ru, July 6, 2015). However, NATO officials often emphasize that Georgia needs to first receive a Membership Action Plan (MAP) (Civil Georgia, March 2), even though the process of acquiring MAP remains stalled due to internal disagreements among Alliance members.
NATO's sluggishness, despite Georgia's years of conscientious effort to do its "homework" in pursuit of MAP, has resulted in mounting discontent among Georgian leaders. Minister of Defense Tinatin Khidasheli has been among the most impatient politicians in this regard. Khidasheli, who comes from the Republican Party of Georgia, is widely considered one of the country's most radically pro-Western politicians. With the upcoming NATO summit in Warsaw in July 2016 fast approaching, she has made a number of alarmist statements about the negative consequences to Georgia if it is denied the "road map to joining the alliance" in the nearest future.
"If Georgia does not receive a Membership Action Plan (MAP) during the next summit, it will disappoint the [Georgian] population. This is especially true since, as the referendum results of 2008 indicated, three quarters of the population supported joining NATO," Defense Minister Khidasheli said in an interview with the Spanish news agency EFE last summer (Sputnik-georgia.ru, July 6, 2015). And after one of her meetings with NATO Secretary General Jens Stoltenberg, she declared, "Prior to the summit in Warsaw, we do not have any other proposals on the table for our partners apart from MAP" (Svoboda.org, August 4, 2015).
With time, Khidasheli's statements have become increasingly dismal. "We are losing our patience. If Georgia does not receive MAP in Warsaw, it will become a tragedy for our country," she remarked in a July 2015 interview with the German-language newspaper Kurier (Timer.ge, July 30, 2015). "If the Russian aggression continues and Georgia does not become a NATO member, after ten years our country may not have enough resources to fight for membership in the alliance," the minister warned, in September. She further implied that the number of Georgian citizens who support closer ties to Moscow and the Russian-led Eurasian Economic Union have gradually increased. "When we talk about NATO, we mean saving the country [Georgia] whose territory keeps shrinking. No one knows what will remain of Georgia after two, five or ten years if everything goes as it is now. Perhaps, what I am saying sounds very dramatic, but that is how it is, and I cannot make jokes about that. The aggression that our northern neighbor uses against us is a question of life or death for Georgia" the minister said (Kommersant, September 8, 2015). Finally, in a September 18 interview with the BBC, the defense ministry head emotionally proclaimed that if Russia again attacks Georgia, "we [Georgians] will all die as heroes" (BBC News, September 18, 2015).
Such sharp rhetoric could not escape the attention of officials in Brussels and Washington. The United States' ambassador to Tbilisi, Ian C. Kelly, felt that Minister Khidasheli's remarks necessitated a direct response. In particular, Ambassador Kelly said that sooner or later Georgia would become a NATO and European Union member, but at this time, "Georgia's friends" have refrained from accepting the country into the North Atlantic Alliance so as to avoid putting the small post-Soviet country under additional risk, as in 2008. "Georgia has a most serious problem—the occupation of 20 percent of its territory. NATO reaches its decisions via consensus, and the organization has not reached a consensus yet on accepting Georgia into the Alliance. Georgia will become a member of NATO only when NATO is prepared for that. You [Georgia] must respect the reality, and the reality is that you have a common border with Russia. True friends of Georgia do not want to put you at risk," Ambassador Kelly emphasized (Kommersant, February 25, 2016).
Immediately after the US diplomat's statements appeared in the Georgian media, Minister Khidasheli softened her tone and walked back from her previous explicit demands that Georgia be granted a MAP at the Warsaw summit. "Our aim is not to get MAP, but to become a NATO member state. MAP hangs over us like a 'Sword of Damocles,' but Georgia has multiple other instruments and formats for close cooperation with the alliance," she stated (Tabula.ge, February 18).
One such non-MAP framework for cooperation is the NATO-Georgian Joint Training and Evaluation Center, which was opened last August just outside of Tbilisi. NATO Secretary General Stoltenberg participated in the inauguration ceremony (Civil Georgia, August 15, 2015). It appears that Georgia will have to be content with this situation for the next few years, which may not be as negative as some members of the government bemoan. Indeed, Georgia has achieved a degree of closeness with the North Atlantic Alliance that is unmatched by any of the other post-Soviet republics that are still claimed by Russia to be within its "sphere of privileged interests."