Death of Top Chechen IS Commander May Change the Face of the Syrian Insurgency
Publication: Eurasia Daily Monitor Volume: 13 Issue: 49
By: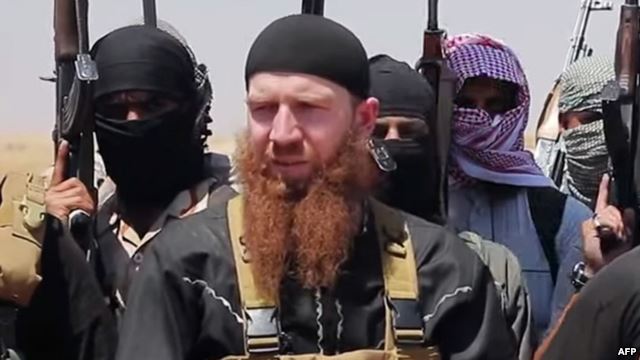 On March 5, in the fighting for the city of al-Shaddadi in eastern Syria, one of the most influential commanders of the so-called Islamic State (IS), Tarkhan Batirashvili, a.k.a. Umar al-Shishani, was reportedly killed. Batirashvili, was an ethnic Chechen from Georgia's Pankisi Gorge (Rbc.ru, March 8). It should be noted, however, that after the initial reports that Batirashvili had been killed, the Syrian Observatory for Human Rights said on March 10 that he had only been seriously wounded in the attack, but was still alive (Al Arabiya, March 10).
Batirashvili had already been reported killed several times over the past three years, but the source of those reports were almost always Kurdish militants, who are known for exaggerating their military victories (Kavkazsky Uzel, December 28, 2015). Hence, few analysts paid attention to the information provided by the Kurdish groups. Russian media sources have also been quite unreliable, especially as they used photographs they said were of Batirashvili but were of other people, and made unsubstantiated claims (Lenta.ru, February 12, 2015).
This time, however, it was unnamed Pentagon officials who were quoted as saying that Batirashvili had likely been killed in a US drone strike in that part of Syria. That operation must have specifically targeted certain individuals. Tarkhan Batirashvili was on the United States' list of wanted individuals, and the US government announced a $5 million bounty for information that would lead to him being killed or captured. The Pentagon was perfectly aware of Batirashvili's importance in the Islamic State, given that he was not only a top IS official but also a close associate of IS leader Abu Bakr al-Baghdadi. In the past, Batirashvili even held the position of a "military minister in the caliphate's government," and he was personally responsible for the northern front. Several thousand Chechens, other North Caucasians, and citizens of former Soviet states were under Batirashvili's command (Svoboda.org, March 9).
While this latest report that Batirashvili was likely killed is much more trustworthy than the previous reports, the Chechen militant's death can be confirmed only after his father in Pankisi confirms it and, as of March 9, Batirashvili's father had not announced mourning for his son; hence, he may still be alive.
A former serviceman in the Georgian special forces, Umar al-Shishani rose to prominence in Syria in 2012, when he led a group of militants who fought the forces of Bashar al-Assad. At first, Umar al-Shishani's group, Jaish al-Muhajireen wal-Ansar (Army of Emigrants and Helpers), was made up of Chechens (Newsru.com, November 21, 2013). Later, other North Caucasians, including Dagestanis, Ingush and Kabardins, also joined him. Umar al-Shishani soon became so well-known that all the insurgents from former Soviet states sought to join his group. However, things changed after he joined the IS's self-declared "caliph," Abu Bakr al-Baghdadi. When Umar al-Shishani decided to join the IS, few other militants from his group followed him. However, as the IS strengthened in Syria and in Iraq, his former subordinates began leaving their respective groups, including those of Amir Muslim al-Shishani (Murad/Muslim Margoshvili) and of Amir Salahudin al-Shishani (Faizulla Margoshvili), among others, to join the IS. The outflow was so significant that Amir Muslim, who led the group Junud al Sham, was forced to ask for help publicly (Videoonlinehd.su, January 10).
Another group, which was under the command of Amir Salahudin al-Shishani, joined al-Nusra, thereby becoming part of al-Qaeda. Amir Salahudin currently is the commander of the group Caucasus Emirate in Syria. The militants under the command of Muslim al-Shishani, Salahudin al-Shishani, Abdul-Malik al-Shishani, and some others are still neither part of al-Nusra nor the IS. These Chechen commanders' units have kept their distance from the larger groups, which cut them off from the general financing of the forces fighting the Assad regime.
The death of Umar al-Shishani, however, might change the situation among the Chechens fighting in Syria. There will most likely be an outflow of Chechens from the IS back to the groups of Amir Muslim al-Shishani and Amir Salahudin al-Shishani. The weakening of the Chechen leadership in the IS and the appointment of Arab commanders for the Chechen fighters will likely cause conflicts among the militants, since the Chechens do not normally consider the Arabs to be authoritative military leaders. Recruits who once would have gone to Syria in hopes of joining Umar al-Shishani's forces will now seek groups headed by other well-known Chechen commanders. If Umar al-Shishani was indeed killed, it is unlikely that his closest associate, Amir Abdulkhakim al-Shishani (Rustam Azhiev, of the "Caliphate" group) will replace him. Azhiev's authority among the militants is not high enough to permit him to claim overall leadership automatically.
Many of the Chechens who went to fight in Syria associated the war with commanders like Umar al-Shishani and tried to serve under his command. One reason for this is that few of the Chechens who go to Syria to fight speak Arabic; and thus, when they first arrive there, they prefer to be among their own compatriots. According to the Chechen Ministry of Interior, 405 people left the republic for Syria between 2013 and the summer of 2015, of whom 104 have been killed and 44 have returned home (Kavkazsky Uzel, October 3). It is unlikely these figures are accurate: the Chechen interior ministry apparently did not take into account those Chechen militants who were already in Syria at the time the war started, or moved to Syria from Europe, Turkey or other Middle Eastern countries.
If Umar al-Shishani's death is confirmed, it may radically change the situation for the Chechens fighting in Syria. While some will leave one militant group to join another, other Chechens may give up the fighting altogether and return to Turkey.