Minsk: Facilitating Peace, but Benefiting From Conditions Shaped by War
Publication: Eurasia Daily Monitor Volume: 11 Issue: 157
By: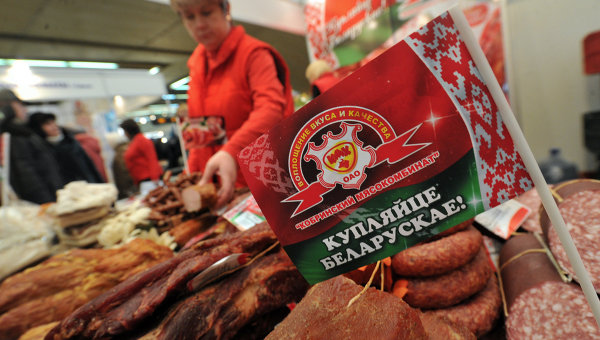 The September 5 Minsk meeting of the Contact Group (CG) on Ukraine that resulted in a ceasefire deal continues to reverberate in the global media as does the overall conflict in Ukraine. For Belarus, two sets of issues appear noteworthy: the statements of the meeting's participants and the potential reorientation of economic ties in Eastern Europe to the benefit of Belarus.
Both President Petro Poroshenko of Ukraine and its former head of state Leonid Kuchma thanked Alyaksandr Lukashenka for organizing the Minsk meeting (Tut.by, September 6). Kuchma's statement was particularly effusive, emphasizing that Belarusian soil itself was conducive to peace (Tut.by, September 5). President Lukashenka underscored the importance of the peace initiatives by Poroshenko and Vladimir Putin and suggested that facilitating the peace deal by the Organization of Security and Cooperation in Europe (OSCE) was a rare example of this institution actually performing the role it was set up for in the first place (Tut.by, September 6).
Interviewed by Russian TV Channel Rossiya 1, Lukashenka put the blame for the entire conflict squarely on the United States. "This is Uncle Sam from overseas who constantly pushes us to the slaughter… And let us put it frankly, there are a lot of politicians in Ukraine who clearly fulfill this order" (Tut.by, September 6). When asked why no US representatives attended the meeting of the CG, the Belarusian president responded: "Maybe they did not have to come, because their interests are promoted in Europe by relevant people, including [the head of European diplomacy] Catherine Ashton, and I think she would not do anything against the will of America" (Tut.by, September 6).
Moreover, contradicting his previous statements against the "federalization" of Ukraine (see EDM, April 1), Lukashenka suggested that regions of Ukraine should be assigned more independence—and whether one calls it "decentralization" or "federalization" is a secondary matter.
US responsibility for the crisis in Ukraine is a popularly held opinion in both Russia and Belarus. And President Barack Obama's skepticism regarding the truce deal, as well as negative assessments of it by the US media (see, for example, USA Today, September 6), only served to reinforce this viewpoint. As a Belarusian expert, whom the government news agency Belta questioned about the outcome of the CG meeting, put it: "of course, we are concerned about the opinion of one Nobel Peace Prize laureate [meaning President Obama] who has questioned the effectiveness of the current arrangements" (Belta, September 5).
The pandemonium in Ukraine and the sanctions war are seen as potential benefits to Belarus in such areas as transportation corridors between Eurasia's east and west, the military industrial complex, as well as agriculture and food processing. In the food sector, two trends are noteworthy. First, Belarus's food exports to Russia have grown substantially, particularly to Kaliningrad as a result of Moscow's counter-sanctions on the West and the ensuing elimination of Lithuanian food exports to the Russian exclave (Tut.by, September 1). Second, Russia's counter-sanctions still permit the import of foods processed in Belarus but made with "raw materials" produced in the European Union. Consequently, Belarus has suddenly been besieged by requests from Latvian and Polish fresh milk producers, who wish to process their products in Belarus. As much as 200,000 tons of milk per month may soon be transported across the border from Poland (Belta, Zvyazda, September 4).
Even before the conflict in Ukraine, the quality of this country's transit infrastructure was inferior to that of Belarus. Now, the significance of Belarus's highways and rail transit has grown even more. This was acknowledged by Lukashenka, who pledged to further expand and improve the transit routes (Tut.by, September 3), and by the Lithuanian ambassador to Minsk, who is keen on promoting expedited custom controls of rail containers on the Lithuanian-Belarusian border. Already in 2013, trade exchange between the two countries was 20 percent higher than in 2012 and amounted to two billion euros. Lithuanian investments in Belarus, mostly in Grodno Oblast, amount to 500 million euros and concentrate in the wood, meat and milk processing industries (Belta, September 4).
Yury Shevtsov, an independent Minsk-based political analyst and the author of a popular 2005 Russian-language book, A United Nation: The Phenomenon of Belarus, summarizes Belarus's potential gains from the conflict in Ukraine in his equally popular blog (guralyuk.livejournal.com, August 21). According to Shevtsov, aside from agricultural and transportation links between the EU and Russia that benefit Belarus, two other phenomena deserve attention. First, due to the closure of the oil processing plant in Lisichansk, Ukraine, and also due to a decline in the output at the plant in Mazeikiai, Lithuania (owned by the Poland-based PKN Orlen), Belarus-based oil processing has gained significance. Already in 2013, the share of Belarusian gasoline in Ukraine's consumption had reached 40 percent, and the share of Belarusian diesel fuel made up 60 percent. The potential expansion of exports to Ukraine, Poland, Lithuania and other countries justifies the construction of the third oil processing plant, and it is one of the priorities of the Belarusian government. Finally, because of the severed ties between Russia and Ukraine in the military sector, Belarus has received Russian orders for at least 1,500 new, mostly hi-tech products. Shevtsov believes that the 2013 SIPRI rating, according to which Belarus is one of the world's 20 leading exporters of weaponry (worth $338 million in 2013), underestimates Belarus's standing in that area, as much of its cooperation with Russia in the military industrial complex is not reported. By 2020, Belarus might even approach the level of Sweden ($505 million worth of military exports in 2013) and may even approach that of Israel ($773 million).
Considering that unlike all its neighbors, Belarus has never succumbed to the temptations of deindustrialization, it may soon become the technological and industrial leader of Eastern Europe as a whole.
In summary, Belarus has positioned itself to gain from both peace promotion and from the regional conditions shaped by war. And this unique advantage may inspire Western policymakers to view Minsk with a more serious attitude than it has ever received up to now.