Minsk Wages Diplomatic War on Multiple Fronts
Publication: Eurasia Daily Monitor Volume: 18 Issue: 58
By: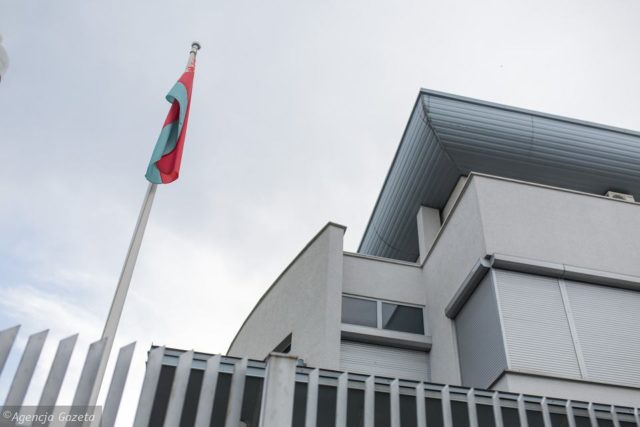 On April 4, President Alyaksandr Lukashenka proposed to "optimize" the number of Belarusian embassies and their staff around the world. Essentially, the Belarusian leader declared, if Belarus's "diplomatic presence" in some countries has no "prospects" because of a minuscule volume of mutual trade and/or because those countries are hostile to Belarus, then the latter should limit or eliminate its diplomatic staff in their capitals. In fact, that process has already been underway since at least as early as October 2020, when Minsk recalled its ambassadors from Vilnius and Warsaw and demanded that their embassies in Minsk reduce their diplomatic personnel from 25 to 14 and from 50 to 18, respectively. Now, the Belarusian authorities will be rethinking the size of their own diplomatic personnel dispatched all across the globe (Naviny, April 4).
While no country-specific decisions have been made yet, most commentators have been focusing on Belarus's relations with Poland and the United States. On April 6, Lukashenka delivered a harsh statement about the former. In his opinion, relations with Poland have never been "ideal," but Minsk never aggravated those whereas Warsaw evinced duplicity. As recently as "June, they sang us songs that were pleasant to the ear, but at the same time—we already know this today through the intelligence agencies—they played a double game," Lukashenka alleged. Now, "they [Polish authorities] accuse us of falsifying elections, support our fugitives, [as well as] give refuge to traitors and extremists and to extremist internet sites… What overflowed the cup of patience, were blatant attempts to glorify bandits and war criminals," which is how Lukashenka referred to the recent activity of Polish diplomats in Grodno and Brest to commemorate soldiers of the Polish Home Army, many of whom were active in western Belarus during and shortly after World War II (see EDM, March 17). Lukashenka also pledged to take a closer look at the history of oppression of ethnic Belarusians in interwar Poland (Tut.by, April 6).
A revealing comment surfaced in the Russian online newspaper Vzglyad, which regularly expresses viewpoints close to those of the Russian government. According to Vzglyad's columnist Alexander Polezhayev, a successful gambit of the tsarist administration before World War I managed to re-channel Polish nationalism against the common enemy, i.e., Germany; but that success was canceled out by mediocre Bolshevik politics after that war. "They wanted the whole of Poland to become red, but in August 1920, the Red Army was defeated near Warsaw, fled indiscriminately, and the [Polish-Soviet] state border had to be drawn not near Grodno, but [farther eastward] near Minsk. Other conditions of the ensuing peace treaty [Treaty of Riga—March 1921] made it one of the most shameful and ruinous in Russian history." Vzglyad's columnist underscores in Russian history, if only because "[then-Soviet leader Vladimir] Lenin drew a division line between Belarus and Russia after the war with Poland had already begun, whereas Poland was by no means fighting Belarus, it was fighting Russia." As for Lukashenka, he opened "the historical front against Poland from the perspective of Belarusian nationalism—not ethnic, but statist. This is understandable: after all, he is the president of Belarus, and on our side of the border only hopeless romantics see him as a 'knight of the Russian World [Russkiy Mir].' Nevertheless, it is significant that for Minsk, the eventual designation of the common enemy in the face of Warsaw (the most anti-Belarusian and most anti-Russian capital of the European Union alike) became a reason for yet another detachment from Russia," observes Polezhayev (Vzglyad, April 8).
As for Belarusian-US relations, several observers express doubt that Julie Fisher who was appointed Washington's ambassador to Belarus in December, will ever arrive in Minsk because US sanctions are likely to be unfrozen against eight enterprises of the Belneftekhim conglomerate on or after April 26. It is not that this unfreezing would harm bilateral trade. The latter is minuscule anyway: in 2020, Belarusian exports to the US amounted to just $200 million. More important is the likelihood that US sanctions will be extraterritorial in that they may penalize any company from a third country that cooperates with Belarus. "I very much doubt that the American ambassador will arrive in Belarus and the Belarusian ambassador in the USA," remarks Pavel Matsukevich, a former Belarusian chargé d'affaires in Switzerland, now in opposition to Lukashenka. His colleague Igor Leshchenia, a one-time ambassador to Slovakia, opines that "the new American ambassador herself would not be overly desirous to leave Vilnius" for Minsk (Svaboda.org, April 7).
More comprehensive is the commentary by Dzianis Melyantsou of the Minsk Dialogue Council. Melyantsou states that, at this point, it is Minsk that is preventing Fisher's arrival. He also recalls that in 2008, when US sanctions were first imposed, they caused a diplomatic crisis resulting in the recalling of ambassadors and radical reductions to the corresponding embassies' staffs; the State Department even initially decided to close the US embassy in Minsk but eventually changed its mind (Carnegie.ru, April 8). To that, one might add the late Vital Silitski's comment of May 2008 on Radio Liberty to the effect that Russian officials were palpably jealous of their Belarusian counterparts because Belarusians "managed to whup Americans" and that "Americans lost the game on all counts" since the conflict showed that their embassy in Minsk was more important to them than the Belarusian embassy in Washington was to Minsk (Grigory Ioffe, Reassessing Lukashenka, 2014, p. 95). While one may claim that, today, Lukashenka is in worse shape to play the same game as in 2008, it is worth recalling he has been underrated all along, which has nothing to do with passing moral judgment on him as a leader. Rather, it recalls Melyantsou's argument of April 8: "Naturally, American sanctions [this time around] will not lead to the goals set for them. They will only deepen the alienation between Washington and Minsk and push the latter closer to Moscow. This would, once again, confirm that the United States does not have a strategy with regard to Belarus" (Carnegie.ru, April 8). That assertion seems difficult to argue against.