Russia Builds up Its Export Potential in Baltic Basin
Publication: Eurasia Daily Monitor Volume: 18 Issue: 58
By: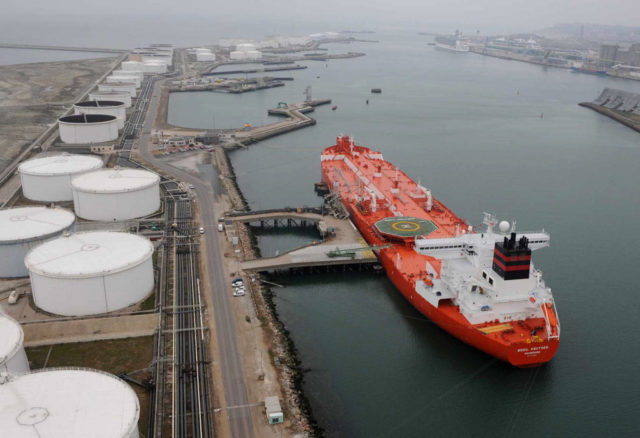 Russian natural gas giant Gazprom signed a preliminary agreement with global engineering company Linde to deliver engineering and procurement services for the Ust-Luga gas processing plant on the Baltic Sea. Gazprom CEO Miller signed the agreement on behalf of RusKhimAlyans, a special-purpose company established on a parity basis by Gazprom and RusGazDobycha and chaired by Kiril Seleznev, a Gazprom board member. The agreement is an initial step toward a future engineering, procurement and site services (EPSS) contract between the parties. In Ust-Luga, Gazprom partnered with Rusgozdobycha to build Russia's largest gas-based industrial complex, which includes a plant that will process 45 billion cubic meters of gas per year and a 13-million-ton-capacity liquefied natural gas (LNG) terminal (Neftgaz.ru, March 26; see EDM, April 7).
Gazprom had initially arranged to partner with Dutch Shell to build the LNG terminal in Ust-Luga, but those plans later changed unexpectedly. Gazprom and Shell's joint venture abruptly came undone after the Dutch energy giant quit the project (at that point valued at $10 billion) in April 2019. Shell's official explanation for the departure was Gazprom's decision to expand the project from an LNG terminal to a major gas chemical complex (Oilcapital.ru, April 11, 2019). In reality, however, Shell's withdrawal from the project may also have been related to concerns regarding Gazprom's new partner, Rusgazdobycha. This latter company is affiliated with Arkadiy Rottenberg, who co-owns Novatek, Russia's largest LNG firm (see EDM, April 16, 2019). The United States Treasury sanctioned Rottenberg in 2014 as a "member of the Russian leadership's inner circle" for his involvement in Russia's aggression against Ukraine (Treasury.gov, March 20, 2014).
This is not Linde Engineering's first major project in Russia. Linde, a subsidiary of the British Linde Public Limited Company, one of the world's largest industrial gas enterprises, entered the Russian oil and gas services market in 2014. Since then, Linde has won several major contracts, including the Amur Gas Processing Plant in East Siberia, co-developed by Gazprom and Sibur, and the Portovaya LNG terminal, Gazprom's smaller LNG terminal (1.5 million tons per year), in the Gulf of Finland (Gazprom.ru, accessed April 12, 2021). Gazprom uses Linde's equipment for cryogenic gas separation at its Amur plant, a process deployed to separate hydrogen from the gases (Gazprom.com, March 26). Linde is a leading provider of services specialized in producing liquid hydrogen. It will supply liquid hydrogen to the world's first operational hydrogen-powered ferry in Norway (Linde.com, March 8).
Gazprom's pivot to the Baltic Sea carries strategic importance for the company and the country. Namely, the state-owned Russian energy behemoth, which faces increasingly harsh competition from LNG, is seeking to add major gas export infrastructure in the European direction that is larger than Poland's Świnoujście and Lithuania's Klaipeda floating storage regasification unit (FSRU) combined. This is a vital element in Gazprom's new tactic of situating its terminals that will supply the European and Asian markets. As the Ust-Luga complex carries invaluable strategic importance for Moscow, the $12 billion project will certainly receive all necessary funding directly from government coffers. Publicly owned Vneshekonombank (VEB) has already provided a $720 million loan to the project, while VTB and Gazprombank are eager to finance it (Kommersant, August 25, 2020).
The project is also important when it comes to Gazprom's competition with its domestic rivals, Novatek and Sibur, which operate gas processing plants and export terminals in Ust-Luga since 2013 (Neftegaz.ru, March 21, 2013). Novatek has further plans regarding LNG exports in the Baltic. Last year, Russia's largest liquefied natural gas exporter decided to expand its LNG terminal capacity on Baltic shores to 10 million tons per year, a 40 percent increase from its current capacity (Kommersant, January 24, 2020).
Gazprom's project will additionally contribute to Russia's growing international role as a supplier of ethane. This hydrocarbon resource, used as a feedstock for various gas-based petrochemicals, has become a hot commodity in the industry (Reportsanddata.com, March 27, 2020). With the Ust-Luga gas chemical complex's completion, Russia will become the world's third-largest ethane producer (Oilandgas360.com, July 24, 2020)
Initially used as a coal export terminal, Ust-Luga has become a significant oil export terminal since its commissioning in 2012. Before that, Russia mainly relied on pipeline transit through Belarus to deliver its oil and petroleum product exports to Baltic shores. In 2007, amidst a spat with Minsk over transit fees, Moscow made the strategic decision to diversify its export options away from transit through Belarus and to no longer rely on foreign ports. With full state support, in March 2012, Russian pipeline monopoly Transneft commissioned a second pipeline of the Baltic Pipeline System to Ust-Luga. Ironically, Belarus has become the first country that signed an agreement with Russia to use Ust-Luga and other Russian Baltic Sea petroleum terminals to export its refining and petroleum products instead of continuing to utilize the Lithuanian Klaipeda terminal (RIA Novosti, March 6, 2021). Minsk opted to shift away from the Lithuanian port due to Vilnius' support for the Belarusian opposition following the August 9, 2020, disputed presidential election in Belarus.
As such, Ust-Luga has become one of the cornerstones of Russia's energy commodity export strategy. Moscow has chosen Ust-Luga as the main export port in the northwestern direction. The Ust-Luga facilities promise to strengthen Russian energy companies' position in the European market, and they will also be deployed, as in the case with Belarus, as a political tool when needed.