Mixed Signals from 11th National People's Congress
Publication: China Brief Volume: 9 Issue: 6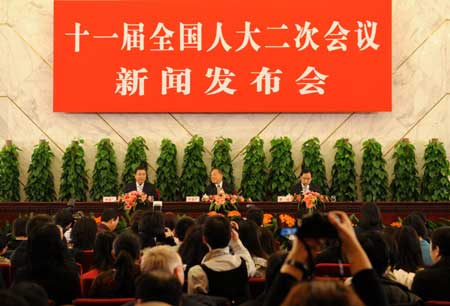 Premier Wen Jiabao has pulled out all the stops to reassure the National People's Congress (China's parliament)—and the world—that the Hu-Wen government's revamped stimulus package can ensure an eight percent growth rate this year. That the Chinese Communist Party (CCP) has discouraged NPC deputies from speaking out on Beijing's three-month-old, 4 trillion yuan (about $588 billion) resuscitation program, however, has betrayed a disturbing lack of confidence. The CCP leadership has also continued to put the lid on political reform in an apparent attempt to preserve socio-political stability in a year that is marked by sensitive dates such as the 20th anniversary of the June 4, 1989 crackdown. Moreover, the clout of the military and security forces, Beijing's most reliable weapon for muzzling dissent, has expanded. This has fed speculation that the People's Liberation Army (PLA) will be getting even more resources for the modernization of weaponry.
At the post-NPC press briefing last week, Wen reiterated his cabinet's main message during the nine-day parliamentary session, that "an eight percent GDP expansion is the government's pledge and responsibility." While pointing to unspecified "difficulties" concerning Beijing's ability to reach this goal, the 67-year-old premier said: "It's attainable through hard work." Both at the NPC and the press conference, Wen disclosed more details about the unprecedented large-scale "save-the-market" package. He indicated that the central government was pumping 1.18 trillion yuan ($173.5 billion) into the economy—595 billion yuan ($87.5 billion) of which had already been spent on infrastructure and other areas—with the rest coming from local administrations and commercial enterprises. Yet, other measures, such as 600 billion yuan ($88.2 billion) worth of tax cuts, 850 billion yuan ($125 billion) earmarked for medical facilities from now until 2011, as well as improvement in teachers' salaries and workers' pension, are on top of the 4 trillion yuan ($588 billion) injection. Moreover, Wen indicated that the central government could, if necessary, dig into its sizeable central coffers for additional steps to reinvigorate the economy. "We have prepared contingency plans to handle greater difficulties," he said. "We have prepared enough ammunition and we can launch new economic stimulus policies at any time" (Xinhua News Agency, March 13; Reuters, March 13).
Yet, the 2,900 deputies attending this annual NPC session—China's premier showcase for "people's democracy"—have been given scant opportunity to discuss the stimulus game plan either within parliament or with reporters. This is despite the fact that the Wen cabinet had made minor changes to the package apparently due to criticism that not enough is being done to beef up the social security net. For example, 550 billion yuan ($80.8 billion) worth of investment—230 billion yuan more than what was announced last November—will be lavished on housing, health and education. Outlays on infrastructure, on the other hand, have been cut from 1.8 trillion yuan to 1.5 trillion yuan ($220.5 billion) (Xinhua News Agency, March 6; Ming Pao [Hong Kong daily], March 6).
NPC deputies, however, have not been consulted on this crucial economic strategy. The roughly 70 percent of parliamentarians who are party members had been told before the session opened on March 5 by the NPC Party Committee not to table embarrassing motions. This is despite the fact that relatively liberal scholars and media have raised questions galore about the way the 4 trillion yuan pie is being divvied up. For example, Cao Honghui, a senior researcher at the prestigious Chinese Academy of Social Sciences (CASS), cast doubt on the efficacy of newly minted infrastructure schemes. "Some [projects] are meant to serve the real [needs of the regions]," he said. "Some are not based on realistic considerations, and others are merely efforts to wangle money out of central authorities." In a commentary entitled "Hoping that information about the 4 trillion yuan package will be more transparent," the New Beijing Post suggested that the NPC passes laws and regulations to supervise how the gargantuan sums are being used. The same murkiness has surrounded the 200 billion yuan ($29.4 billion) worth of government bonds that have been raised for regional administrations. According to the official Shanghai Securities News, the funds will be fairly evenly distributed amongst the provinces and major cities. This is notwithstanding the fact that some provinces have been hit worse by the financial crisis than others (Ming Pao, March 12; New Beijing Post, March 7; Shanghai Securities News, March 11). In yet another attempt to put up a façade of unity, the party leadership had forbidden parliamentarians from the regions to openly lobby for more funds for their localities (Ming Pao, March 12).
Perhaps to forestall criticism that the CCP authorities are bent on preserving the NPC's rubberstamp image, Congress Chairman Wu Bangguo said that China would never adopt the Western system of the "tripartite division of power" or institutional checks and balances. Wu, a member of the party's Politburo Standing Committee, indicated that parliamentarians would "fulfill their functions according to law [and] under CCP leadership." "We will never copy the Western model," Wu added. "We cannot superimpose the Western legal system on China's legal system" (China News Service, March 9; People's Daily, March 10). This is despite the fact that both in the Government Work Report to the NPC and the post-NPC press conference, Wen vowed to "enthusiastically push forward the reform of the political system." "We must ensure that the people have the right to know, to participate, to express themselves and to supervise [the government]," he said. The premier also pledged that the leadership would "promote the reform of the judicial system so as to improve social equality and righteousness" (Xinhua News Agency, March 5; People's Daily, March 14).
Part of the reason why deputies attending the NPC and the even more toothless Chinese People's Political Consultative Conference (CPPCC)—an advisory council for the party and state apparatus—were enjoined to observe strict discipline is that the two sessions coincide with ongoing disturbances in Tibet as well as neighboring provinces with large Tibetan populations. March 10 marked the 50th anniversary of the Dalai Lama's flight to India. And although protests so far have been less ferocious than those of last year, Beijing had by late February moved several tens of thousands of PLA and People's Armed Police (PAP) officers into the trouble-prone region. Hu Jintao and other leaders have taken advantage of the presence of international reporters in Beijing to sell their vision of a Tibet whose standard of living is fast expanding under tight Chinese control. While talking to parliamentarians from the Himalayan region, President Hu noted that the authorities were "constructing a firm and impregnable great wall [around Tibet] for countering separatism and upholding national unity." He added that Beijing had confidence in the "perennial order and stability" of Tibet (Xinhua News Agency, March 9; The Associated Press, March 9).
Apart from the police and the paramilitary PAP, the CCP leadership is calling on regular PLA troops to snuff out challenges to the regime. NPC spokesman Li Zhaoxing indicated that the 14.9 percent boost in the PLA's budget this year would help "maintain [socio-political] stability and other non-warfare military operations," thus implying that the troops were taking a more active role in combating destabilizing forces within China. It is perhaps a reflection of their enhanced political role that parliamentarians representing the armed forces were much more assertive than their civilian counterparts. For example, PLA officers at the NPC were aggressively lobbying for more resources to build or procure big-ticket hardware such as aircraft carriers. According to delegate Hu Yanlin, a former political commissar of the Navy, aircraft carriers were "the symbol of a big power, something that generations of naval officers have dreamt about." Added Vice-Admiral Zhao Guojun: "China needs to build a strong navy capable of functioning in the distant oceans. Therefore, constructing aircraft carriers is just a matter of time" (Liberation Army Daily, March 4; International Herald Leader [Beijing], March 3; Straits Times [Singapore] March 6).
Moreover, military parliamentarians have insisted that infrastructure projects that are being financed by the stimulus package should have dual civilian-and-military features and applications. Commentators in the nation's military press have called this "hitching a ride" on the new highways, railways, tunnels, ports and airports that will be constructed in the coming few years. Bai Zixing, a senior officer in the PLA General Staff Department, said at the NPC that the government should follow Chairman Mao Zedong's instructions about the "synthesis of war and peacetime [requirements]" through "adequately coordinating national defense construction on the one hand, and [civilian] economic construction on the other." Yan Jixiong, political commissar of the Henan Provincial Military District, pointed out that new highways, bridges and tunnels that are being built should take into consideration the specifications of military vehicles and other hardware. "There have been cases where military vehicles and equipment can't pass through tunnels that are just several centimeters too low," Yan added. "Given that most infrastructures are built for life, it's important that military requirements be taken into account at the design stage" (Liberation Army Daily, March 8).
While hobnobbing with NPC delegates from central Hubei Province, Premier Wen urged local officials to "further boost their competence in handling complicated [political] situations, and to raise the government's capacity to implement scientific and democratic decision-making." "We must improve our ability in intimately liaising with the people, and enhance the government's credibility," he added (Xinhua News Agency, March 7; People's Daily, March 8). Yet, the CCP leadership's refusal to vouchsafe top-level "people's representatives" full say at the NPC, not to mention giving more powers to military forces to crush internal dissent, does not seem an ideal recipe for either beefing up the ruling party's legitimacy or defusing growing contradictions between the authorities and the people.