Modest Advances in US-Belarus Relations
Publication: Eurasia Daily Monitor Volume: 14 Issue: 147
By: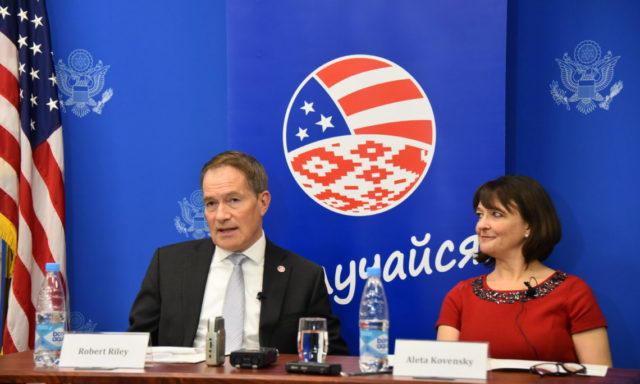 The United States embassy in Minsk announced, on November 1, the expansion of visa services in Belarus (By.usembassy.gov, November 1). On the same day, the embassy began accepting tourist and business visa applications for residents and citizens of Belarus who are age 50 and older. Previously, only Belarusian nationals 70 and older could use the visa section in Minsk, while others had to apply to US embassies in neighboring countries—Russia, Ukraine, Poland and Lithuania. This is the first serious decision by the US government to expand its visa services in Belarus in almost ten years (Belta, November 1). Moreover, the embassy hopes to start issuing non-immigration visas to all residents and citizens of Belarus in mid-February 2018.
These recent steps reflect the continuation of modest progress in bilateral relations, which have been in a downgraded state for almost ten years now. A fully-fledged diplomatic crisis broke out between the two states in the spring of 2008, when US and Belarusian ambassadors were recalled to their respective capitals (see EDM, April 9, 2008). The diplomatic missions have remained without ambassadors (they continue to operate at the chargé d'affaires level) and with reduced staffs ever since.
The years 2009–2010 saw attempts by Minsk and Washington to normalize relations. On the sidelines of the Organization for Security and Cooperation in Europe's (OSCE) 2010 summit in Astana, the US and Belarus even made a joint statement on cooperation in the field of nonproliferation, which, at the time, some analysts interpreted as a breakthrough (Ctv.by, December 2, 2010). However, after the presidential elections in Belarus the same month, when the government's notorious crackdown on the opposition took place, bilateral relations entered another freeze.
New attempts to establish a positive agenda in relations began at the end of 2012. After a series of consultations, Minsk and Washington agreed to an unofficial "small steps" formula for advancing ties. The idea was to leave the most contentious issues aside and seek progress on pragmatic items of common interest (Minskdialogue.by, November 2). Gradually, this strategy started to bear fruit, even though the intensity and level of contacts were lower than those between Belarus and the European Union.
Most recently, Belarusian-US relations have seen some palpable progress. In particular, a human rights dialogue has been launched (Usa.mfa.gov.by, October 6). Moreover, the two countries signed a plan for bilateral military cooperation (Mil.by, October 21, 2016). Belarus introduced a visa-free regime for short-term visits of up to five days for US nationals (alongside other 79 nations). Additionally, Belarusian applicants of any age whose US visa in any category expired less than a year ago obtained the right to apply for visa renewal in Minsk. And as noted above, these moves have now been followed by the more serious expansion of visa services in Belarus.
Thus, the latest decision reflects the overall positive (albeit slow) forward trend in bilateral relations. But it is also a consequence of the growing escalation between the United States and Russia. In August, US consular sections in Russia had to drastically cut the number of staff and are no longer able to accept applications from Belarusian citizens (see EDM, August 3). At that time, the Belarusian foreign ministry expressed hope that under such circumstances the US would make a decision to expand its visa services in Minsk (Mfa.gov.by, August 21).
In this respect, the worsening of Russian-US relations has contributed additionally to advancing Belarusian-US ties. Yet, this does not mean that tensions between Moscow and Washington generally work to the benefit of Belarus. First of all, given Belarus's special relationship with Russia, Minsk will find it more difficult to stay out of the geopolitical conflict if it escalates beyond a certain point. For example, it will become increasingly problematic to explain to the Russians that Belarus's neutral stance on regional conflicts does not challenge Moscow's interests. Second, Western sanctions against Russia are causing collateral damage to Belarus's economy, as Belarusian goods face additional problems on the shrinking Russian market. Moreover, some Belarusian companies owned by sanctioned Russian banks have become direct victims of these East-West tensions (see EDM, December 11, 2014).
If full visa services in Minsk are restored early next year, as the US embassy has announced, this will mark a more significant step forward in Belarusian-US relations. It could represent a further step toward the eventual return of their ambassadors to Washington and Minsk, thus finally fully restoring bilateral relations. Such a development looks a bit more realistic now that the US State Department has finally received a new Assistant Secretary of State for European and Eurasian Affairs—A. Wess Mitchell. Yet, no quick advances should be expected.
Currently, the US seems to be tailoring a more "nuanced approach" toward Belarus: previously prevailing clichés like the "last dictatorship of Europe" are no longer uttered by US officials, and Washington appears to be more closely following the situation in and around Belarus. Moreover, regional security in Belarus's neighborhood has become a particularly acute topic on both sides of the Atlantic, and Minsk has shown itself to be willing to contribute to easing tensions in Ukrainian Donbas and in wider region (see EDM, September 3, 2014). However, human rights and democracy issues are still high on the bilateral agenda. The Belarus Democracy Act remains the biggest obstacle on the way to further rapprochement. Like with other US sanctions, it was relatively easy to adopt it but is now difficult to remove (see EDM, June 22, 2016).
Effectively, the US Congress holds the key to the problem. The Belarus Democracy Act authorizes the administration to monitor the situation in Belarus and initiate the termination of sanctions once conditions on the ground change. But given the relatively minor significance of Belarus for US foreign policy, the President is unlikely to take such a step even as a positive dynamic gains momentum. Hence, a Congressional initiative will likely be needed, although interest toward Belarus in the US legislature is only marginal. This reveals a fundamental problem Belarus has in relations with the US. Unlike some other post-Soviet states, the country has no lobby in DC. The Belarusian diaspora is weak and most of its representatives still hold a negative view toward deepening relations with Alyaksandr Lukashenka's government. Breaking this logjam will require a clear and persistent political vision by both sides.