Moldova Hands Over Chisinau International Airport to Russian Business in Exclusive, Non-Transparent Deal (Part Two)
Publication: Eurasia Daily Monitor Volume: 10 Issue: 180
By: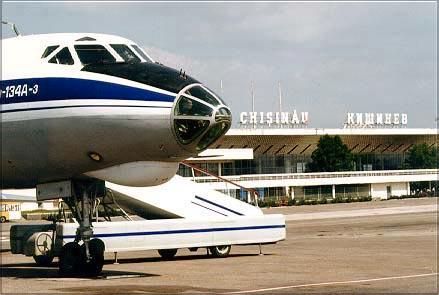 On October 4, the Moldovan government published the text of the agreement handing Chisinau International Airport to a Russian consortium, led by Khabarovsk-based Komaks, in an exclusive concession (Unimedia, October 4).
Under the agreement, the Russian side shall operate the Chisinau airport for 49 years (until 2062) for the concession holder's own profit. The Moldovan government shall collect a royalty tax of only one percent of the Russian side's annual revenues. Over time, the concession holder shall enlarge the airport's passenger terminal and construct a new one, build a cargo terminal, upgrade runways, lighting equipment, and the air traffic control system, and build a parking garage and a hotel to serve the airport.
The concession holder shall invest "up to" $244 million in the Chisinau airport. "Up to" means that the Russian side is not obligated to invest that entire amount, but depending on circumstances may invest less. Under the agreement, that total amount is to be invested over time in three stages, each stage contingent on reaching a specified number of passengers per year at the airport. If that number falls short of the annual target, the Russian company is not obligated to advance to the next stage of the investment program. The Khabarovsk-based Komaks claims that it can use Chisinau, instead of Moscow, as a transit airport for Russian Far East residents en route to Western Europe (Unimedia, October 3).
While the agreement's economic benefits look modest, its political risks are high. By its logic, the management of the Chisinau International Airport would be appointed from Russia. The exclusive concession would enable the Russian side to choose contractors and regulate third-party access to the airport's assets. With Russian management in charge of this airport, Russian intelligence services would more than likely be deployed to monitor and collect information on international travelers.
The concession's duration of a half-century would entail Russian operational control in quasi-perpetuity over Moldova's international air transport. Russian management could, in hypothetical crisis situations, close the airport, or prevent other parties from using it. In crisis contingencies in Transnistria, for example, Russian control of Chisinau airport could severely restrict Moldovan and international options.

Chisinau International Airport, state-owned, handled a record-high number of 1.2 million passengers in 2012. The state-owned Air Moldova accounts for approximately one half of the passengers' number. The airport is being used by 17 airlines flying to 27 destinations. With all flights ending or originating here, this is not a transit airport. The airport seems to be marginally profitable, but it needs investment in upgrades, including some necessary for maintaining certain international certifications (Jurnal de Chisinau, August 25; JurnalTV, October 2).

On May 29, Moldova's Pro-Europe Coalition government adopted a decision to hand over the Chisinau International Airport in concession to a foreign company, and to hold a closed tender with a view to selecting that partner. The government's decision stipulated a 49-year concession period and a $230 million dollar investment by the concession holder within that period. The decision was adopted on the final day in office of the acting government under acting prime minister, Iurie Leanca (this government went on to be officially confirmed immediately thereafter) (Unimedia, May 29).
When the tender's result was officially announced in September, critics noted that an acting (not yet confirmed) government could not properly make a 49-year commitment, and that a closed tender contravened the legal requirement for open tenders. The government announced that five Western airport-operating companies had withdrawn from the closed tender.
Given, moreover, that Komaks itself needed South Korean technology and management for upgrading Khabarovsk airport, Chisinau's choice of Komaks appears even harder to justify.