Moldova's Filat Discusses Energy Sector Agreement with Russia's Putin and Medvedev
Publication: Eurasia Daily Monitor Volume: 9 Issue: 167
By: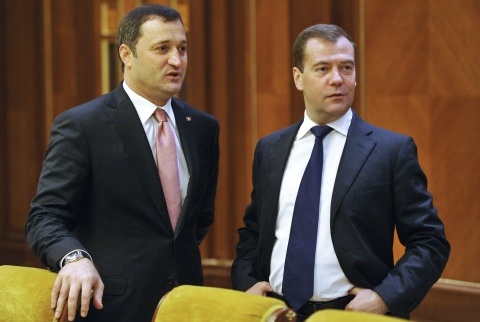 On September 10–12, Russian President Vladimir Putin and Prime Minister Dmitry Medvedev received Moldovan Prime Minister Vlad Filat with his governmental delegation in Moscow and Sochi, respectively. The Transnistria conflict did not figure on the official agenda and seemed almost unmentioned in these discussions. Instead, Medvedev singled out the topic of natural gas as having become "the cornerstone of our relations," and Putin seemed to concur (Interfax, September 11, 12).
Barely noticed in the West, that topic involves international and geopolitical stakes that reach far beyond Moldova itself or Russian-Moldovan bilateral relations.
On the local level, Transnistria owes a staggering (and still growing) $3.5 billion in arrears to Gazprom for past deliveries of gas, according to Russian officials (see below). Moscow toys with the idea that Moldova should assume responsibility for Transnistria's gas debts, in the event of the country's reunification. That conditionality, if insisted upon, could become even more obstructive to conflict-resolution than Russia's troops, which can, after all, be easily repatriated by an eventual political solution; whereas Russia can use Transnistria's multibillion-dollar debt to obstruct Moldova's reunification indefinitely or to skew its terms.
On the regional level, the Moldovagaz transit pipeline plays a critical role in supplying Balkan countries (Romania-Bulgaria-Greece route, with a West-Balkan branchoff) and Turkey (Istanbul and other urban agglomerations in western Turkey). Across a short stretch of Moldova's territory, the Moldovagaz transit pipeline carries more than 20 billion cubic meters (bcm) of Russian gas per year (22 to 24 bcm annually in the pre-crisis years; 20 bcm in 2011). Gazprom owns 50 percent of Moldovagaz and seeks full control of that transit pipeline.
On the European level, Moscow seeks to create a precedent by pressuring Moldova to nullify the country's commitments under the European Energy Community Treaty and the EU's Third Energy Legislation Package. Moldova is a full member of the European Energy Community and signatory to its Treaty since 2010. Under a treaty protocol signed in October 2011, Moldova is committed to implementing the EU's Third Package from January 1, 2015, onward. This would entail Gazprom's loss of control (at least of direct control) over pipelines through "unbundling," as well as equal access of gas suppliers that could compete against Gazprom. The Kremlin resists that process in a number of European countries and is mixing pressure with blandishment, hoping to prevail in Moldova.
Russia seeks to win those local, regional and European stakes in Moldova by offering some temporary relief from Gazprom's high prices. But Moscow wants strategic concessions from Chisinau in return, including full control of pipelines by the monopoly supplier Gazprom and abandonment of Moldova's gas sector reform.
Chisinau's supply contract with Gazprom expired on December 31, 2011, and has been prolonged pending negotiation of a new contract. Having to negotiate under time pressure at the start of the heating season accentuates Moldova's vulnerability. Moldova pays approximately $400 per one thousand cubic meters of Russian gas at present, according to Chisinau officials (or $392 on a monthly average in the first six months of 2012, according to Russian officials). Such a price is deemed a heavy burden in this pauper country.
The Moldovan government went to Moscow with a highly innovative package offer. This goes far beyond pricing issues, proposing a multidimensional partnership with Russia in the energy sector, without endangering that sector's reform. The package involves a number of tradeoffs that might help motivate Moscow to reduce the gas price, although this is not declared as the central goal. One key argument refers to the relatively low caloric power of Russian gas delivered to Moldova. The proposals include:
1) de-coupling the gas price from oil product prices; 2) factoring the inferior caloric power into the price, thus lowering the price per unit of volume, significantly depending on gas quality; 3) from those premises arriving at a price of some $300 per one thousand cubic meters (roughly consistent with a 30 percent discount); 4) raising the transit fee for Russian gas in the Moldovagaz pipeline to the Balkans (with limited net gain to Chisinau, given the short stretch of the transit pipeline on Moldova's territory and Chisinau's minority stake); 5) signing a five-year contract for price stability and supply predictability; 6) writing off Transnistria's "penalties" for nonpayment, the penalties being estimated at up to one half of Transnistria's total debts to Gazprom (such a writeoff would help at least partly to defuse that political time-bomb); 7) favoring the RAO AES gas-based power plant in Transnistria with low transmission tariffs for electricity export via Moldova's network to Romania and the Balkans; 8) incorporating all or most of these elements into a Russia-Moldova inter-governmental agreement on the energy sector (Kommersant, September 10; Nezavisimaya Gazeta, September 12; Unimedia [Chisinau], September 12; Moldpres, September 13).
In Moscow, Medvedev handed over Russia's own "package" of proposals to Filat's delegation. The content is not publicly reported, apart from Medvedev's accompanying remark that Russia objects to the implementation of EU energy market legislation in Moldova (Interfax, September 11). Gazprom owns 50 percent of Moldovagaz shares, and holds another 13.5 percent in trust management from Tiraspolgaz. The Moldovan government owns 35 percent of the shares.
In Sochi during the Putin-Filat meeting, Russian Energy Minister Alexander Novak specified some "conditions" for "considering in principle" a gas price discount. Moscow plays noncommittal on the size of a discount but is hinting at a 30-percent cut, which would result in a price of $250 per one thousand cubic meters. Speaking to Russian media, Novak cited three conditions: Moldova to withdraw from the European Energy Community Treaty, desist from implementing the EU's Third Package, and proceed to settle the debts to Gazprom for past deliveries. While implying that Chisinau should assume responsibility for the total debts of $4.1 billion (which include Tiraspol's $3.5 billion debt), Novak seemed to focus on Chisinau's $600 million debt repayment (that debt is a "historic" one, unlike Tiraspol's, which grows continuously). The minister and other (unnamed) Russian officials suggest that Chisinau should hand over its minority stake in Moldovagaz to Gazprom, and invite Russian companies to privatize Moldovan state assets, as forms of debt repayment. Conversely, Moscow would refuse any gas price discount if Moldova "makes Gazprom's work more difficult" by implementing the Third Energy Package (RIA Novosti, Gazeta.ru, September 12; Kommersant, September 13).
This visit achieved Chisinau's goal to exchange preliminary outlines of an agreement with the Russian side. In the next step, Chisinau hopes to jump-start negotiating a new gas supply contract within a comprehensive inter-governmental agreement on the energy sector, and conclude the negotiations with Moscow by the year's end. Nothing thus far indicates that Chisinau would sacrifice energy-sector reform in exchange for gas price discounts. The Moldovan government's package seems designed to avoid just that kind of tradeoff by introducing a range of creative and reform-compatible tradeoffs.
Gazprom did not participate in Putin's and Medvedev's discussions with Filat's delegation. Under Putin's September 10 decree, it seems that only the Russian government and its agencies may negotiate with foreign partners of Russia's "strategic" companies, of which Gazprom is one (see EDM, September 13). The Moldovan delegation's visit occasioned the first practical application of Putin's decree.