Moldova's Foreign Policy in Disarray
Publication: Eurasia Daily Monitor Volume: 14 Issue: 81
By: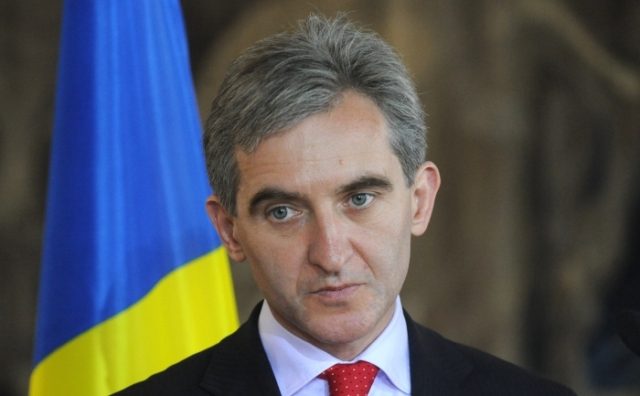 In recent weeks, Moldova has been dealing with one foreign policy scandal after another. Relations with Russia, the United Kingdom, the European Union, the Council of Europe and even the International Monetary Fund (IMF) and the World Bank have all been strained to varying degrees. The contentious nature of Moldova's domestic political competition undermines any chances for a coherent and predictable foreign policy. At the same time, the difficult geopolitical conditions in Moldova's neighborhood, stemming from a fatigued European Union, an increasingly distant United States as well as a regionally resurgent Russia—coupled with democratic backsliding of Moldova's own government—have been creating serious challenges for Moldovan diplomacy.
Relations with Russia in particular reached a new low after Moldova expelled five Russian diplomats on May 29, amid accusations that Moscow was recruiting fighters from Moldova's autonomous region of Gagauzia for the Russia-backed insurgency in neighboring Ukraine (Moldova.org, June 13; Euromaidan Press, June 15). In 2014, Moldova's Intelligence Service investigated several Gagauz officials, including the region's former governor Mihail Formuzal, for also allegedly recruiting fighters, but no prosecutions followed as Formuzal was voted out of office and some of his purported lieutenants managed to escape to Russia (Deschide.md, July 9, 2014). Ironically, the new governor of Gagauzia, Irina Vlah, elected in March 2015, pledged even closer ties with Russia and accompanied then–newly elected Moldovan President Igor Dodon to the Kremlin on his first foreign visit (see EDM, March 31, 2015; Modova.eu, January 20, 2017).
The spy scandal occurred during President Dodson's attendance at the St. Petersburg International Economic Forum, where Dodon issued a blistering anti-Western tirade, criticizing Moldova's Association Agreement with the European Union, much to the delight of Russian President Vladimir Putin. However, Putin's gratitude was rather peculiar as he ended up ridiculing Dodon with his answer about Russian interference in foreign elections: "Ask Dodon. He knows best," Putin quipped, and Dodon smiled (RT, June 2; Balkan Insight, June 6). Upon his return from Russia, the Moldovan head of state called a National Security Council meeting to address the spy scandal, despite two prominent members of the Council being absent. Prime Minister Pavel Filip and Parliamentary Speaker Andrian Candu—both protégés of Vlad Plahotniuc, the chairman of the ruling Democratic Party and Moldova's de-facto leader—were abroad. This, however, did not stop Dodon from scolding the foreign minister and the intelligence chief (Publika.md, May 30; Presedinte.md, June 6). The spy scandal, though unprecedented in its scale, has not prevented business as usual in Moldovan-Russian relations: indeed, around the same time, authorities announced the renewal of Moldova's contract with the Russian-owned and Transnistrian-based Cuciurgan Power Plant (Unimedia.info, June 7). Russia has not escalated the spy scandal and only responded in kind to the diplomatic expulsions. Hence, Dodon actually earned certain political points for his actions, with some arguing that the government's antagonism in relations with Russia would push the EU to be more lenient regarding the ongoing democratic backsliding in Moldova.
However, Europe appears to have learned its lesson on Moldova and continues to impose strong conditionalities on Chisinau. A macro-financial assistance package of €100 million (a €60 million loan and a €40 million grant—$67 million and $45 million, respectively) is preconditioned on respect for effective democratic mechanisms, including a multi-party parliamentary system (Consilium.europa.eu, Jun 15). As such, the EU financial package is widely interpreted as political pressure for the Moldovan government to renounce its controversial plan to change the proportional electoral representation to a mixed electoral system, considered inadvisable by the Venice Commission of the Council of Europe (Reuters, June 6; Venice.coe.int, June 19). Failure to follow the advice of European experts commissioned to study the bill will likely strain relations with the Council of Europe and the European Union. Moldova's government is engaged in a diplomatic offensive, attempting to persuade the EU of the democratic nature of the proposed electoral bill. It did not help, however, that Parliamentary Speaker Andrian Candu personally attended the plenary session of the Venice Commission that adopted a rather critical opinion of the assessed bill (Coe.int, June 16). Perhaps, feeling personally offended, Candu vented his frustration on his blog, calling the adopted opinion subjective (Candu.md, June 19).
Since Moldova's independence from the Soviet Union, the United Kingdom has been a reliable partner. Nonetheless, bilateral relations suddenly became tense after the surprising visit by Transnistrian leader Vadim Krasnoselski to London. The Transnistrian conflict settlement process has always been a highly important and sensitive topic for Chisinau. Krasnoselski publicized his meeting at the UK Foreign Office with Nicola Pollitt, the director for Eastern Europe and Central Asia, as an official working visit (President.gospmr.org, June 16), much to the annoyance of Moldovan officials, who appeared to have been caught off guard (Newsmaker.md, June 16). The British embassy in Moldova promptly issued a statement, calling the visit a private matter, stressing that it does not set a precedent or imply any official recognition of the separatist entity (Facebook.com/BritishEmbassyChisinau, June 17). However, the damage was done and left Moldovan diplomacy scrambling for answers.
Perhaps the best reflection of the current state of Moldovan diplomacy is the compromised current condition of one of Moldova's top diplomats—Iurie Leanca, a former minister of foreign affairs and previous prime minister, whose European People's Party recently joined the ruling coalition. Leanca recently drew controversy by suggesting that it was the World Bank and IMF that had recommended the Moldovan government to issue its notorious guarantees for loans aimed at bailing out the three banks left bankrupt after the infamous billion dollar theft that crippled the economy in 2015 (see EDM, January 11, 2016). Both the World Bank and the IMF issued statements denying these allegations and accused Leanca of failing to follow their recommendations throughout 2014, when Leanca headed the Cabinet. The aforementioned banking fraud cut Moldova's GDP by about 15 percent (Newmaker.md, Moldova.eu, June 16).
All these instances indicate a rather precarious state of Moldovan diplomacy. Apart from the structural challenges of divided foreign policy prerogatives between the government and the president, the sharp domestic political polarization and the deficient quality of the ruling political elite leave Moldovan diplomats with almost no good options to develop a coherent foreign policy. As long as Moldova's foreign policy is guided by immediate political expediency rather than any sense of national interest, its diplomacy is doomed to operate in a constant state of disarray.