Mongolian President's Trip to Pyongyang: Significant Agreements, but No Meeting with Kim Jong Un
Publication: Eurasia Daily Monitor Volume: 10 Issue: 202
By: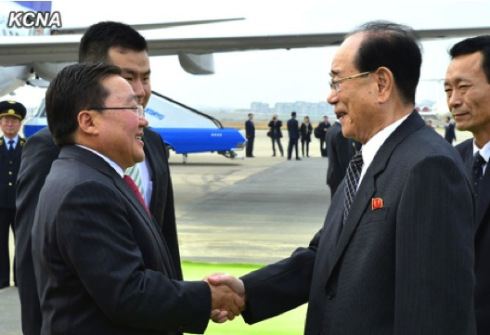 Mongolian President Tsakhia Elbegdorj, arrived in Pyongyang on October 28 for a four-day state visit, ostensibly to celebrate the 65th anniversary of bilateral diplomatic relations and the 25th anniversary of the Democratic People's Republic of Korea's (DPRK) founder, Kim Il Sung's, visit to Ulaanbaatar. Several significant trade and cultural agreements were concluded, and much publicity—even involving an appearance at a soccer match—was given to President Elbegdorj's movements inside the reclusive country by North Korean television. Observers, including those close to the Mongolian government, predicted Elbegdorj would be the first foreign head of state to meet with the DPRK's new supreme leader, Kim Jong Un; however, the expected summit failed to materialize, provoking much head scratching throughout the region (english.news.mn, October 24). Still the Mongolian president's trip is a visible sign that the landlocked country aims to bolster its influence, seek a more public role in regional politics, and join the six-party talks on de-nuclearizing North Korea. Diplomatic sources in Beijing say that Mongolian Prime Minister Norov Altankhuyag, in Beijing just before the Elbegdorj visit, urged China, which chairs the talks, to make Mongolia a partner in the process (Asahi Shimbun, October 31).
Among the large delegation accompanying the Mongolian president was Foreign Minister Luvsandanvan Bold, who explained that, "What Mongolia can provide is leverage to improve the situation in the region and pursue the initiative for parties to share dialogue. We see a lot of room to be more active" (South China Morning Post, October 28). Elbegdorj reiterated this theme at a welcoming banquet hosted by Kim Yong Nam, the president of the Presidium of the Supreme People's Assembly (SPA): "Mongolia will cooperate with every country, including the Democratic People's Republic of Korea, for peace and stability in Northeast Asia" (Asahi Shimbun, October 31). Kim Yong Nam, the nominal head of state of North Korea, lauded the fact that the two countries have had continuous cooperation in political, economic, military and sports sectors, and emphasized that Pyongyang was committed to expanding strong ties with Ulaanbaatar (koreaherald.com, October 29).
Mongolia signed bilateral pacts in industry and agriculture as well as in culture, sport and tourism, a 2013–2015 cooperation plan between Mongolia's Postal Authority and the North Korean Computer and ICT Centre, and renewed its agreement in roads and transportation. Elbegdorj became the first head of state to visit the Demilitarized Zone in Panmunjom. He also addressed a Mongolia-DPRK business meeting and promised to expand bilateral economic ties: "We do see ample opportunities of cooperation in railways, air and auto-transport and sea-ports… Mongolia is interested in importing a highly qualified and organized workforce" (https://www.president.mn/eng/newsCenter/viewNews.php?newsId=997). The president also was the first foreign leader to deliver a lecture at Kim Il Sung University—although he was advised not to mention "democracy, market economy" (https://www.president.mn/eng/newsCenter/viewEvent.php?cid=31&newsEvent=The%20state%20visit%20of%20the%20President%20of%20Mongolia%20Ts.Elbegdorj%20to%20the%20Democratic%20People%E2%80%99s%20Republic%20of%20Korea)
The visit was full of symbolism that particularly emphasized the long relationship between the two governments and cultures. When paying respects at Keumsusan Memorial Palace of the Sun, a mausoleum housing the bodies of North Korea's founder Kim Il Sung and late leader Kim Jong Il, Elbegdorj wrote in the visitor's book: "Under the guidance of Marshall Kim Jong Un, I believe the Chosun [Korean] people will carry on the legacy of the Great Leaders, realizing peaceful unification, economic development and an improvement in the people's livelihood." He visited the tomb of the Koryo dynasty's King Kongmin who, during the Mongolian Empire, had a Mongol Queen. In his public speeches he recalled that Mongolia was the second country to recognize the DPRK and shared in its Korean War hardships: "Our two countries are good friends who did not forsake each other in the times of need and desperation" (MONTSAME, November 5).
Over the years (as recently as this spring) Mongolia has supplied food aid to North Korea. In March 2013, Ulaanbaatar offered to help broker a solution between North and South Korea after Pyongyang said that a state of war existed. In June, Mongolian petroleum trading and processing company HBOil bought a 20-percent stake in the operations of North Korea's Sungri refinery with plans to supply it with Mongol crude oil for processing and re-importing the product to reduce Mongolia's reliance on Russian gasoline. Why does Mongolia take such special care of its North Korean relationship when it has embraced Western free market and democratic reforms and has a strong economic relationship with South Korea? The answer lies in what Mongolia sees as the potential access to international markets that cooperation with the DPRK could offer. Already linked by Russian rail, Mongolia is promoting new line construction to the North Korean port of Rajin as a way for its minerals to reach diverse Asian markets. For Pyongyang, strengthening its ties with Mongolia could bring measured economic modernization and benefits from Mongolia's growing experience in regional politics (english.news.mn, October 31).
Japanese diplomats closely watched Elbegdorj's visit because Mongolia has been acting as an intermediary in resolving the old issue of abductions of Japanese citizens by North Korea. The Japanese press revealed that Prime Minister Shinzo Abe discussed abductions during the mid-September visit of Mongolian Prime Minister Altankhuyag in Tokyo (Asahi Shimbum, October 29) and likely again during an overnight stay by Elbegdorj in Abe's private residence on September 29 (montsame.gov.mn, September 30). Furthermore, an unnamed DPRK diplomatic source for a South Korean website claimed the agenda for Elbegdorj's trip to Pyongyang included the abductee issue, and linked it to the mysterious purchase by a Mongolian company of the headquarters of Chongryon, a pro-DPRK organization in Japan. The building also serves as Pyongyang's de facto embassy in Tokyo (Sankei Shimbum, October 25). It was speculated that North Korea needed funds to pay for the maintenance of the Keumsusan Memorial Palace with its bodies of Kim Il Sung and Kim Jong Il.
Hope remains in Tokyo that Elbegdorj's visit will result in some affirmative progress on the abductee issue, but now speculation is concentrated on why the Mongolian president was not given a meeting with Kim Jong Un (nkleadershipwatch.wordpress.com, October 31). There has been no official explanation from the North Korean or Mongolian governments. Some South Korean and Western observers suggested Mongolia was snubbed or that Kim's first meeting with a foreign head of state was always more likely to go to a Chinese or Russian leader. Yet, Japanese observers continue to wait for the rest of the story to unfold after the sale of the Chongryon building is finalized by a Tokyo court.