Moqtada al-Sadr's Religious Strategy Complicates Jaysh al-Mahdi Ceasefire
Publication: Terrorism Focus Volume: 5 Issue: 12
By: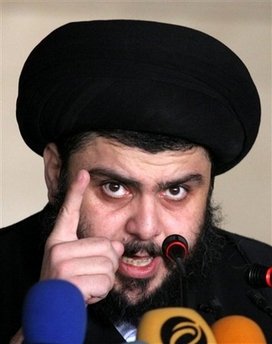 As smoke billows from Baghdad's U.S.-controlled "Green Zone" following a series of rocket and mortar attacks thought to have been carried out by members of Moqtada al-Sadr's Jaysh al-Mahdi (JaM) movement last weekend, important questions have been raised concerning the direction of the movement as its leader becomes increasingly reclusive.
The young Iraqi firebrand and Shiite cleric, Moqtada al-Sadr, recently tried to put to rest the confusion and rumors circulating around his withdrawal from the Iraqi political scene. In a statement posted on the Sadrist al-Amarah website, al-Sadr declared that his absence was due to a decision to pursue religious studies in Qom and Najaf—a path intended to lead to Ayatollah status within Shiite Islam (Gulf News, March 10). Though al-Sadr extended the self-imposed ceasefire on his forces last February, his absence poses serious questions regarding the status of his JaM militia.
On February 22, al-Sadr announced the extension of the JaM ceasefire for an additional six months—a critical linchpin in the decline of violence complementing the U.S. "surge" strategy. But the recent decision to extend JaM's inactivity has cost al-Sadr by permitting further fragmentation of his militia. The initiation of the ceasefire in August 2007 was a strategy designed to rein in rogue elements of the JaM—essentially sorting through and identifying those that were not abiding al-Sadr's authority (Voices of Iraq, March 10).
But many Sadrists were hoping that their leader would lift the ceasefire. During JaM's operational shutdown, their rival Shiite militia—the Badr Brigades—gained much ground at their expense. The rise of the largely Sunni-based "Awakening Councils" across Iraq has also led to anxieties within JaM, pressuring members to break away from al-Sadr's control. One Sadrist cleric, Shaykh Hassan al-Mayahi, warned about the perception JaM members had of Awakening fighters, claiming that they cannot be distinguished from the insurgents. Many Sadrists claim the U.S. troops and Iraqi security forces are purposefully targeting their members, leading to arrests and legal difficulties (al-Ahram Weekly, March 13-19).
The absence of al-Sadr is likely to exacerbate the internal power conflict between his commanders, resulting in a loosely-affiliated and decentralized network that is more difficult to control. Reports throughout Iraq show evidence of JaM factionalization. The expulsion of Iraqi police from Kut by JaM fighters is one example of independent action being taken regardless of the ceasefire. An Iraqi newspaper declared the incident "the first breach of the six-month truce" between al-Sadr and the U.S. military (Azzaman, March 13). Though refusing to use the term "split," Shaykh Liwaa Smeisam, the Sadrist bloc's political board chief, claimed that "the exit of some leading members….means a sorting out of certain parties in the bloc who prefer their personal gains" (Voices of Iraq, March 10). Al-Sadr himself admitted to the fragmentation of his militia: "Many of my close companions have departed for worldly reasons, some of them want to be independent." The JaM leader added: "The fact that many are meddling in political lives while we thought they were loyal has made me isolate myself" (AFP, March 11).
While Sadrist officials repeatedly and publicly declare that Moqtada al-Sadr is still in overall charge, day-to-day control of the movement has been handed down to a group rather than to one individual. According to Baha al-A'raji, a member of al-Sadr's political bloc: "The brothers who are close to His Eminence [al-Sadr], specifically at the Martyr al-Sadr Office in al-Najaf, have adequate experience to manage such affairs." A'raji claims that al-Sadr had not formed "these committees" which would manage operations, but rather that they had already existed in a structure in which al-Sadr was "at the top of the administrative echelon" and had given the "green light to these brothers to manage administrative affairs" (Al-Jazeera, March 12). With a power-enhanced oligarchy in control of Sadrist operations, vulnerability exists in the power structure, with members having a possible tendency toward alliance formations in seeking quasi-leadership. Such proclivities are intense when demands for action increase—a prospect that Sadrists will face this year.
Without the central arbiter figure in Moqtada al-Sadr, the Jaysh al-Mahdi is likely to further fragment as deeper splits are created within the ranks. Al-Sadr's absence leaves a power vacuum susceptible to being filled by informal players. According to an Iraqi intelligence report, Iran is one of the main beneficiaries of al-Sadr's new religious ploy (Gulf News, March 10). The Islamic Revolutionary Guards Corps (IRGC) holds great influence within a large faction of the JaM. With al-Sadr's temporary absence, Iran may be inclined to sway JaM commanders to opt out of the ceasefire to confront Awakening Council fighters and/or U.S. troops. As an insurance policy in gaining a greater share in JaM policy, Iran may decide to further infiltrate and seek influence over militia commanders—redefining local Shiite loyalties.
External factors have much influence on what becomes of JaM. One such variable is the Awakening movement, which has developed into a militia that arguably surpasses and threatens JaM supremacy. The rise of Awakening power has contributed to obvious splits within JaM. Targeted assassinations against Awakening members have been blamed on a growing number of splintered factions from the Shiite militia. According to intelligence corroborated by sources belonging to the Awakening councils, rogue elements of the JaM have been sponsored by the Iranian Qods Force in starting "armed activities" against Awakening members (Al-Sharqiyah TV, January 28).
Another variable is the potential disintegration—rather than rise—of the Awakening councils (see Terrorism Monitor, February 22). Awakening commanders are threatening to rejoin the Sunni insurgency and back al-Qaeda if Iraq's central government does not integrate their fighters as part of the country's security forces with permanent payrolls. Prime Minister Nouri al-Maliki's government is resisting that call, claiming that the movement is largely made up of yesterday's terrorists. An increase in the number of Sunni insurgents would compel Shiite militiamen to break away from al-Sadr, simultaneously pressuring al-Sadr to lift the ceasefire—a prospect leading back to sectarianism.
Shiite rivalry is another factor that may hinder the Jaysh al-Mahdi from sustaining its current composure (Voices of Iraq, March 21). With federal regions and provincial elections scheduled later this year, Sadrists will be competing with the Supreme Islamic Iraqi Council (SIIC) and their Badr militia for political power. SIIC leader Abdul Aziz al-Hakim plans to gain political leverage at the expense of a passive al-Sadr since his ranking as an Ayatollah would surpass al-Hakim's mid-level Hojatoleslam clerical status (Gulf News, March 10). With many JaM fighters displeased with their current inactivity, a political threat coming from the SIIC and the Badr Brigades is very likely to splinter the JaM. The threat of losing control of JaM may actually incline Moqtada al-Sadr to end his passive commitments in order to save face and preserve his own credibility as a Shiite leader.