MOSCOW AND OSCE CHAIRMANSHIP BLINDSIDING GEORGIA ON SOUTH OSSETIA
Publication: Eurasia Daily Monitor Volume: 2 Issue: 218
By: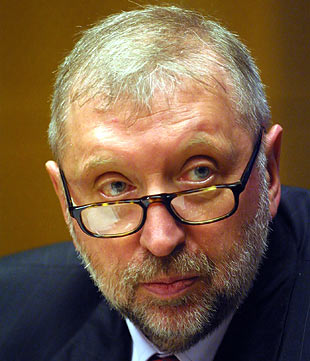 Following Georgia's presentation of a political settlement plan on South Ossetia to the OSCE Permanent Council, the Russian side has apparently enlisted the OSCE Chairmanship's assistance in derailing Georgian initiatives on that issue ahead of the OSCE's year-end ministerial conference. Anxious to avoid controversy at that upcoming event, OSCE Chairman-in-Office Dimitrij Rupel of Slovenia urgently called a negotiating session, hoping to prepare some document that could rescue the year-end conference in Slovenia's capital from irrelevance or failure. Such rush has become a common practice in the run-up to the OSCE's year-end meetings, particularly on issues involving "frozen conflicts"; and it tends to take the form of concessions to Russia as the stronger side.
The Joint Control Commission (JCC), which oversees the ceasefire in South Ossetia, met on November 16-17 in Ljubljana in the 13 year-old format: Georgia, South Ossetia, Russia, and Russia's North Ossetia region (a ratio of 3:1 against Georgia) plus the OSCE as observer. Opening the session, Rupel startled the Georgian delegation by endorsing the "existing mechanism" (a familiar Moscow phrase opposing internationalization of the format) and suggesting a "highest-level meeting" of those four parties to discuss settlement negotiations and related issues. Russia's envoy, Valery Kenyaykin, then fleshed out Rupel's proposal by calling for an urgent meeting among Presidents Vladimir Putin of Russia, Mikheil Saakashvili of Georgia, "president" Eduard Kokoiti of South Ossetia, and North Ossetia's head Taymuraz Mamsurov, to be held at Putin's residence in Sochi before the end of November (i.e., just days ahead of the OSCE's year-end conference) and to focus on political settlement issues. On cue, the South and North Ossetian delegates supported the proposal.
Rupel's and Moscow's proposal abruptly departed from the decision, reached at several JCC sessions (always in the OSCE's presence and with its approval, most recently in October 2005) on holding a meeting between Georgia's Prime Minister Zurab Nogaideli and Kokoiti to discuss demilitarization of the "conflict zone" and economic rehabilitation of South Ossetia. The Georgians had all along insisted logically on demilitarization to be achieved ahead of political-settlement negotiations, and for those political negotiations to be held in an internationalized format, not the Russian-dominated JCC.
The Kenyaykin-Rupel proposal would: 1) cement the Moscow-dominated format and endow it with political functions beyond ceasefire-supervision; 2) counter Georgia's recent proposals for an internationalized format that would include the United States and the European Union; 3) avoid focusing on demilitarization, which Georgia (along with its Western friends) deems a prerequisite to political settlement negotiations; 4) try to rush through a conference-saving political document for the year-end meeting that could tie Georgia's hands; and 5) place the democratically elected president of Georgia on the same footing as Russian-installed authorities in Tskhinvali, implicitly seeking to legitimize the latter.
Rupel's implicit endorsement of Moscow's proposal in his opening remarks left the Georgians with the uneasy feeling of having been blindsided by a coordinated move by Russia's Ministry of Foreign Affairs and the OSCE's Chairmanship. After delivering his remarks, Rupel exited the session, leaving behind a representative who failed to enlighten the startled Georgians about the reasons behind this abrupt departure from the JCC's earlier decisions.
Georgia's representative, State Minister for Conflict Resolution Giorgi Khaindrava, termed unaccepable any attempt at equating Georgia's President with a South Ossetian "president." Khaindrava attempted to speak about the first stage of Tbilisi's action plan for a political settlement, but he was loudly interrupted several times by South Ossetia's chief negotiator, Boris Chochiyev, who also managed to have the press evicted so as to deny Khaindrava a public audience.
The session lasted through the night (interrupted by walkouts) until the dawn hours and ended without results. "It proved once again that it is impossible to continue working in this format," Khaindrava concluded. The JCC's protocol recorded Georgia's call to internationalize the format and the other side's support for the "existing format" and a meeting of presidents in that same format.
In Tskhinvali, Kokoiti sarcastically urged Georgia to "discuss any proposals directly with South Ossetia, not America or Australia." He rejected the proposed internationalization of the negotiating format and insisted on maintaining the Russian "peacekeeping" operation in its existing form.
In Tbilisi, Parliamentary Chair Nino Burjanadze (citing a Russian proverb) characterized Moscow's policy as "brawn instead of brain" and asserted, "We will never regard Kokoiti as equal to our country's president. If the Russian side suggests to the international community that their president be considered equal to Kokoiti, it is their problem." Nogaideli declared that the Ljubljana meeting has again demonstrated the "JCC's incapacity" and the need for Western participation in the negotiations. Minister of Foreign Affairs Gela Bezhuashvili made public his telephoned remarks to Rupel that the JCC and "peacekeeping" formats have "totally exhausted any usefulness and must therefore be transformed."
Last month, the Georgian parliament gave Moscow until February 2006 to cooperate on unfreezing the political settlement process or, alternatively, face Georgian demands for withdrawal of Russian "peacekeeping" troops from Georgia's legally recognized sovereign territory in South Ossetia.
(Kavkasia-Press, Rustavi-2 Television, Imedi Television, Interfax, November 16-19; see EDM, October 6, 21, 26)