Moscow Awaits Medvedev's Choice
Publication: Eurasia Daily Monitor Volume: 7 Issue: 183
By: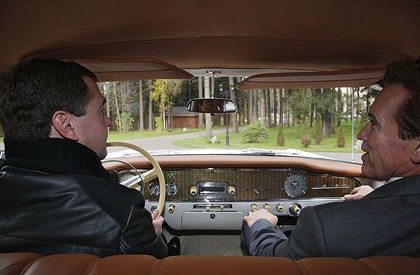 The appointment of a new mayor of Moscow after the abrupt dismissal of Yuri Luzhkov who had dared to challenge President Dmitry Medvedev's suggestion that he resign quietly, remained the main political intrigue in Russia. This scandal persists as Luzhkov disparaged Medvedev's pretences for leadership in media interviews. However, the question about filling this "power vacuum" received a partial answer last Saturday when the short list of four candidates was finalized by the United Russia party bosses (The New Times, October 4; RIA Novosti, October 9). Two names in this list –Transport Minister, Igor Levitin, and Luzhkov's deputy Lyudmila Shvetsova– were not mentioned in the wild guesswork that typically passes for political analysis in Moscow, but two others –Deputy Prime Minister, Sergei Sobyanin, and Nizhny Novgorod governor, Valery Shantsev (formerly Luzhkov's deputy until mid-2005), were discussed as strong possibilities (Nezavisimaya Gazeta, October 8).
Medvedev now has ten days to contemplate his final choice from this rather unexciting list. For the Russian President, firing the disrespectful old-timer has turned out to be rather meaningless as he cannot replace him with a trustworthy "modernizer." Indeed, it is rather awkward to leave Luzhkov's team, including the acting mayor Vladimir Recin, to run the capital in the old ways that have in recent weeks been sharply criticized by the official TV channels (Vremya Novostei, October 7). Appointing Shantsev or Shevtsova would thus signify a political retreat; which would also leave Luzhkov and his wife, Yelena Baturina, in control of the colossal real estate-construction and financial empire that could be a base for political influence (Kommersant, October 7). Putting this conglomerate of inter-connected and to a large part "shadow" businesses under pressure is a risky proposition, which requires a stronger hand than that of Levitin, who has quietly served in the government since March 2004, distinguishing himself mostly in presiding over many commissions investigating the causes of aircraft crashes (www.lenta.ru, October 9).
That leaves Sobyanin as the default option. He has indeed been tipped from the start of the squabble by many insiders as the probable new master of Moscow's political machine that controls far deeper financial flows than just the city budget of $35 billion (Vedomosti, October 9). The key point in his favor is not that he knows how to deal with big money from his previous experience as the governor of the oil-rich Tyumen oblast but that he was plucked by Vladimir Putin in November 2005 and was made the head of the presidential administration. Since Putin took the post of Prime Minister in May 2008, Sobyanin has become the chief of the government staff with the rank of deputy prime minister. Leaks from the most important office in Russia are practically non-existent, but it has been made known that Putin insisted on putting this name on the list while excluding other "heavy-weights" like Deputy Prime Minister, Igor Shuvalov, or Defense Minister, Anatoliy Serdyukov (www.gazeta.ru, October 9).
Every political dance was performed in order to demonstrate that Medvedev and Putin have acted in perfect accord during this "malfunctioning" of the administrative apparatus. However, differences inside the duumvirate are distinguishable even without Luzhkov's clumsy finger-pointing (Ekho Moskvy, October 8). Putin had cherished a grudge against the ambitious Moscow mayor since 1999, when the Luzhkov-Primakov "tandem" very nearly thwarted his claim on succeeding Boris Yeltsin. It is probable –but not provable– that Putin encouraged the mayor to take a defiant stance, but has adopted an uncharacteristically low profile in this unseemly affair, letting Medvedev take the dubious credit for firing the malcontent Luzhkov, then leaving him to make a choice not of his making.
Putin's plan appears to be aimed at asserting the supreme authority of the presidential office while implicitly demonstrating that Medvedev is barely fit to occupy it (Kommersant-Vlast, October 4). The only way for Medvedev to frustrate this intrigue could have been to address Moscow directly in order to receive feedback on the problems that the inhabitants of this extra-tough and ultra-rich city are concerned about and the qualities they want to see in the new mayor. Medvedev has dared not to open such a communication channel and remained a loyal stakeholder in Putin's system of power. Moscow, meanwhile, has changed in the ways that even Luzhkov cannot quite comprehend.
Reportedly, it was the forest fires and smog last August that have convinced many Muscovites that the authorities did not care about the city's ecological disaster (www.gazeta.ru, October 6). Luzhkov has failed to connect with this new civic frame of mind and could not find any public support for his lost cause. One issue where he had hit the right tone was when he demanded the restoration of the elections of regional governors. Muscovites definitely want to have a say in this matter. Recently, in interactive "primaries" they have chosen by a wide margin to elect a young lawyer named Aleksei Navalny, while Sobyanin, the Deputy Prime Minister, gathered a whole of 2.8 percent in this quasi-vote (Kommersant, October 8).
Medvedev has discovered that his idea of "modernization" could not gain any traction unless economic innovation is combined with political democratization, but instead of going forward even at a slow pace, he has opted for back-pedaling. In early 2009, he met with the editor of the fiercely independent Novaya Gazeta and then granted it an interview. However, last week's rally commemorating the fourth anniversary of Anna Politkovskaya's murder was ignored by authorities and the official media (Novaya Gazeta, October 8). Medvedev apparently believes that human rights are an irrelevant political matter and has not seen any reason to write a word in his Twitter-blog on the Nobel Peace Prize awarded to Chinese dissident Liu Xiaobo. Medvedev may find joy in exercising the privilege of final choice, which in fact matters little for Moscow, where new energy is accumulating and new troubles are brewing.