MOSCOW HARDENS TONE TO WASHINGTON ON CENTRAL ASIA
Publication: Eurasia Daily Monitor Volume: 2 Issue: 139
By: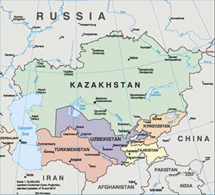 Two new terms, loaded with adversarial connotations, made their appearance in Moscow's discourse on Central Asia, in the context of demands to set a deadline on the use of military bases in that region by U.S.-led forces (see EDM, July 6, 7).
Elaborating on that demand, an official statement issued by Russia's Ministry of Foreign Affairs on July 15 termed those forces "non-regional," and went on to say that "such a military presence in the region must be rolled back (dolzhno byt svernuto)" (Interfax, July 15). Most English-language translations did not capture these nuances in the Russian original.
The stricture against "non-regional forces" looks like a Russian Ministry of Foreign Affairs borrowing from Tehran. This term has long been a fixture in Iran's official rhetoric against the Western presence in the Caspian region and Central Asia. This usage has not been a characteristic of Russian pronouncements until now.
"Roll-back" adds a heavy emphasis to the demand, first made on July 5, for setting a deadline for using the bases. That and follow-up statements had sounded more restrained, calling as they did for discussion of a timeframe for the presence, not rollback. This loaded Russian term entered diplomatic history through the recollections of Milovan Djilas, who cited Stalin ordering in 1948 that a certain operation in the Balkans must be svernuto ("rolled back").
The Russian Ministry's July 15 statement did maintain the linkage between the coalition's operations in Afghanistan and the use of Central Asian bases, but seemed to loosen that linkage by implying that completing the mission in Afghanistan and withdrawing from Central Asia are parallel processes. This seems to suggest that Moscow would be content with a drawdown of coalition forces, leading to their withdrawal from Central Asia, rather than a single-move pullout.
Moscow's statement took issue with General Richard Myers, chairman of the U.S. Joint Chiefs of Staff, who had on the preceding day told U.S. media, "Two very large countries [Russia and China] were trying to bully some smaller countries" into imposing time limits on the coalition forces' use of bases in Central Asia. Myers was referring to the Shanghai Cooperation Organization's (SCO) July 5 summit in Astana, Kazakhstan, where Russia and China initiated that demand. Russia's Ministry of Foreign Affairs countered by claiming, "As is well known, SCO decisions are made by consensus and reflect the member countries' collective opinion" (Interfax, July 15).
However, Kyrgyzstan's President-elect Kurmanbek Bakiyev inadvertently confirmed that he had simply followed Russian President Vladimir Putin's lead: "Vladimir Vladimirovich had raised the issue, and I said yes," Bakiyev admitted on live television (RTR Russia TV, July 17). Following the SCO summit, Bakiyev and other Kyrgyz officials reiterated the call for a deadline to the U.S.-led military presence. The prospective prime minister, Felix Kulov, has however adopted a more nuanced position.
In Tajikistan, the French ambassador and military attaché and the Pakistani ambassador have taken to the airwaves to underscore the need for a continued presence of coalition forces in the country (Avesta, July 14, 15).
In Uzbekistan, the state's mass media continue severely criticizing the U.S. reaction to the May terrorist rebellion and crackdown in Andijan, and in this context are portraying the U.S. air base as an economic and ecological liability to the country. The media are also publicizing officially inspired messages from ordinary citizens portraying the base in that light (Khalk Sozi, Adolat, Narodnoye slovo, July 14, 15). However, articles generally stop short of calling for withdrawal of U.S. forces. Uzbekistan has declined to participate in the staff-level exercise, focused on counterterrorism and border security, hosted by the U.S. Central Command in Suffolk, Virginia on July 14-27.