MOSCOW MAKES FURIOUS BUT EMPTY THREATS TO GEORGIA AND UKRAINE
Publication: Eurasia Daily Monitor Volume: 5 Issue: 70
By: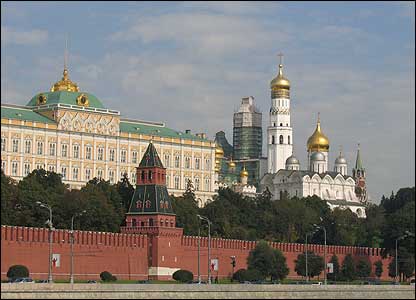 In the wake of NATO's summit, top Russian officials are threatening Georgia and Ukraine directly and NATO indirectly with retaliation, if the alliance approves membership action plans for these countries. During the run-up to NATO's Bucharest summit, from such threats were commonplace Kremlin political consultants and state television pundits, including Gleb Pavlovsky and Sergei Markov, as well as senior Duma members and Ambassador to NATO Dmitry Rogozin. On one occasion President Vladimir Putin himself threatened publicly to target Ukraine with nuclear missiles (see EDM, February 17).
Offended by NATO's commitment to open the door for Georgian and Ukrainian membership (Bucharest Summit Declaration, April 3), Moscow is staging a show of indignation replete with new threats.
Putin used this tactic during the April 4 NATO-Russia Council meeting in Bucharest and again during his April 6 meeting with President George W. Bush in Sochi. On these occasions, Putin warned that if Georgia and Ukraine moved toward NATO membership, Russia might respond by recognizing Abkhazia and South Ossetia's secession from Georgia and by instigating a partition of Ukraine. According to a witness account, Putin told Bush that Ukraine was "not a real nation," that much of its territory had been "given away" by Russia, and that Ukraine would "cease to exist as a state" if it joined NATO. In that case, Putin hinted, Russia would encourage secession of the Crimea and eastern regions of Ukraine (Kommersant, April 7; Moscow Times, April 8).
Kremlin spokesman Dmitry Peskov, who had accompanied Putin, subsequently told journalists that he "did not hear" Putin's remarks; but Peskov did not disclaim those threats (Interfax, April 7). This response would seem to reflect either a lack of plausible deniability or a war-of-nerves tactic, probably both. Minister of Foreign Affairs Sergei Lavrov almost explicitly confirmed Putin's warnings, recounting them more diplomatically in a radio interview: "Both in Bucharest and in Sochi, Putin recalled how present-day Ukraine, in its current borders, was formed, [recalled] the contradictions between western Ukraine and its eastern and southeastern regions. He said that what was being done to draw Ukraine into NATO would not facilitate the important task of helping Ukraine maintain its unity" (Ekho Moskvy, April 8).
Lavrov proceeded to warn on his account that Russia would do everything possible to prevent Georgia and Ukraine from moving toward NATO. Furthermore, he issued a three-tiered warning that "NATO enlargement is turning into a systemic problem" in Russia-NATO overall relations, Russia's bilateral relations with "those NATO countries that are actually pushing the issue," and Russia's policy toward the aspirant countries (Interfax, April 9). Chief of the General Staff of Russian Armed Forces, General Yuriy Baluyevsky, warned on April 11 that Russia would take military measures as well as "other types of measures" against Georgia and Ukraine, if these countries moved toward NATO membership (Interfax, April 11). The Duma's CIS Affairs Committee Chairman Aleksei Ostrovsky warned in the wake of hearings that Russia "has legal grounds for revising the agreements made by Khrushchev," that is, reclaim the Crimea from Ukraine (Nezavisimaia Gazeta, April 11). He and other Russian politicians have recently raised the possibility of denouncing or renegotiating the 1997 Russia-Ukraine interstate treaty, which stipulates the inviolability of territory and borders.
Some Kremlin consultants regard those open threats as counterproductive to Russia's interests and purposes. Vyacheslav Nikonov (himself no stranger to questioning the territorial integrity of Russia's neighbors) argues, for example, that Moscow's rhetoric in the wake of NATO's summit can only strengthen the resolve of governments in neighboring countries to seek protection from NATO (Interfax, April 11, 12). Sergei Karaganov, chairman of the Council on Foreign and Defense Policy (CFRS), a Kremlin advisory body, told the CFRS's conference just held in Moscow that political measures would be more effective than military measures against Ukraine and Georgia if they moved closer to NATO. He recommended discretion and quiet planning for deploying such measures at an appropriate time (Interfax, April 12).
The Georgian and Ukrainian governments are not intimidated. Georgia's Parliament Chair Nino Burjanadze, Minister of Foreign Affairs Davit Bakradze, and other officials have rejected such "interstate blackmail" and reaffirmed Georgia's irreversible "national choice" to join NATO. These and other Georgian officials describe Moscow's threats to Georgia and Ukraine as added vindication of the two governments' goal to join NATO (Civil Georgia, Rustavi-2 TV, April 8–12).
In statements on April 9 and 11, the Ukrainian Ministry of Foreign Affairs said that Moscow's questioning of Ukraine's territorial integrity was "unacceptable" under international law. It asked the Russian government to observe the 1997 Russia-Ukraine interstate treaty, which also stipulated refraining from threats of using force (Interfax-Ukraine, April 12). Verkhovna Rada Chairman Arseny Yatseniuk called those threats "inexcusable," and the Rada's national security and defense committee chairman Anatoly Hrytsenko (a leading proponent of NATO membership) noted that Baluyevski's ideas merely reflected those of Russia's top political leadership (Interfax-Ukraine, April 11).
In Brussels NATO spokesman James Appathurai called for explanations about Moscow's threatened "measures" and issued a reminder. "NATO Allies have been very clear [at the summit]: I restate the policy that they will make their own decisions on enlargement, without outside influence. Georgia and Ukraine have made it clear that they want membership. NATO's door is open to them" (press release, April 11).