Moscow Modernizes South Military District
Publication: Eurasia Daily Monitor Volume: 9 Issue: 92
By: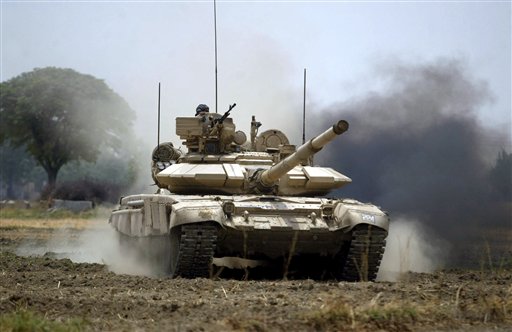 Despite the slow pace of introducing new or modernized weapons and equipment into the table of organization and equipment (TOE) in Russia's Armed Forces, there are signs that progress is more sporadic and prioritizes one strategic direction. The South Military District (SMD) is receiving new combat hardware and weapons systems at a much faster rate than other military districts. In some areas of the TOE, the share of modern equipment has now surpassed more than 70 percent (Interfax, May 4).
According to the press service of the SMD, the district will receive over 40 new aircraft, including more than 10 Ka-52 Alligator helicopter gunships, by the end of this year. In terms of the 70 plus percent proportion of modern systems, this relates only to air defense, artillery, armored vehicles, communications and firearms (Interfax, May 4). Moscow is clearly attaching importance to rearming military units in the SMD to bolster the defense of Abkhazia and South Ossetia as well as to enhance counter-terrorist capabilities in the North Caucasus. The district was formed in December 2010 with its headquarters in Rostov-on-Don and consists of ground forces brigades forming two combined-arms armies (58th and 49th armies), the Black Sea Fleet, the Caspian Flotilla, and the 4th air and air defense command as well as four foreign bases in Abkhazia, South Ossetia, Armenia and Ukraine. The Rostov-on-Don headquarters also subordinates all security forces in the SMD to its command (Interfax, May 4).
The precise contours of the rearmament of military units in the SMD were detailed by the district's commander, Colonel-General Aleksandr Galkin, highlighting the level of progress during an interview with Rossiyskaya Gazeta. General Galkin stated that the Motorized Rifle Brigades in North Ossetia, Dagestan, Volgograd Oblast, Stavropol Krai and Chechnya have been fully re-equipped with T-90A and T-72BM tanks (modernizing their missile/gun armaments), BMP-3 infantry fighting vehicles and BTR-82A armored personnel carriers (APC). More than 230 modern units of artillery have reached the brigades, including Msta-S, Akatsiya and Gvozdiki self-propelled howitzers. In the period from 2010 to 2011, 80 new aircraft also entered service in the SMD. These platforms included the Su-27SM3, Su-30 fighters as well as Mi-35, Mi-28N and Mi-8 helicopters. The Caspian Flotilla has received the Bal-E modern coastal defense system capable of engaging targets at a distance of 100 kilometers and is conducting trails of a gunboat and guided missile ship to enter service later this year. Soldiers in the SMD are acquiring new body armor with improved specifications as well as modern personal gear and equipment to protect servicemen from small-arms rounds, shell fragments and blades (Rossiyskaya Gazeta, May 2).
According to General Galkin, new automated command and control (C2) systems are being introduced in the SMD, and all units in the district will be connected to the network by the end of 2012. He explained that, by June 2010, all formations and force groupings in the SMD were fully supplied with digital telecommunications equipment and linked with the defense ministry's integrated network. Galkin stated that obsolete communications systems were phased out and that there is practically no communications equipment remaining in use manufactured prior to 2008. The commander also added that combat training has intensified overall by 20 percent year-on-year with additional retraining for contract personnel, which has been facilitated by completing the outsourcing of catering to Defense Ministry-controlled civilian companies (Rossiyskaya Gazeta, May 2).
Galkin presents an optimistic overview of the speed of military modernization in the SMD. In so doing, however, he confirms that the process advances at varied rates depending on the level of importance attached to the military district. His comments, moreover, reveal the military's reliance on upgrading existing hardware rather than building and introducing essentially new systems. The advance in automated C2 is important and may result in greater efficiency in this area if the trained personnel are developed and retained within the Armed Forces. Much of the modernization, however, appears to be rooted in preparing for combined-arms operations rather than strengthening counter-terrorist or counter-insurgency capabilities (Interfax, May 4; Rossiyskaya Gazeta, May 2).
The systemic challenges facing the defense industry continue to drive Moscow's interest in foreign purchases of military hardware – looking to France, Germany and Italy among other European NATO members increasingly willing to sell military assets to Russia. A representative of the Italian consortium IVECO, Oto Melara, told RIA Novosti that the Russian defense ministry is currently testing two heavy-wheeled Centauro tank destroyers. Moscow has long shown interest in this model and appears to be interested in acquiring a license to manufacture these vehicles in Russia. The Italian IVECO Light Multirole Vehicle (LMV) M65 Lynx was displayed during the Victory Day parade in Moscow on May 9, following a deal in January 2012 to purchase 60 of these vehicles. The M65 Lynx will be built under license at a factory in Voronezh. The plant plans to produce 1,700 M65s with 150 vehicles entering service in 2012. Sources in the Russian Defense Ministry suggest that the assembly of such vehicles is controlled by Oboronservis due to the desire to explore foreign technology and secure domestic jobs. Furthermore, Oboronservis bypasses some of the import difficulties of Roosoboronexport, mainly linked to bureaucratic and legal complexities. The Defense Ministry is reportedly more interested in purchasing the German APC (Boxer), but recognizes that it may prove to be more difficult due to the complex laws controlling the export of military technology in Germany. (Vedomosti, May 12; RIA Novosti, May 9).
The overall target of raising the share of modern or new weapons and equipment to 70 percent by 2020 still seems a rather ambitious if not unrealistic target. Galkin's elaboration of the pace of modernization in the SMD offers a complex picture of its precise meaning in a particular context – cutting corners and adapting the process to suit such high aspirations. New products, such as C2 or communications equipment, are of course entering service in the SMD military units and on a smaller scale in other districts, but the weaknesses in the Russian defense industry are being addressed piecemeal through foreign purchases. Although the quantity of Russian purchases abroad should not be exaggerated, it may well present problems in integrating these assets into the future reformed combat system in the ground forces brigades.