Moscow Moves to Strengthen Iran in Its Standoff With West
Publication: Eurasia Daily Monitor Volume: 12 Issue: 109
By: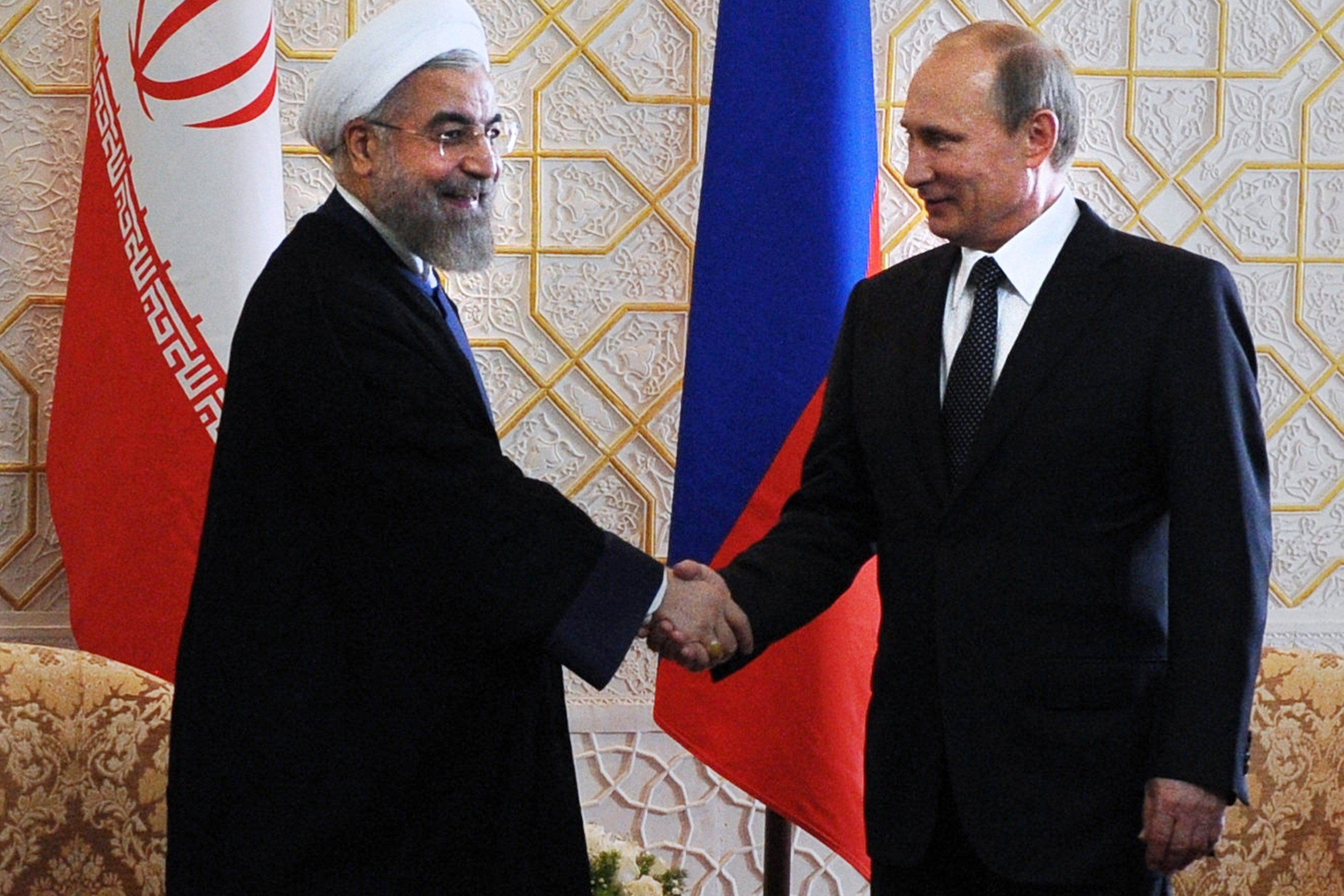 Moscow and Tehran have been preparing an agreement to barter Iranian oil for Russian goods. This "goods for oil" trade seems to be finally going ahead this month, before the June 30 deadline to reach a comprehensive agreement on the Iranian nuclear program. For many years, Tehran has been in talks with the so-called "group of six" or P5+1—the five permanent members of the United Nations Security Council (China, France, Russia, the United Kingdom and the United States) plus Germany. US President Barack Obama has been promoting a possible P5+1 deal as a historic breakthrough that will lift sanctions in exchange for guarantees that Iran would refrain from developing nuclear weapons. Obama has promised the US Congress that the legislative body would be allowed to weigh the validity of the proposed deal and that the sanctions would be lifted gradually as Iranian compliance is officially confirmed. Now it seems that, even without agreeing to anything, Iran could be, with Russian assistance, partially removing the most punishing part of US and European Union sanctions—the oil embargo that has more than halved Iranian oil exports in recent years to about a million barrels a day. Iran's oil minister, Bijan Namdar Zanganeh, told journalists the "goods for oil" agreement will be implemented imminently: Russia will be buying oil and selling steel, grain and gasoline in exchange. According to Zanganeh, "Iran will be selling much less than 0.5 million barrels a day of crude [oil]," but did not give the exact figure (Kommersant, June 8).
China and India traditionally import Iranian oil for domestic consumption and have continued to do so despite US pressure, though there are problems transferring the proceeds to Tehran because of US and EU banking restrictions. Russia has never imported any Iranian crude, itself being a major oil producer and exporter. Russian refineries are not designed to use Iranian oil, nor does Russia have import facilities to handle Iranian crude from the Gulf—its oil ports are exclusively exporting facilities. A straight barter of "goods for oil" between Moscow and Tehran never seemed feasible, therefore. And this week (June 9), Russia's Energy Minister Alexander Novak confirmed: "We will be buying crude, and Iran will be using the proceeds to buy Russian goods, while our oil traders will help find buyers for the [Iranian] oil." No Iranian crude will actually arrive in Russia: The oil will be purchased by Russian traders and then resold to other customers "in the Asia-Pacific region." The negotiations on the "goods for oil" deal between Moscow and Tehran were conducted in strict secrecy for more than a year and, apparently, different schemes were considered. Now it seems Iranian crude will be marketed under the guise of it being legally "Russian." Apparently, a state-owned company will be designated as the Russian oil trader in the deal. Some 300,000 barrels a day of Iranian crude may be involved initially. According to Novak, "whether or not the oil sanctions are removed, we [Russia] did not impose any oil sanctions on Iran, and our companies do not need to comply" (Kommersant, June 9).
Russian government sources insist this "goods for oil" deal with Iran "will not bring Russia much money and, in fact, may hardly cover the costs; but it is not a business, but a political project to stake our position against competition." Moscow assumes that since the P5+1 process will soon lift the sanctions, Iranian oil and natural gas would begin to compete with Russian exports and "it is important to establish a good partnership relationship with Tehran beforehand." Russia does not have much extra oil exporting capacity to increase oil sales in the Asia-Pacific market. Thus, selling Iranian crude under the Russian flag may be a good way to keep and expand Moscow's share of this market (Kommersant, June 9).
Still, the logic of the "goods for oil" agreement with Iran seems odd: The deal itself will apparently not bring much financial dividend, while the arrival of 300,000 additional barrels a day of Iranian crude on the world oil market (with possibly more to come later) could further depress prices, and the Russian budget would suffer losses. On top of that, the apparent breach of the joint US and EU restrictions using a scheme crudely disguised as a "barter" deal, could lead to additional sanctions against Russia and further worsen Moscow's relations with the West. Russia is not breaching any mandatory UN sanctions by buying Iranian crude and helping to handle the revenues. Yet, by undercutting the US and EU oil export embargo, Moscow is strengthening the Iranian bargaining position at a crucial moment in the P5+1 talks, and Iranian officials say they will appreciate the support. In a recent interview, the Iranian ambassador in Moscow, Mehdi Sanai, announced Tehran is ready to initiate some $70 billion worth of ambitious projects with Russia: building nuclear reactors and civilian aircraft, refurnishing Iranian railroads, as well as procuring advanced weapons like the S-300 anti-aircraft missile system, which Moscow promised to sell in 2007, but refused to ship in 2010 because of sanctions and is now willing to sell again (see EDM, April 16). Ambassador Sanai pressed the Russians not to wait for a sanctions reprieve, because their place in lucrative deals with Iran could be overtaken by Chinese and European competitors (Kommersant, June 3).
Iran seems to have powerful friends in Moscow and the Russians' main argument seems to be: We may lose Iran if we hesitate—a fear Sanai and other Iranian officials are constantly promoting. During the Cold War, Iran was a close US ally until Shah Reza Pahlavi was overthrown by the Islamic Revolution in 1979. Many policymakers in Moscow fear that the Obama administration is anxious to clinch a P5+1 deal with Tehran because it is trying to upgrade the US's tacit alliance with Iran. Russians worry that the US-Iranian relationship in the region could evolve from jointly opposing the Islamic State in Syria and Iraq into something much bigger—perhaps once again turning Iran into a military and intelligence-gathering base for the United States. Indeed, Moscow truly believes that any of its neighbors could sell it out to the US, if offered the right price (see EDM, June 10). Additionally, the traders appointed to handle the Russian-Iranian "goods for oil" scheme may expect hefty discounts and under-the-table kickbacks. Thus, a deal that may bring Russia more heartache than profit could still line the pockets of Kremlin insiders.