MOSCOW MOVING AGAINST YUKOS AND LITHUANIA AHEAD OF G-8 ENERGY SUMMIT
Publication: Eurasia Daily Monitor Volume: 3 Issue: 81
By: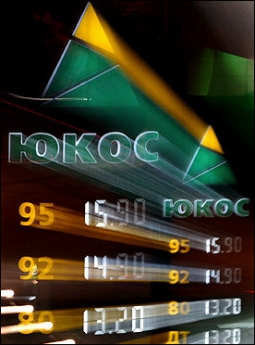 Surprisingly, the United States and European Union are not raising the issue of Russia's destruction of the Yukos oil company and attempt to grab its assets in Lithuania ahead of the G-8 summit in St. Petersburg, which Russia wants to focus on energy cooperation. Perhaps unsurprisingly in these circumstances, the Kremlin seems to feel at ease completing Yukos' evisceration in Russia and preparing a possible seizure of Lithuania's oil sector — using Russian and even American courts in the process — against the American management team of Yukos and EU member Lithuania.
On April 24, the Moscow Arbitration Court accepted a Russian minority shareholder's challenge against the legality of Yukos President Steven Theede holding that post. Theede and his American management team had moved to London to avoid persecution in Russia after the imprisonment of Yukos founder Mikhail Khodorkovsky. Recently, Russian authorities managed to split the remaining management in Moscow and, on April 6, they jailed the head of the team loyal to the American management, Vasily Alexanian, for pre-trial investigation, just after Theede had legally vested him with the powers of Yukos chief executive officer in Russia.
Also on April 24, the Moscow court-appointed temporary administrator of Yukos assets in Russia, Eduard Rebgun, openly declared that he was seeking to block the planned sale of Yukos' majority stake in Lithuania's oil sector to the Lithuanian government (which intends to re-sell it to a strategic investor of its choice). This, Rebgun admits, is why he sought and obtained a temporary injunction in U.S. Bankruptcy Court in Manhattan on April 13 against the American management's planned sale of the Yukos majority stake in Mazeikiai refinery and associated enterprises in Lithuania to that country's government. For its part, management (as well as independent observers) argues that the Moscow court has no jurisdiction outside Russia and that Yukos has no fixed assets in the United States that would warrant a U.S. court injunction.
The Moscow-appointed administrator is ostensibly acting on behalf of Yukos' creditors — that is, mainly Russia's state-owned Rosneft company. Rosneft's claims to Yukos include those of the Russian government and those of Western (primarily European) creditors, a consortium of which has authorized Rosneft to collect $485 million on their behalf from Yukos. The Kremlin's tactics have now become overt: it targets Lithuania's oil sector for a takeover under the guise of collecting approximately $2.5 billion worth of debts against Yukos. The Lukoil company — which in 2000-2001 tried to bankrupt and take over Mazeikiai by cutting the oil supplies to it — is now expressing interest in bidding for the majority stake. The Lithuanian government is now drafting a nationalization bill — stipulating due compensation to Yukos — in order to protect Mazeikiai if necessary against a possible Russian hostile takeover.
Meanwhile the price of Yukos's 53.7% majority stake in Mazeikiai is rising in the context of ongoing oil price dynamics. The Lithuanian government is now said to offer $1.5 billion for the Yukos stake, up from its late 2005 offer of $1.2 billion. The government would have to request parliamentary authorization for the $300 million increase, which would burden the country's budget. However, Kazakhstan's oil and gas state company KazMunayGaz, which Lithuania might choose to replace Yukos as strategic investor, is prepared to buy that stake from Lithuania for $1.5 billion. The new strategic investor would additionally buy at least half of the Lithuanian government's 40.66% stake, paying the same price per share as for the Yukos stake.
KazMunayGaz is currently negotiating with Russia's state pipeline monopoly Transneft over access to Russian pipelines in order to supply crude oil to Mazeikiai. However, Transneft is stonewalling, thus prompting KazMunayGaz to discuss the possibility of three-cornered swap operations to supply Lithuania through Norway's Statoil (see EDM, April 18). Poland's PKN Orlen, a major oil trader and refiner, is also in contention for buying the Yukos stake from Lithuania in the second stage of the purchase-and-sale process. However, lacking oilfields of its own, Orlen may be unable to guarantee long-term supplies of crude.
Mazeikiai is by far the largest and most lucrative economic entity in the country, as well as the sole refinery in the three Baltic states, its annual processing capacity a whopping 15 million tons. This is especially significant in the context of the general shortage in refining capacities. From the perspective of Lithuania's and the region's energy security and overall security, two considerations are uppermost. First, that the new majority owner be capable of guaranteeing stable long-term deliveries of crude oil, not subject to interruption by Russia. And, second, that the new owner be economically and politically immune to pressure to re-sell Mazeikiai later to a Kremlin-favored company.
These criteria could be met by KazMunayGaz or Orlen if the United States and European Union signal that Kremlin-orchestrated attempts to seize Mazeikiai by misusing courts or by blocking oil deliveries would have palpable consequences on Russia's bid to join the World Trade Organization and on Russia's standing at the upcoming G-8 summit on energy. The time to issue such a signal is now, ahead of the St. Petersburg summit.
(BNS, Interfax, April 19-25; see EDM, March 17, April 3, 5, 18)