Moscow Prepares for Zapad 2017
Publication: Eurasia Daily Monitor Volume: 14 Issue: 90
By: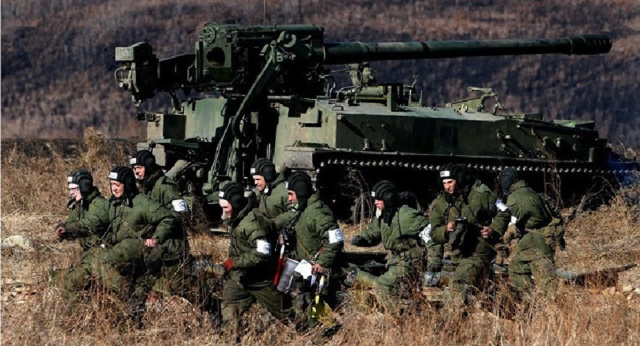 Moscow continues with its preparations for the Zapad 2017 bilateral strategic military exercises with Belarus in September, widely expected to be the largest display of Russian military strength since the disintegration of the Soviet Union. Concerns among members of the North Atlantic Treaty Organization (NATO) were triggered earlier in the year, following reports that the Russian defense ministry supposedly plans to use more than 4,000 train cars to redeploy its forces into Belarus for the exercise (see EDM, February 22). In addition to anxiety among neighboring countries about the potentially aggressive nature of the exercise, the sheer scale of the troop movements indicates a force size way beyond the officially reported 13,000, prompting speculation that Russian forces might stay behind on Belarusian soil after Zapad 2017 (see EDM, January 20, 24). On July 6, during US President Donald Trump's bilateral meeting with his Polish counterpart, Andrzej Duda, in Warsaw, the subject of Zapad 2017 was raised. This issue will undoubtedly remain a serious concern for NATO as the exercise unfolds in September 14–20 (RIA Novosti, July 6).
With debate rife about both the scale and Moscow's ultimate aim for Zapad 2017, Belarusian President Alyaksandr Lukashenka has led the way in calls for transparency over the exercise. Meanwhile, Ukraine's Defense Minister Stepan Poltorak has suggested that Zapad 2017 may end up being used by Moscow to open a new front in Russia's conflict with Ukraine (Charter97, July 7; Rosbalt, June 30).
Nevertheless, there appears to have been progress in Moscow-Minsk discussions on the exercise to at least reassure the Belarusian leader. On July 6, Lukashenka addressed a ceremony to honor graduates of higher military educational institutions and senior officers in the capital city. "Many of you will take part in the joint strategic exercise of the Armed Forces of Belarus and Russia—Zapad 2017—in September this year. This is a significant step in the preparation of the Armed Forces, other troops and military formations in improving the system of ensuring the national security of Belarus," Lukashenka told his audience. He went on to refer to the role in Belarusian security played by the Ministry of Emergency Situations, spoke about the continued military modernization through the procurement of Russian systems and equipment, and praised the role of the Collective Security Treaty Organization (CSTO)—a Russian-led military alliance of which Belarus is a member (Tut.by, July 6).
Since the collapse of the Soviet Union in 1991, Russia and Belarus have staged the Zapad combined strategic exercise (sovmestnoe strategicheskoe uchenie) in 1999, 2009 and 2013. Zapad 2017 will be the first in the series since the deterioration of Russia-NATO relations following the Ukraine crisis. To date, the exercises have included both defensive and offensive operations rehearsed against a scenario driven by US/NATO intervention in Belarus; they were frequently criticized by NATO and allied governments over Russia's referencing of its nuclear capability. This year's Zapad exercise will be held in two stages, on the territory of Russia and Belarus, with its culmination on seven military bases in the latter country (TASS, March 20). Zapad 2017 is likely to test new concepts and approaches to warfare, as well as lessons learned from Russia's experience of the conflicts in Ukraine and Syria, with emphasis on inter-agency cooperation, joint forces' interoperability, coordination of Ground Forces and the Aerospace Forces, use of air defense and missile defense, alongside special forces and elite units spearheading operations on multiple axes.
In the exercise scenario used for the Zapad series of exercises, there is undoubtedly a NATO dimension. This stems from Moscow's response, opposition and complete rejection on political and legal grounds of the 1999 NATO bombing of Serbia. The events of 1999 loom large today in Russian strategic thinking and are also reflected in how the General Staff approaches the planning for a Zapad exercise. Consequently, while there is currently a Western preoccupation with the possibility of a Russian offensive operation against the Baltic States, in Moscow's view the more likely scenario of conflict erupting on Russia's periphery with NATO stems from an Allied intervention in Belarus. As a result, the Zapad 2017 exercise will place all operational and scenario activities under a defensive guise in response to foreign intervention, demanding a response to protect the Russia-Belarus Union State (Regnum, July 11).
Some Russian commentaries show awareness of the concern expressed by Alliance members about Zapad 2017 and its potentially aggressive rehearsal of operations against its members from Belarusian territory: these suggestions are, of course, the subject of much derision. However, there are indications of some features of the joint exercise that will come into play in September to which NATO must pay additional attention. The first is the extent to which Zapad 2017 will fine-tune joint operations carried out by the elite airborne and special forces units of Belarus and Russia. Such preparation occurred in early April, with these forces rehearsing joint operations in the Vitebsk Region in Belarus over an area of 12,000 square kilometers. The focus was on parachute landings, reconnaissance, and action to fix and locate enemy forces. During these tactical-level exercises, elite troops were also tasked with establishing the best areas to land the "main force" and coordinating air cover for these forces. On April 11–13, a parachute company from the 106th Airborne Division (Tula) relocated to Brest and, in close coordination with Belarusian counterparts as well as interior troops, worked on training tasks to block and defeat four groups of "illegal armed formations," which had broken into strategically important facilities in the region (Nezavisimaya Voyennoye Obozreniye, June 16).
In a related preparation for Zapad 2017, in May, a one-week tactical exercise involved the electronic warfare (EW) forces of Belarus and Russia, using three training grounds in Brest and Vitebsk Regions. Whereas the elite and special forces tactical exercises had an alleged terrorist dimension, the joint EW exercises were clearly aimed against a conventionally armed opponent. They focused upon joint EW operations against a high-technology opponent operating in a "complex electronic environment." The development of the joint force capabilities to protect the Union State is seen in Moscow as reflecting developments within modern local wars and armed conflicts. The EW component of Zapad 2017 will thus prove to be an integral part of the rehearsal of joint operations (Nezavisimaya Voyennoye Obozreniye, June 16).