MOSCOW PRESSES FOR CFE TREATY RATIFICATION IN RUN-UP TO NATO AND OSCE SUMMITS
Publication: Eurasia Daily Monitor Volume: 3 Issue: 201
By: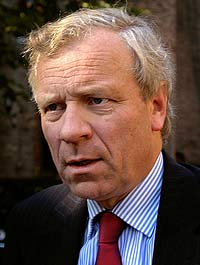 On his October 25-26 official visit to Moscow, NATO Secretary-General Jaap de Hoop Scheffer successfully resisted demands by Russian officials for prompt ratification of the adapted Treaty on Conventional Forces in Europe (CFE) by NATO countries. Russia hopes to induce some governments in the alliance to proceed with ratification of the 1999-adapted treaty despite Moscow's ongoing breaches of certain treaty provisions and of the 1999 Istanbul Commitments, which together with the CFE Treaty form a package approved at that year's OSCE summit.
By calling for ratification during de Hoop Scheffer's visit, Moscow is signaling that it plans to raise this issue at the OSCE's upcoming year-end ministerial conference in Brussels on December 3-4, hoping to break the linkage between ratification of the CFE Treaty and fulfillment of Russia's Istanbul Commitments regarding the South Caucasus and Moldova. The Kremlin apparently even hopes to talk the alliance into loosening that linkage in the communiqué of NATO's upcoming summit in Riga at the end of November. Russia is eager for ratification of the adapted treaty in order to extend its applicability to the territories of the Baltic states, which are not covered by the existing treaty's ceilings on force deployments.
Moscow's main argument — as presented during de Hoop Scheffer's visit — claims that Russia has fulfilled all of its 1999 obligations by signing the agreements with Georgia to close the Batumi and Akhalkalaki bases and withdraw the Russian troops stationed there by the end of 2008. During de Hoop Scheffer's visit, President Vladimir Putin signed into law on October 26 the Russian parliament's ratification of the March 31 agreement with Georgia on closure and withdrawal from those two Russian bases (Itar-Tass, October 26).
However, de Hoop Scheffer raised the issue of Russia's noncompliance with its 1999 commitment to withdraw its forces from Moldova. Russian media purported to quote him as urging Moscow to withdraw just the arsenals from Moldova in order to clear the way for ratification of the CFE Treaty (Interfax, October 26, 27). Such Russian media reports would seem to be misquoting de Hoop Scheffer. In fact, NATO's official collective position calls for withdrawal of Russian troops, as well as the arsenals, from Moldova. This position, with emphasis on troop withdrawal, is enshrined in NATO's communiqué at its latest summit in Istanbul in 2004 and subsequent communiqués, as well as documents endorsed by NATO countries collectively at the OSCE.
During the NATO leader's visit, Russia's Ministry of Foreign Affairs hinted that Moscow might initiate procedures for abandoning the existing CFE Treaty, which was signed in 1990 and is currently in force. Notably dropping the standard reference to the treaty as a "cornerstone of security in Europe," Deputy Foreign Minister Alexander Grushko described that treaty as "out of touch with reality" and warranting either revision or an exit from it (Russian MFA press release, October 25).
For their part, a group of Duma leaders meeting with de Hoop Scheffer warned that they might delay the ratification of the Status-of-Forces Agreement — the legal basis for a host of NATO-Russia common activities, intended to be held on Russian territory — if NATO countries delay ratification of the adapted CFE Treaty. Such insolvent warnings are political in nature, targeting a few governments in NATO that might for reasons of their own accommodate Russia in Europe's East.
Russia takes the position that it has completed the fulfillment of the 1999 agreements regarding the South Caucasus and Moldova and that those agreements did not constitute obligations in the first place. Thus, Moscow describes its agreement with Georgia on troop withdrawal until 2008 as a purely bilateral matter, the resolution of which should precipitate the ratification of the CFE Treaty by NATO countries. Irrespective of such phrasing and despite the delay during all these years, the agreement with Georgia does constitute long-awaited progress toward fulfillment of one aspect of the 1999 Istanbul Commitments.
However, Russia remains in breach of the original and adapted treaty and the Istanbul Commitments on the following counts:
*Retention of the Gudauta base in Georgia, which was to have been closed down in 2001 under the Istanbul Commitments;
*Troops unlawfully stationed in Moldova despite those same Commitments;
*Treaty-banned weaponry ("unaccounted-for treaty-limited equipment") handed over by the Russian military to their local allies in Transnistria, Abkhazia, South Ossetia, and Karabakh (including occupied territory in Azerbaijan beyond Karabakh); and
*Stationing Russian troops including "peacekeepers" in conflict areas without "host-country consent," such consent being fundamental to both the existing and the adapted CFE Treaty.
Thus, there is no case for NATO countries to take any steps toward ratifying the adapted CFE Treaty at the alliance's summit or the OSCE's year-end conference, in view of Russia's ongoing breaches on multiple counts.
(See EDM, May 17, 22, June 12)