Moscow Putting Ever Greater Pressure on New Armenian Regime
Publication: Eurasia Daily Monitor Volume: 15 Issue: 143
By: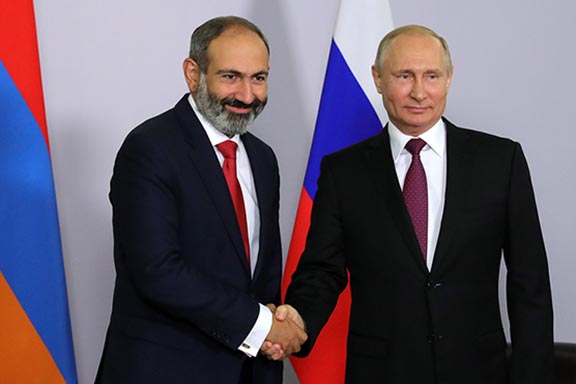 Moscow has been putting ever more pressure on the new Armenian leader, Prime Minister Nikol Pashinyan. Since coming to power this past spring, Pashinyan's government has domestically taken punitive actions against Russian oligarchs and Armenians linked to them, much to the Kremlin's displeasure (see EDM, May 3, June 25, August 8). But in contrast, Moscow's pressure campaign has been remarkably successful in cajoling the Armenian prime minister to toe the Russian line in foreign affairs (see EDM, September 17). It remains an open question whether that is the price Pashinyan feels he must pay to carry out his domestic programs and whether he is actually committed to a more independent foreign policy. But the answer may become apparent following the upcoming general elections, which have just been moved up from next year to December 9, 2018. The likelihood is high that Pashinyan will win a super-majority in the legislature thanks to his wide support from the bulk of the Armenian population, which wants to see Russian-linked corruption and domination rooted out (Svpressa.ru, April 23).
Since independence in 1991, Armenia has been dependent on Russia for support because of its geographic location, its war with Azerbaijan over the occupied territories, and its economic weakness. Armenia shares borders with two states hostile to its existence, Turkey and Azerbaijan; indeed, relations with the latter have always been difficult. Additionally, Armenia borders on Georgia, whose conflict with Russia has complicated external trade. Crucially, the landlocked country does not share a border with Russia. However, Moscow has supported it not only because of traditional cultural ties—both are Eastern Christian—but also because of its complicated relations with Armenia's neighbors and its desire to use Armenia as leverage against them to boost Russian power in the region.
Armenia's war with Azerbaijan has meant that no Yerevan government has ever felt it could dispense with Russian military backing or say no to the Russian base at Gyumri, despite all the problems that base has caused for Armenians, including multiple instances of deaths of Armenians living near it (Kasparov.ru, July 22; Windowoneurasia2.blogspot.com, July 23). Whenever Armenians are angry about Moscow, the Russian government can always point to Azerbaijani and Turkish actions or even provoke them in order to make it clear that a Russian military presence is something Armenia cannot easily do without unless there are fundamental changes in Baku and Ankara, according to one Armenian commentator (Kasparov.ru, July 13).
Until earlier this year, it was assumed land-locked, resource-short and industrially underdeveloped Armenia is in such dire straits that most Armenians had come to accept, albeit grudgingly, the entrance of Russian money and the oligarchs behind it as a price they must pay to keep their country afloat. Yet, the street protests that brought Pashinyan to power and led to his anti-corruption campaign appeared to undermine or entirely upend that assumption. Indeed, many analysts abroad had taken to calling Pashinyan's revolution a "Maidan" that would first break the power of the oligarchs and then break Yerevan loose from its ties to Moscow (Espreso.tv, April 26).
Nonetheless, according to one Armenian analyst, Pashinyan's struggle with corruption has focused not on its causes—that is, Russia's involvement in Armenia—but only on its consequences; therefore, the anti-corruption campaign has so far remained largely for show (Kasparov.ru, September 23). Now, another Armenian analyst, Agasi Yenokan, who heads the Yerevan Center for Political Research, argues that the same thing can be said of Pashinyan's supposed distancing of himself from Moscow. He is not, Yenokan says; instead, Armenia's prime minister is increasingly doing what the Kremlin wants. Moreover, in the analyst's view, Pashinyan will continue to hew closely to Moscow in international matters because the new Armenian leader is under increasing Russian pressure and is not an expert in the conduct of foreign policy (ru.krymr.com/a/vektor-armenii-rezko-menyaetsya-v-storonu-rossii/29531430.html).
Yenokan argues that, contrary to what many believe, Yerevan's contacts with Moscow have increased since Pashinyan came to power. Whereas Armenia's cooperation with both the North Atlantic Treaty Organization (NATO) and the European Union, which had been on the upswing through 2017, have declined, raising questions as to which direction Yerevan will tilt in the future. For the time being, the answer appears not to be in doubt; and Moscow, confident that it can take what it wants from Armenia, is behaving in "unpardonable" ways toward Yerevan, the Armenian experts asserts.
Not only did Vladimir Putin publicly greet on his birthday former Armenian President Robert Kocharyan, whom Pashinyan has gone after (Newsarmenia.am, August 31), but Putin's foreign minister, Sergei Lavrov, spoke in contemptuous, undiplomatic and, even for Russia, unprecedentedly harsh language about Armenian representatives abroad (RBC, July 27). Such official actions, Yenokan contends, reflect the fact that Moscow no longer has as much leverage as it did in Yerevan via the oligarchs and so must act via official governmental channels.
Nonetheless, the Kremlin is succeeding with Pashinyan on foreign policy, Yenokan continues. The Armenian leader dutifully attended the Commonwealth of Independent States (CIS) summit in Dushanbe and even agreed to send Armenian doctors and other military personnel to Syria, something Serzh Sargsyan, the man Pashinyan's revolution drove from office, consistently refused to do. The current prime minister, the Armenian analyst says, fears that there will be a new war over Karabakh and that he cannot afford to offend Moscow. In fact, those fears reflect Pashinyan's lack of experience in foreign policy rather than a serious calculation of the risks ahead, Yenokan asserts.
Thus, for the time being, Moscow has retained its position with the Armenian government on foreign policy even if it has not managed to keep all of its oligarchic links in place. If Pashinyan and his supporters win an overwhelming victory in December, both could certainly change, with Yerevan seeking to move away from Moscow and against the oligarchs. Yet, the lesson of the months since the Armenian revolution suggests that if Yerevan tries to do so, Moscow will step up the pressure—particularly if it believes that it can do so without any other foreign power responding.