Moscow Reacts Warily to NATO's Largest Military Exercise in 25 Years
Publication: Eurasia Daily Monitor Volume: 17 Issue: 11
By: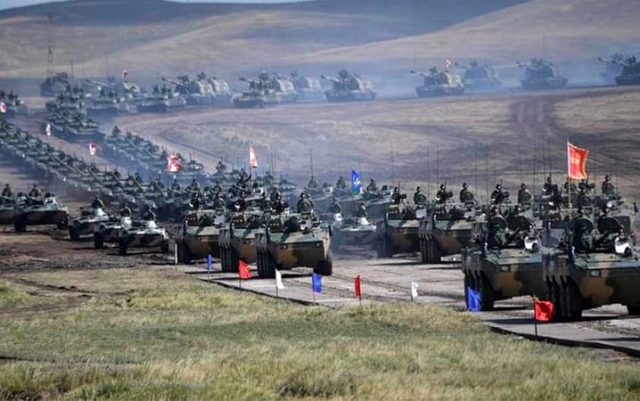 Russia's political-military leadership frequently criticizes the North Atlantic Treaty Organization (NATO) for its enlargement and for staging military exercises close to Russian borders. This pattern has intensified since Russia's intervention in Ukraine in 2014 and the subsequent downturn in its relations with the United States and its allies. Surprisingly, therefore, Moscow's official reaction has been somewhat muted during the current run up to the active phases of NATO's largest exercise in Europe in 25 years—though some Russian military experts have been making critical comments to the media. On January 23, the US Department of Defense confirmed that a redeployment of United States military personnel had commenced, transferring forces from the homeland to Europe as part of the NATO exercise Defender Europe 2020. The wide-spanning maneuvers will focus on the Baltic States, Poland and Georgia, involving more than 36,000 personnel from 11 countries (Lenta.ru, January 26, 2020).
Russian news outlets have highlighted that this year's Defender Europe exercise scenario is based on a war breaking out on the continent in 2028, between NATO and an enemy close to its borders. Additional reports stressed the scale of the exercise, with 28,000 US military personnel participating, including the deployment of 20,000 from the United States. Referring to the magnitude of the drills, Vadim Kozyulin, a professor at the Russian Academy of Military Sciences, compared them to the 1983 Able Archer, which resulted in Soviet forces being placed on alert. Despite the scale of Defender Europe 2020 not even coming close to Able Archer 1983, a number of the upcoming exercise's features may well cause concern for the Russian defense establishment (Lenta.ru, January 26, 2020). Kozyulin asserted, "Such large-scale exercises will seriously aggravate the situation. Moreover, the main events will be held in Poland, Georgia and the Baltic countries, which not only border Russia, but also [exhibit] an unfriendly attitude toward our country" (Km.ru, January 27).
These reports also stressed a number of aspects of the exercise that may help explain the lack of an official response from Moscow thus far. Defender Europe will become an annual NATO exercise with a large-scale iteration planned for even-numbered years and smaller versions occurring in between. US military personnel will constitute the bulk of the force this year, with European allies collectively providing only 8,000 personnel. As Russian analysts expect, moving the forces, equipment and hardware will prove quite challenging to the North Atlantic Alliance forces. Moreover, Defender Europe 2020 is the first exercise of its kind, which may have persuaded Russia's defense leadership to cautiously study the exercise in all its various elements before responding to it (Km.ru, January 27, 2020; Lenta.ru, January 26, 2020; Rusvesna.su, January 25, 2020).
In a detailed commentary in Izvestia, the Moscow-based military analyst Anton Lavrov assesses the implications of the exercise, and identifies areas that will be closely monitored by Russia. Lavrov notes that Defender Europe will work out how the Alliance will fight a "war of the future" by testing an experimental strategy and some of its latest military equipment, adding, "Almost 500 American tanks, self-propelled guns and heavy infantry fighting vehicles, hundreds of aircraft, [as well as] tens of thousands of wheeled vehicles will take part in the exercises." The force buildup for the maneuvers will continue until April, and then NATO will conduct a series of drills forming part of the overall exercise. Crucially, this will provide an opportunity for the US to road-test its latest doctrinal development, namely "multi-domain battle," which adds space and cyberspace to the traditional domains of land, sea and air. Lavrov states, "The concept will be tested in a series of command and staff exercises of the allied forces" (Izvestia, January 26, 2020). The exercise divides into three related elements: transferring 20,000 US troops from the homeland to Europe and back again, moving US personnel based in Europe, and conducting a series of smaller exercises alongside allied forces.
Lavrov also points to the fact that Defender Europe 2020 will rehearse both defensive and offensive operations. One feature of the offensive operational aspects relates to US airborne forces conducting three joint airborne assault landings. In each case, the leading role is assigned to US forces. In the drop into Latvia, they will be joined by forces from Spain and Italy; in Lithuania, they are aided by personnel from Poland; and an additional multilateral airdrop is planned for Georgia (Izvestia, January 26, 2020).
As noted, one key challenge relates to the logistical tasks of moving troops and equipment over such vast distances. US military personnel and equipment will land at airports across Europe and seaports in Antwerp (Belgium), Vlissingen (Netherlands), Bremerhaven (Germany) and Paldiski (Estonia). Russian military expert Vyacheslav Shurygin explained the nature of the challenge: "The transport infrastructure of Europe has not encountered such large-scale movements of military equipment for a long time." Indeed, the redeployment of forces and hardware involved cannot be compared to standard US battle group rotations (Izvestia, January 26, 2020).
Clearly, one of the objectives of the exercise is to assess the efficiency of these deployments into a potential theater of military operations. Lavrov adds, "Even for the modern US Army, the transfer of heavy tank and infantry divisions from continent to continent is a difficult, lengthy and expensive task. Twenty thousand units of equipment that the Americans will use in the maneuvers will arrive from the US, and another 13,000 will be received by the military from storage bases on the spot. In Europe, there are now four large storages of American military equipment. Each one has everything, from tanks and artillery to trucks and medical vehicles, to equip a tank brigade. Another similar base is being built in Poland and will be commissioned in 2021" (Izvestia, January 26, 2020).
One commentary in the Russian media stressed not only that NATO was deploying forces for exercises close to Russia's borders but pointedly also referenced Belarus, which fits with Moscow's scenario planning for its Zapad series of strategic military exercises: "However, the fact that such a powerful group of US and NATO forces is practicing deployments near the borders of Belarus and Russia, against the background of a growing American military presence in Poland and the Baltic countries, is a matter of concern" (Rusvesna.su, January 25, 2020). It remains to be seen whether Russia's political-military leadership will continue to be cautious about Defender Europe, restricting its criticism to public rhetoric, or if it will ultimately try to engage the Alliance in political or information warfare on this front.