MOSCOW READY FOR MAJOR CONFRONTATIONS WITH PRO-WESTERN GEORGIA AND UKRAINE
Publication: Eurasia Daily Monitor Volume: 5 Issue: 117
By: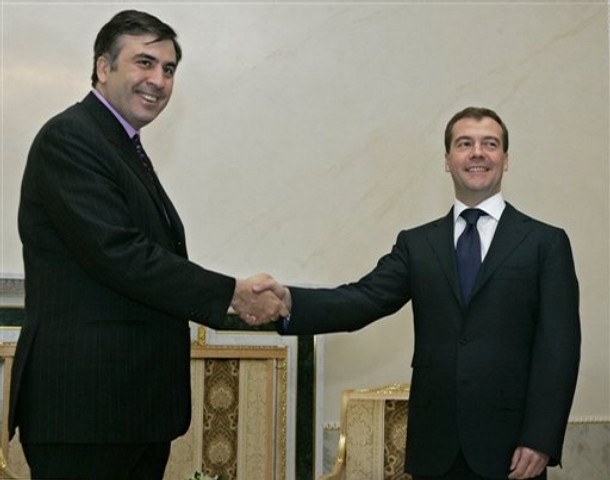 In the past Russia strongly protested the expansion of NATO to include Central European states that were Soviet clients and former Warsaw Pact members during the Cold War, as well as the Baltic republics that were part of the Soviet Union. In the end, however, Russia backed down and accepted the inevitable shrinking of its effective sphere of influence. Now the rulers in Moscow seem to be ready for a major confrontation that includes the threat of military force against the pro-Western governments in Georgia and Ukraine, which aspire to join the alliance.
After a recent meeting between Russian and Georgian Presidents Dmitry Medvedev and Mikhail Saakashvili in St. Petersburg, Foreign Minister Sergei Lavrov told journalists, "We told the Georgians that their desire to join NATO will not help solve the problems of Abkhazia and South Ossetia; it will lead to renewed bloodshed" (RIA-Novosti, June 6). Later Lavrov added in a radio interview, "We will do anything not to allow Georgia and Ukraine to join NATO" (Ekho Moskvy, April 8).
Speaking last week in Sevastopol in Crimea, the main base of Russia's Black Sea Fleet, Russian Deputy Prime Minister Sergei Ivanov warned Ukraine that joining NATO would have serious consequences: "A complete disruption of military-industrial ties between Russia and Ukraine is inevitable, as well as the reduction of other trade and economic ties and an introduction of a visa regime." Ivanov implied that NATO would "force Ukraine to introduce a visa regime." Ivanov added, "More than 30 million Russians live outside Russia, and we are morally responsible for them" (RIA-Novosti, June 14).
Russian officials connect the possible future Ukrainian NATO membership with the fate of the Black Sea Fleet. Ivanov announced, "It is hard to imagine the Russian Black Sea Fleet without its main base; the fate of Sevastopol matters for all those who lived in the Soviet Union, it is our city." Ukraine's call for the withdrawal of the fleet from Crimea was perilous, because "it is dangerous to play not only with fire but also with history" (Itar-Tass, June 14).
Ivanov's rhetoric matches other recent official statements. Russia's permanent representative to NATO, Dmitry Rogozin, said in a TV interview: "The Black Sea Fleet simply does not have any other home; no Russian politician will agree for the fleet to leave Sevastopol, and this will not happen" (Vesti TV June 12). A rejection of Ukraine's NATO accession or the possible future withdrawal of the Russian fleet from Crimea after 2017, when the present lease of the Sevastopol base expires, are today part of Russia's official foreign policy. Western assurances that Sevastopol will not be used as a NATO naval base after the Russians withdraw are not taken seriously. But there is a lot of time till 2017 and the Ukrainian NATO accession may not be swift, since today the majority of Ukrainians are against NATO membership and the government in Kyiv has promised a national referendum to decide on membership (RIA-Novosti, June 16).
Russia does not at present have the infrastructure on its own Black Sea coast to house the Black Sea Fleet, and building the needed facilities will require lots of time and money. What is worse, Russia does not have adequate military shipbuilding or ship-maintenance facilities on the Black Sea to keep a large fleet. The flagship of the Black Sea Fleet, the cruiser Moskva, has been repaired and modernized in Mykolaiv in Ukraine at a naval shipyard where in Soviet times all the aircraft carriers were built. Russia has managed to build several relatively small naval ships since 1991 (frigates and coastal patrol boats) in St. Petersburg and Kaliningrad, but not enough to replace its rapidly aging navy. Without access to the Mykolaiv yard, there may not be much fleet left to withdraw from Sevastopol (Nezavisimoye Voyennoye Obozreniye, June 12).
At present Moscow is using threats that Ukrainians will suffer if their nation joins NATO or if the Russian fleet is ousted from Sevastopol. At the same time, Russia has been supporting pro-Russian separatist feelings in Crimea and making territorial claims on Sevastopol. Moscow needs a pro-Moscow allied government in Kyiv or, if that is impossible, a separation of Crimea and Eastern and Southern Ukraine (with Mykolaiv), where millions of Russian speakers may either want to join Russia or form an allied protectorate.
The situation is different in Georgia, where a vast majority voted to join NATO in a referendum on January 5. There is no hope in Moscow that any anti-NATO pro-Russian forces may come to power in Tbilisi, and military action in support of separatists in Abkhazia and South Ossetia is being seriously contemplated (see EDM, June 12). The Russian Foreign Ministry has officially announced that Moscow refuses to discuss with Tbilisi the legality of the deployment of additional troops and armaments in Abkhazia, because the troops "prevented a Georgian blitzkrieg" (www.mid.ru, June 17). When substantial talks are essentially stopped while additional troops are deployed, it's more than just a threat of the use of force.