Moscow Seeks to Benefit From Fighting in Gaza
Publication: Eurasia Daily Monitor Volume: 20 Issue: 159
By: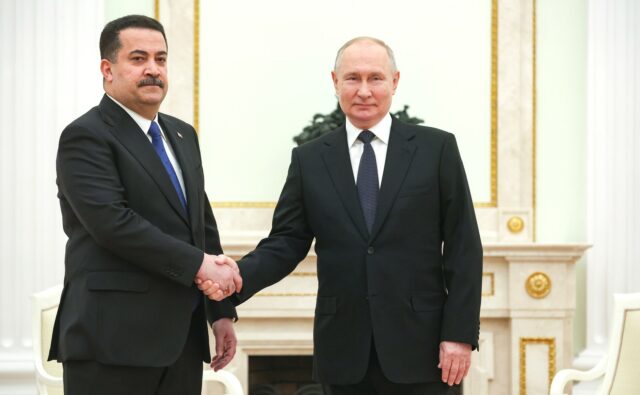 Russia's war against Ukraine crosses the 600-day mark today, and the fighting between Israel and the Hamas terrorists based in Gaza is on its tenth day. The effects of the latter on the former are still emerging. The interplay between these two major breakdowns in the world order is certain to be strong. Russian President Vladimir Putin already is seeking opportunities to benefit from the new turmoil. His immediate gain is the obvious diversion of international attention from Russia's continuing aggression in Ukraine (Topwar.ru, October 13). The Kremlin's hopes are fixated on the possible sustained reduction of US military aid to Ukraine caused by the urgent need to deliver various arms, particularly missile defense systems, to Israel (Izvestiya, October 12; TASS, October 12).
These hopes were dampened by the recent meeting of the Ramstein working group of Western military supporters of Ukraine led by US Defense Secretary Lloyd Austin. On October 12, he announced a new aid package and confirmed that commitments to Ukraine would not be diminished by aid to Israel (NV.ua, October 12). Russian commentators have tried to portray the deadlock in the US House of Representatives as a consequence of deep disagreements in the American political class over the scale of financing for Ukraine (Rossiiskaya gazeta, October 14; Kommersant, October 13). The fighting in Gaza unleashed by the Hamas attack increases the urgency in Washington to overcome this deadlock. An initiative that combines the funding for aid to Israel and Ukraine can become a means to this end (Interfax, October 12).
Moscow also presumes that strong US support for Israel would create new issues in relations with those European allies traditionally more sympathetic to the Palestinian cause. From the Kremlin's perspective, this presumed discord would further erode Western solidarity with Ukraine. The European states at the Ramstein meeting have committed to new deliveries of weapons to Ukraine, prioritizing air defense while admitting that they cannot compensate for the hypothetical discontinuation of American support (Vedomosti.ru, October 5). Perhaps more impactful politically was the resolution adopted by the Parliamentary Assembly of the Council of Europe that describes Putin's regime as a dictatorship and that seeks to terminate all connections with his illegitimate presidency (Meduza, October 13). The condemnation coming from Europe, in particular France and the European Union itself, of the atrocities committed by Hamas has been much stronger than Moscow had anticipated (RIA Novosti, October 14; Kommersant, October 13).
Russia's response to the developments in Gaza has been ambivalent and attuned to the positions of others in the wider Middle East. Two days after the Hamas attack, on October 9, Russian Foreign Minister Sergei Lavrov met with Arab League Secretary-General Ahmed Aboul Gheit and suggested an immediate ceasefire (Kommersant, October 9). The next day, at the Kremlin, Putin greeted Iraqi Prime Minister Mohammed Shia al Sudani and described the escalation of the conflict as a failure of US policy in the Middle East (Kremlin.ru, October 10). Addressing the summit of the Commonwealth of Independent States in Bishkek, Putin did not express any solidarity with Israel. He instead elaborated on "unacceptable casualties" among the Palestinians and warned about the serious consequences of these actions (RBC, October 13). Hamas duly expressed gratitude to the Russian president for taking this stance (RIA Novosti, October 14).
Russia appears to be on the same page with Saudi Arabia and Turkey while counting the fighting in Gaza to resonate and produce violent turmoil across the wider Middle East (Forbes.ru, October 13). Foreign policy pundits in Moscow predict the inevitable horizontal escalation of hostilities, confident in a perfect fit of such a development with Russia's interests (Rossiiskaya gazeta, October 10). It is not only the inevitable spike in oil prices that underpin these expectations (Nezavisimaya gazeta, October 10). No less important is the hoped-for failure of US attempts to deter and dissuade the spread of localized war, exemplified by Secretary of State Antony Blinken's shuttle diplomacy in Saudi Arabia, Jordan, and Egypt (The Moscow Times, October 12). At the same time, Moscow is wary of undercutting these efforts knowing that China, where Putin will travel later this week, is also trying to prevent escalation, even if Beijing's reaction has been rather subdued (RBC, October 15).
Russian intrigues sharply contrast with Ukraine's unequivocal support for Israel, which President Volodymyr Zelenskyy expressed while attending the meeting of North Atlantic Treaty Organization defense ministers in Brussels on October 11 and 12 (Novayagazeta.eu, October 14). Zelenskyy also sent a request to visit Israel in the coming days (RBK, October 12). Ukrainians tend to see Hamas' attack on Israel in the same light as Russian aggression against their own country. They have no reservations against Israel's ground attack on Gaza aimed at destroying the terrorist organization (NV.ua, October 13).
This position may influence Israel's stance on the war in Ukraine, from which it has tried to keep a convenient distance, abstaining from joining the Western sanctions regime against Russia (Novayagazeta.eu, October 13). Russian military intervention in Syria is a major consideration underpinning this caution; however, it is becoming clear to Israeli analysts that Moscow's capacity for sustaining this deployment has been depleted (Carnegie Politika, October 10). Russia has conceded the central role in Syria to Iran, expanding military ties with Tehran in the process. Additionally, the clandestine deal on Russia importing Iranian ballistic missiles and drones in exchange for missile technologies constitutes a serious challenge for Israel (RBK, October 10).
Every aggression produces an impulse of moral clarity, translating into political choices and actions. The states that have formed the coalition supporting Ukraine are also members of the anti-Hamas coalition. Putin's expectations that the war in the Middle East would leave Ukraine forgotten and isolated will likely be disproven by reaffirmed Western unity and Ukraine's solidarity with Israel. The fighting in Gaza has proven, yet again, that compromises with terrorists are as senseless and dangerous as are attempts to appease aggressors. Moscow's appeals to resume conversations with Hamas are essentially self-serving and aimed at promoting the dismembering of Ukraine through a "peace process." Peace will come for Ukraine and Israel will succeed in normalizing relations with its Arab neighbors only after the aggressors and terrorists are soundly defeated.